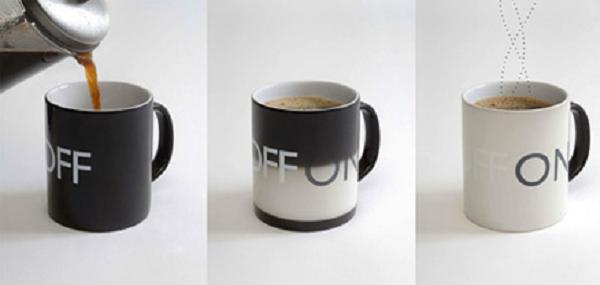 Every one of us strives for innovation. You always find a unique car, unique watch, unique house with unique interior, so why not a different coffee mug. Sipping a coffee from a unique mug definitely will brighten your morning. There are thousands of varying coffee mugs but there are some unique in their own sense. Owning one will surely make you popular with your guests.
Here are 10 unique mug designs.
1. Punch Coffee Mug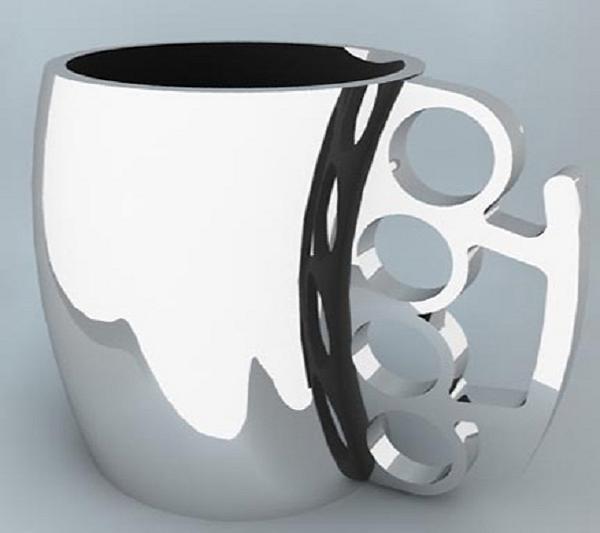 This coffee mug will surely find a place in your gym. The handle of the mug is shaped as a knuckle punch. It symbolizes waking you up with a punch. The unique design also helps to form a firm grip making it less vulnerable to slip out of your hands. It is made of porcelain and you buy it for $15.
2. Dunk Mug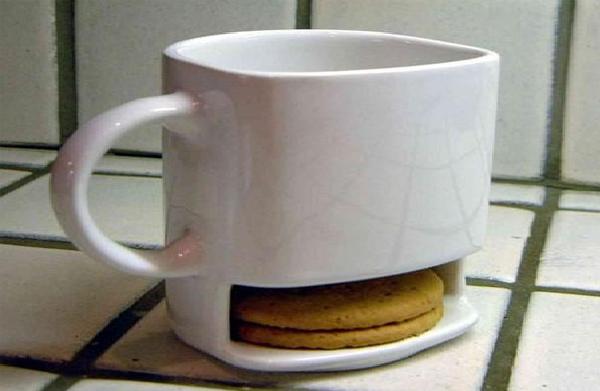 Have you ever hated carrying the plate of snacks with your coffee? If yes, then it is the right mug for you. The mug has a unique bottom shape that let you keep your cookies. The warmth of cup also helps the cookies to stay crispier. It prevents the use of extra plates. You can stroll in your garden sipping the coffee keeping the cookies underneath your cup. The listed price is $18 for this ceramic mug.
3. Starbucks Sweater Mug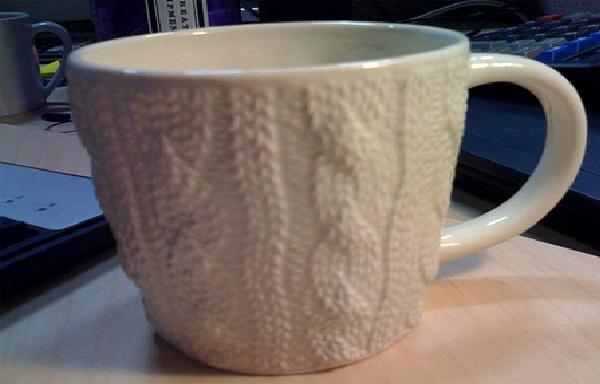 This design is ideally suited for fashion houses. The sweater mug has definitive pattern that make it look like it has been knitted with wool. You can also present this mug to your grandmother as a token of appreciation for all the knitting work she did for you. You buy this cup for $12.
4. Cadarache Cup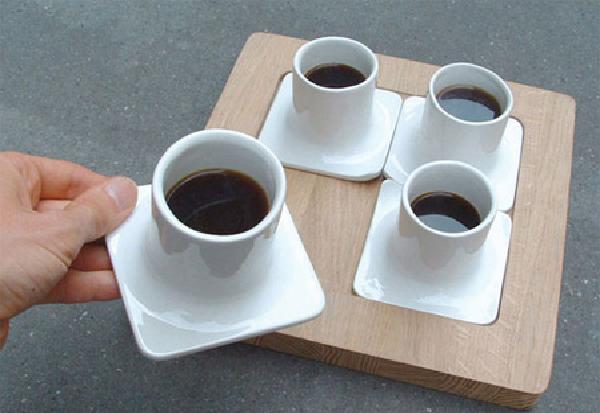 If you see closely, the cup will look more like a nuclear reactor. It also has a plate attachment where you can fix the cups to complete its nuclear reactor look. It comes in a set that will cost you $20 with the bottom attachment. The cup's unique shape makes the gripping easier.
5. Ferrari 3D coffee mug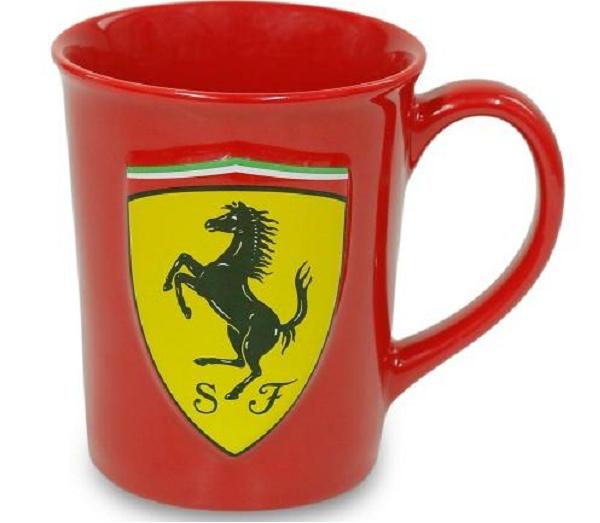 If you are Ferrari fan then you need to own this. The mug has a bright red look with a raised Ferrari logo. You can buy it for €21. The mug is official Ferrari inspired souvenir from Ferrari manufacturers. Therefore, you can order it directly from Ferrari official stores.
6. Ferrari travel mug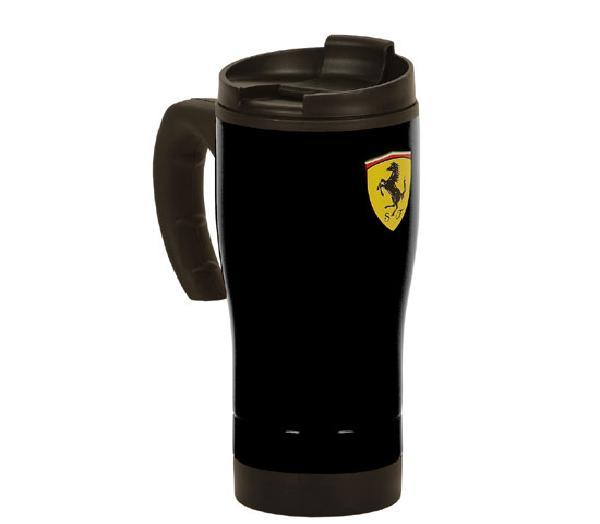 This is exactly the mug you seek to have in your car. The unique bottom design makes it easy to fit in your car's cup holder. It highlights the Ferrari racecar or Ferrari logo. You can sip coffee, soft drinks or even water while you drive the car. Remember not to drink alcohol while you are driving. The stainless steel body has plastic coating to give a classy black look. You can buy this for $21.
7. Melting Icebergs Cup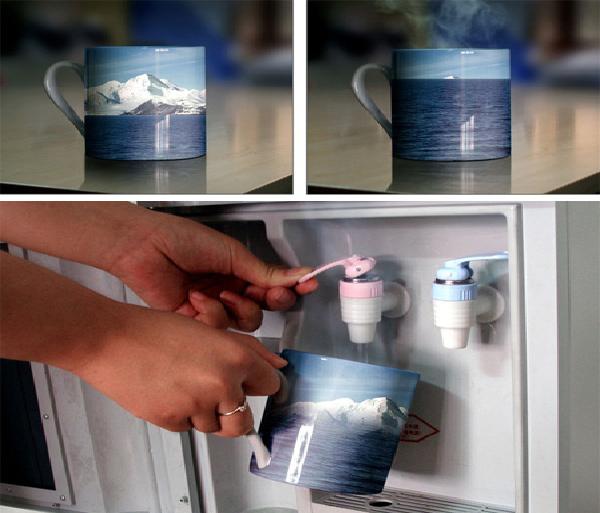 If you are an environmental conscious person, then it is the mug for you. It is painted with dual layer of paints. The inner layer is heat sensitive which reveal itself overshadowing the outer layer when heated. The outer layer has icebergs painted on them. When you pour something hot, the inner layer reveals itself making the iceberg disappear in water. It gives a look of melting icebergs. You can buy this cup for $18.
8. Stacked Cups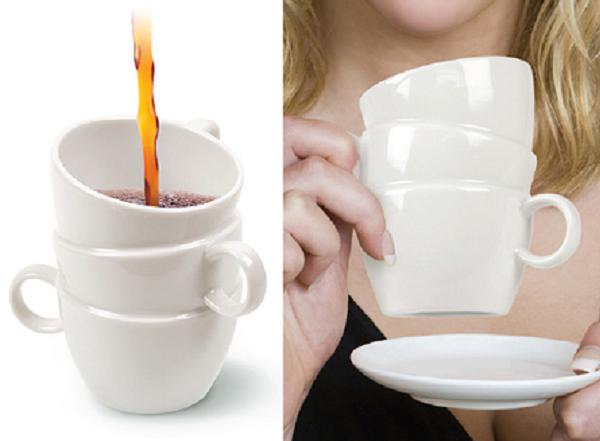 This is another unique design where the cups seem to be stacked on another. Every cup has its own handle. The design is made with perfection. Every handle is placed so elegantly that distribution of weight is similar in all of them making the grip easier. You can buy this ceramic cup for $25.
9. Gun Mug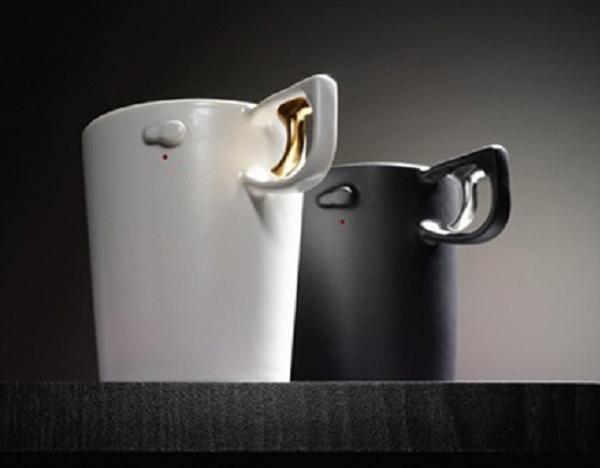 This is for all my friends who have itchy trigger fingers. Now you can kill the free time with mug. The handle has a gun trigger like structure that will fit well in your hands increasing your grip. You can take this cup on your hunting trips to amaze your hunting friends. You can even present the mug to your ex-military friend to relive his gun-holding day. You can buy the unique mug for $15.
10. On/Off Mug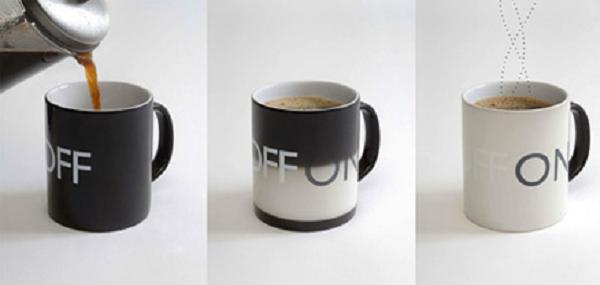 It is also a dual layer colored cup. The inner heat sensitive white layers has black ON written while the outer layer is black with a white off written on it. Now when you pour any hot drink the inner layers reveals itself. Initially the cup is black with off written on it. When you pour the hot coffee, it first changes to On/ Off with black and white shades and then it completely turns white with big black ON written on. It is a unique cup that will surely amaze your guests. You can buy this mug for $20.