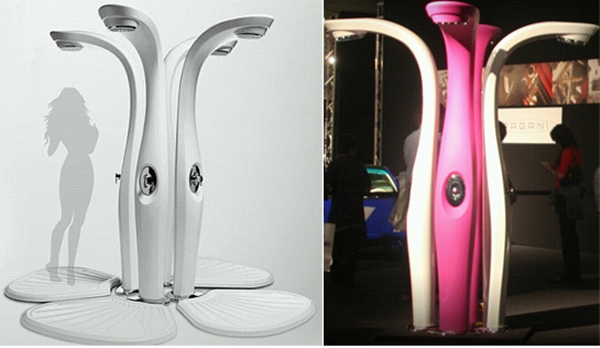 Showering is no more a mundane activity restricted to a lonely bathtub in a corner of the house. It has begun to acquire a much more therapeutic inclination. Now, it is all about having fun, and doing it outdoors. Outdoor shower helps you acclimatize to the temperature of your swimming pool and vice versa. Many new conceptual outdoor showering systems have been designed keeping in mind the changing preferences among people. If you have kids in the house, outdoor showers can be a relaxing experience for them. Let us peek into the following list of outdoor shower designs.
1. Outdoor showers from Designerzeit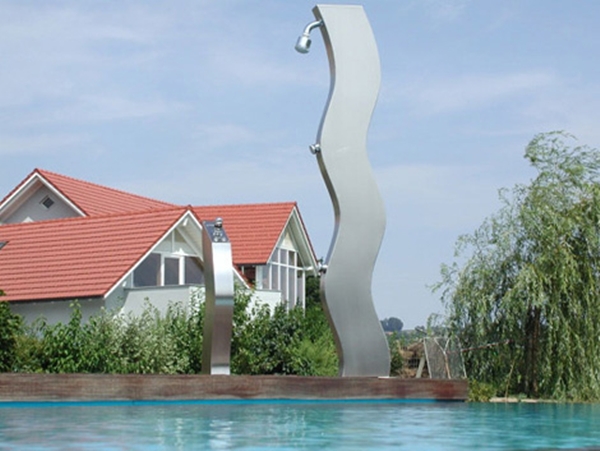 These outdoor showers are really eye stunning. They have a structural design that is little off to the beaten track. Designerzeit is the company that has manufactured these outdoor showers. In the image above, the two outdoor shower designs resemble the wave and ocean. While the wave creates a shower that forms a waving shape, the ocean spits out water and increases the volume of water slowly.
2. Bridge outdoor shower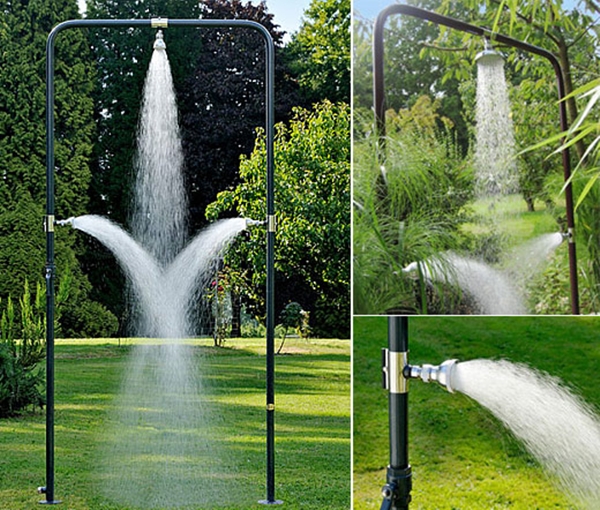 The bridge outdoor shower is for your private backyard. Featuring three points of water dispensing, the shower jets out water from these three points. You get a multi-sensory experience, or in other words, your whole body will be washed with the pleasant effects of showering.
3. Dyno shower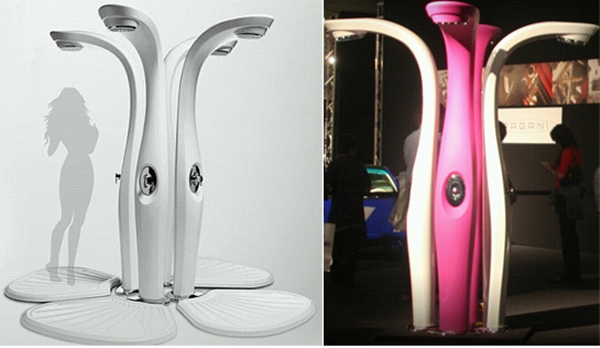 Having a shower in your garden is fun. You might have to go to a spa to replicate that experience. However, when you can do it in your backyard or garden, you are free to experience it repeatedly. Dyno shower is resistant to UV rays. This is because it is made of self-colored polyethylene. The shower is made of brass, and silicon.
4. Outdoor shower head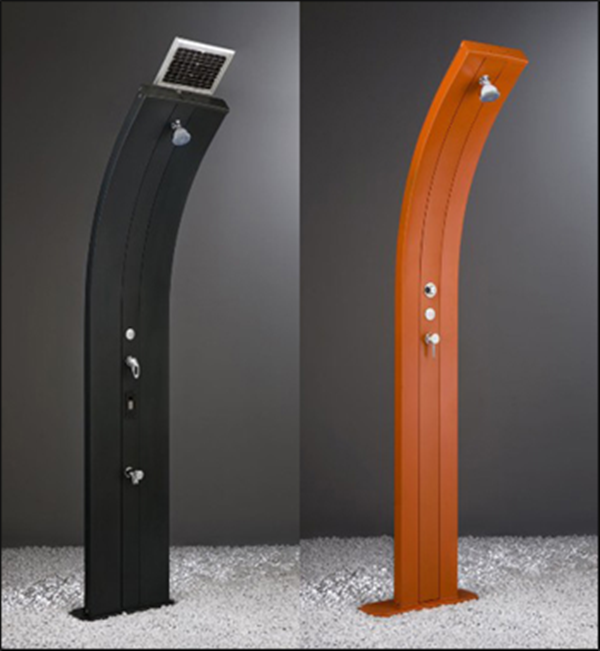 Outdoor showerheads can be carried around. Some of them are fixed though. Fixed outdoor showerheads are slightly expensive than the hand-held ones. They can make you to keep yourself tidy and stress-free.
5. Aquabambu outdoor shower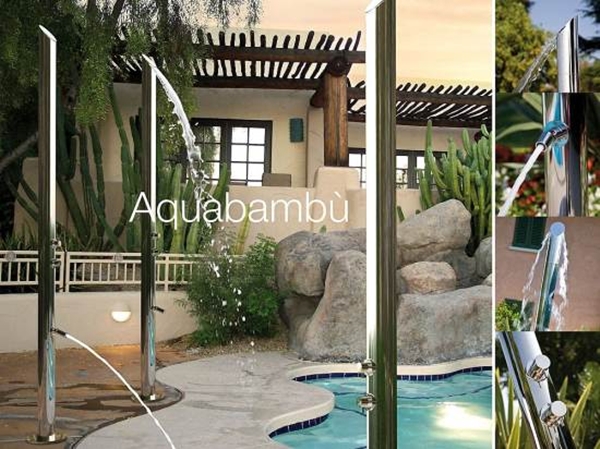 Bossini's Aquavolo music-chromotherapy outdoor shower is a combination of aesthetics and natural elements. It combines water, sound and light. When you take a shower underneath it, you can experience all these natural elements and have a revitalizing showering experience.
6. Rectangular outdoor shower head design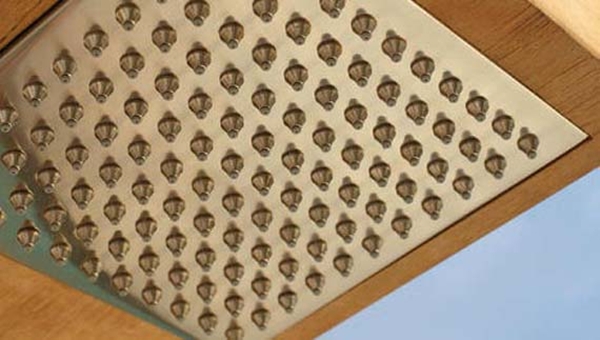 The rectangular outdoor showerhead design is an innovative and aesthetic way of designing outdoor showers. This product can be installed in semi-outdoor environments. For example, it can be installed under the roof of your patio overlooking the garden. It can be installed in the washing area of your swimming pool also. The design features dotted water outlets that dispense water like a rainfall. This makes it reclaim more surface area of the showered.
7. VIZA outdoor shower head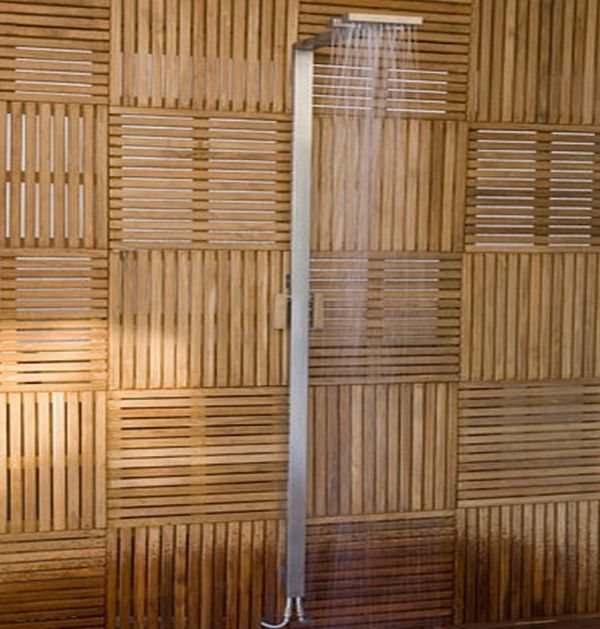 The VIZA outdoor showerhead is an elegant and highly functional design. Manufactured from stainless steel, the showerhead dispenses water in a unique way. Unlike a rainfall or jetting mechanism, here you can experience a stream mechanism of showering dispensation. You can control the intensity of the shower by way of a handle. The shower can be mounted on all surfaces. You can connect the shower to an outdoor water outlet by way of a hose.
8. Unusual stone outdoor shower – Vulcano by Wet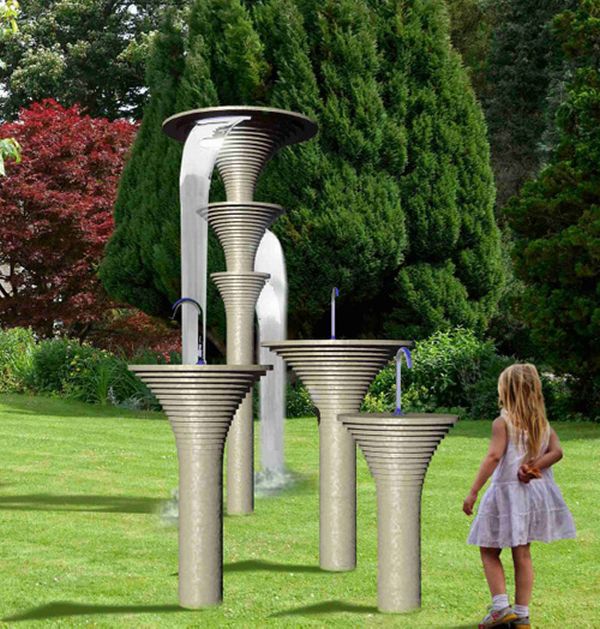 This outdoor shower is true to its name. It is indeed unusual looking. The Vulcano Shower is a collection of monolith structures streaming water. The design and aesthetics will perfectly blend with any naturalistic setting. You can safely install this shower and add more aesthetic value to your outdoors.
9. Unique outdoor wicker shower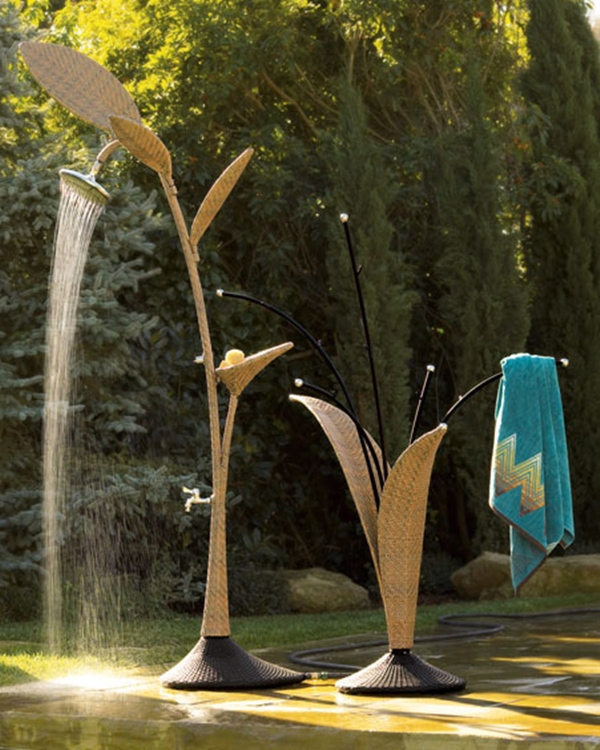 This outdoor shower is made from natural substances. It blends easily with nature. Its wicker look is created using resin wicker and aluminum. Both these substances ensure its durability and resistance to outdoorsy vagaries. In addition, it comes with a towel rack, which is designed like a grounded leaf. The stem of the shower branches out like a plant. One of the artificial wicker-made leaves is where the shower dispenses the water.
10. Delahey wooden outdoor shower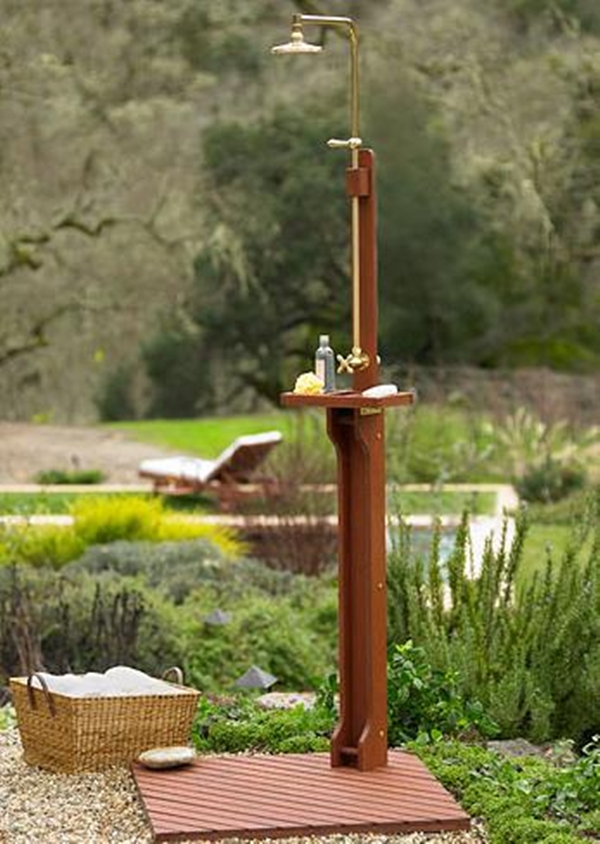 This eye catching shower is made from attractive hardwood. This is a perfect material for an outdoor shower. The brass fittings add to the handsomeness of the overall design. The base is plated to form a platform. The shower is convenient to install, and can be easily repositioned anywhere you want it to.