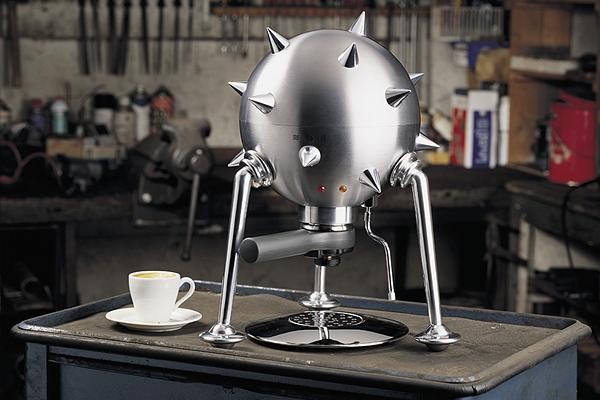 You will find many different gadgets which can give your kitchen a different look. Many funky gadgets for kitchen are available in the market at affordable cost. Here are 10 'Funky gadgets' for your modern kitchen which you should consider:
1. Do It All Knife
These days, new food processors and cutters have been developed. Hence, the use of knives has been reduced. Keeping simple and plain knife add no look to your kitchen. However, if you buy Basic Knife it makes your kitchen look beautiful. This funky gadget comes in different sizes and shapes of the animals and birds.
2. Klin-Tec Mats
These mats actually work. They help in keeping the food fresh for long time. It removes the odor and can be a good piece of decoration in kitchen as well. You can keep it in fridge even and check how effective the product is. You can also keep it below fruit bowl or kitchen bin. It comes in different color and sizes for your choice.
3. Ice Cream Containers
These containers are good to hold the ice cream pint with attached scoop on the side. It helps to make the ice cream cold. You can use it for yourself and can even share it with your friends. It comes in different color and shapes. Each comes with matching swirl of color, knob crystal on the top and words – ice cream – printed on it.
4. The Bloom Bowl
This is the poplar centerpiece bowl. You can place fruits and vegetables in the bowl. The bowl comes in different sizes and colors. There is wide range of shape available in the market at affordable price. The most popular bowl is the one with unique geometry generated through an algorithmic process which looks at floral evolution.
5. 'Lethal Weapon' Espresso Machine
This great coffee machine can add a new look to your kitchen. You get this machine at affordable price. The machine at first looks scary. You can also use it as a lethal weapon for your protection. It is designed by Carlo Borer. The machine's sphere is made of steel and legs with aluminum.
6. Heidolph VV Micro Evaporator
Your kitchen is nothing without Heidolph VV Micro Evaporator. The machine comes in small distillery. It takes out the flavored syrup from most of the food. You have to place the food in the glass evaporation flask. It heats the ingredients by rotating in hot water bath. The moisture gets out of the food with the flavored liquid. It comes for $3,000.
7. Cherry Chomper
Another funky gadget which you can be placed in your kitchen is Cherry Chomper. Even your kids can use this product. You get this product with some animated picture. The product helps to pit the Cherie. Even your kids can push the plunger safely. It doesn't create any kind of mess due to the bottom container to catch the juice residual.
8. PAC-Man Hot Head
It helps to break the egg. It comes at affordable price and gives a good funky look to your kitchen. The product is completely safe for kids and doesn't create any mess. You get this product in the market at affordable price.
9. Multi-Blade Rocker Pizza Cutter
The name itself suggests the use of this product. It helps in cutting the baked pizza in equal slices. You can use the accushaper knife that comes with the cutter to sharpen the blade. This crazy looking cuter is a combination of cutter and funky product to keep in the kitchen.
10. Hand blown Glass Salt & Pepper Shaker Set
You get the set of black and white pepper shaker. Each shaker is hand blown in Oregon with the good quality of glass. It comes with hand mixed colors. With the corrosion resistant metal cap, it gives a perfect funky look to your kitchen.