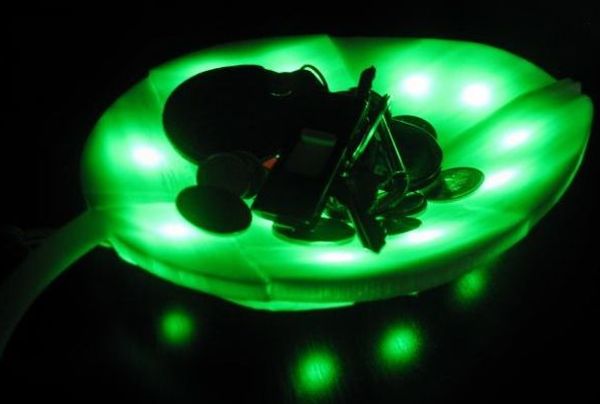 With each contour being displayed, the Leaf Lamp is an innate piece of beauty. Emanating a dim glow of its own, the lamp has been designed by piecing together 8 different pieces like a jigsaw puzzle. Ideal to be placed near the door, the lamp also proves to be a key catcher where you can place all the small nitty-gritty's.
The green LEDs inside the lamp's white plastic body have a beauty to call their own. Controlled by an Arduino micro processor, the light dims and glows as the user approaches the lamp. So if someone is standing right next to the lamp, the light would be the strongest and it dims according to the distance.
The LED's have been placed in such an appropriate way so as to allow maximum light to diffuse through the aluminum exterior. Built with an aluminum lining and a reflective surface, the gadget is one object everyone would like to have, decorating their houses.
With a soothing green light emanating from the lamp, the color has been chosen according to the name. Shaped in the form of a leaf, the lamp has been crafted according to exquisite taste and boasts of an excellent design and color.
Via: Mcoyledesign