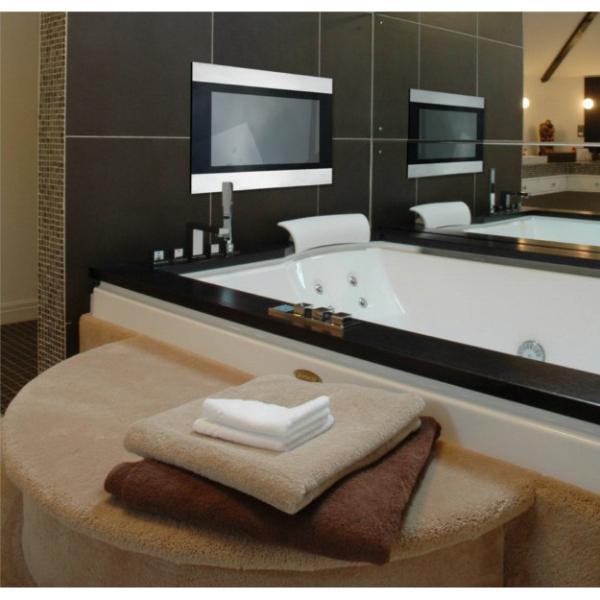 Since centuries man has been inventing, conceiving, designing and developed numerous ideas. Why? The most befit answer is because he wants to double his comforts, live luxuriously and to watch his favorite game even when he is cherishing a hot bath in his Jacuzzi! Sounds weird, isn't?
But this is the truth. When several men are busy creating bombs and missiles, others have made technological interventions, developing the right television for your bathroom. Now you can always recreate the magic of your living room, inside your bathroom and watch your favorite television program in the comforts of your bathtub. Some of these hi-tech bathrooms are mentioned below-
1. Waterproof Television
For years, the only thing that has stopped you from keeping a television in your bathroom was the water, which could have ruined your favorite box. But not anymore! Thanks to Seura's Hydra series of waterproof television, now you can watch your favorite game show while making flying soap bubbles in air. These television sets are IP-65 certified. And the best part-they are available in more than 800 colors. So buy one that matches your bathroom décor.
2. Fog-free Television
A waterproof television surely enticed you, but you are still wondering if your picture viewing pleasure will be reduced because of water forming fog on your television screen? Well, don't worry; Sundream Bath's TV S2162 is a fog free television that can be even viewed if you are showering in hot waters. It can easily be mounted on a wall or kept on a stand. This television also has IP65 and has HD.
3. Tilevision
Gone are the days when people only thought of fancy tiles as bathroom luxury. Technological innovations now allow you to have Tilevision- a waterproof and fog-free television model that can fit into your Jacuzzi and keep you entered. Now you can don't have to worry about missing your favorite game because of your spa treatment. Moreover these digital televisions also conceal all hanging wires.
4. Aquavision
These television sets have a flat, waterproof LCD and you don't even need a huge bathroom to have this luxury. Measuring barely 5 inches, this television is encompassed with several features like high picture quality, waterproof remotes and is affordable too.
5. Bathroom TV Cabinet
Now watch television in your bathroom and with many hassles about water. Bathroom TV Cabinet are made of wood which is water resistant while television is concealed inside the mirror. The television sports a light sensor and is an ideal item for those who aren't attracted to fancy bathroom fittings.
6. Vanishing/Non-Vanishing Television
If you think that cabinets and waterproof televisions are too old on technology, then this is the one for you. Seura's Non-Vanishing mirror combines the power of television with the elegance of a mirror. When turned off, only a black silhouette of the television screen is visible but does not affect mirror's reflection. In the enhanced version of this television, the mirrors have such bright reflection that TV's merge into mirror when turned off.
7. Lumination Television
This television is all about beauty, style and elegance. Its LCD technology is worth appreciating and the back lit mirror provides ultimate luxury. The LCD picture is visible only when the television is on, otherwise a bright reflection conceals the screen.
8. Touchscreen Television
If you are wondering that what if your television's remote controls get wet and struck in water then all you need is this touchscreen television, which offers you waterproof screens with the power of touch. Now you realize that not just cellphones but also televisions have appreciative touchscreens.
9. Future Hi-Tech Bathroom TV
This television has everything anyone desires to keep in his bathroom, it is chic, elegant, waterproof, stylish with an LCD that offer High Definition quality picture.
10. Television for Recessed Bathtub
This television is similar to Aquavision Television but they can be attached in recessed bathtubs and Jacuzzi without worrying that the hot waters would interrupt your television viewing.
Now you know about the latest advancements in bathroom technology. So, what are you waiting for? If you want elegance, luxury and comfort in your bathroom then select one of these and grace your bathroom with bravura television set. Choose the one that defines your style.