The world could not offer better technological advancement than what it offers at present. Gone are the days of wires covering the entire anatomy of your home, like a reptile, and ending into a patch of either monotone or heavily colored board covering a complex mesh of wires. Technology offers better, more comfortable options with wireless lighting fixtures to illuminate your house with lamps and bulbs.
Here is a list of 10 wireless lighting fixtures:
1. Remote control touch desk lamp
It is a sleek and good looking table lamp. This curvaceous remote control touch desk lamp has a screen in the body that has been provided for various purposes. It is devoid of wires and cables; hence, you may keep it anywhere without having to worry about sockets in proximity. The lamp has a remote control feature that gives you the liberty to operate it from a distance. It provides you constant light and the bulb does not flicker. An FM scan radio makes the lamp more than just an illuminating device. It also features a calendar that will remind you of important dates before the radio sends you off to sleep with its lullaby. The gadget features an alarm clock, nature ray, a countdown timer besides the other useful features.
2. Eglo 86869A Antique Brown
Eglo Antique Brown is a beautiful lamp which can be hung comfortably on walls. It looks like a plant carved out of metal. Available in deep, earthy tones and with a touch of golden, Eglo surpasses all praises. Eglo 86869A has a Candelabra base and type. It spreads soothing light to make the environment calm and relaxing. It has two bulb sockets, which can be fitted with 40W bulbs and can be used in a variety of places. Use it in your office, in your living room or at the entry.
3. Soundolier Wireless Speaker Lamp
This lamp resembles a Petunia flower with its elongated, thin base and wide mouth at the top. Soundolier, as the name suggests, has external speakers. The speakers, 5 ¼ inch, are placed at the mouth of the lamp. It is a wireless lamp that spreads soft light. You may use 100 Watt lamps with dimmer. It can be placed in a corner to feature as an element of decor.
4. Arroyo Craftsman GW-9 Small Wall Light Wall Sconces
Made for ambient lightening, Arroyo Craftsman GW-9 is a small wall light source that holds only 1 bulb. It can be used in the hallway or in the outdoor. GW-9 is a contemporary, but traditional, lighting fixture that has derived inspiration from C.R. Mackintosh's fabulous designs. It is merely nine inches tall and can be hung comfortably on the wall.
5. Stone Wall Sconce by A-19
It is a unique piece of decor that looks like a huge natural stone on the wall. These light fixtures belong to Nature collection and can dupe anyone with their stony finish. Their advantage is their resistance to deterioration. Stone Wall Sconce are pretty compact; you won't need a lot of space for a 4.25 inch wide and 11 inches tall lighting fixture.
6. Arroyo Craftsman GSADA-9-RB
Very similar to GW-9, GSADA-9-RB belongs to the Glasgow collection of lighting fixtures. These Japanese style fixtures are ideal for illuminating bathrooms and outdoors. They use one bulb of 60 Watts. These are broader, but can be comfortably placed.
7. RGB changing LED Lamp with IR remote control
You can make a RGB changing LED lamp yourself using some elements. All you need is an old lkea lamp known as Qila, an RGB LED controller along with LED strip, an adapter, and a hot glue gun. To start with, remove the halogen bulb and its socket and mount LED controller and IR receiver. Then replace the power cord and simply mount the RGB LED strip. To your surprise, you have just created a beautiful piece of LED lamp.
8. Cirque 1 Light Wall Sconce by Corbett Lighting
A very compact wall sconce that is an artifact to admire. It has Antique pearl glass shade and an iron body molded to perfection. It spreads comely light suited for living rooms. This, truly, is an exquisite piece of devoted craftsmanship. Holds one 100 W bulb, it can be put up anywhere on wall due to its small size (12x10x8).
9. Omni Rectangle Wall Sconce by LBL Lighting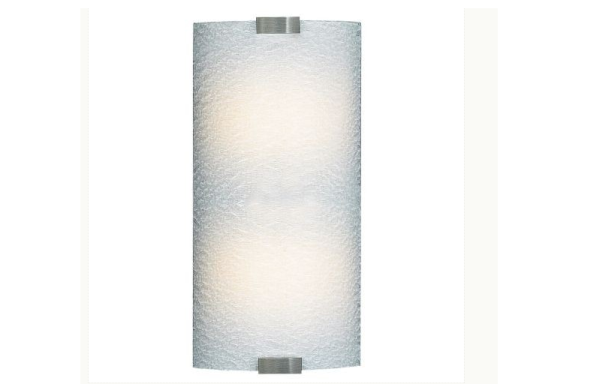 Apt for all occasions – formal or casual – this lamp is cylindrical in shape and offers extruded die-cast aluminum support. They come in bronze and silver colors to make the environment more majestic. It uses just one 24W bulb featuring LED light and latest low voltage technology. Just like other Illinois LBL lamps, Omni rectangle lighting fixture is also based on principles of beauty, quality, and originality. It can be bought online at a price tag of $260.
10. WI-1363-29 Brisbane 4 Light Wall Sconce
Definitely bigger than others, but not a monstrous lighting fixture. It is 13 3/4″ in diameter, 14″ in height and 9″ in width. It uses four bulbs of 60 W each and is beautifully designed to give your room the elegance you expect out of a home decor piece. Currently, available at a discounted price of $106.20, this striking piece of art can be bought online.