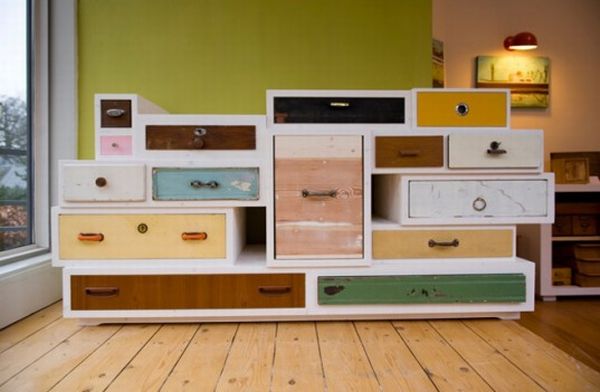 Design Direct in Hamburg, Germany is a place where all kinds of funky and innovative furniture are found. With every new piece of furniture, Design Direct tries to provide products with a very trendy look that are made from recycling the old products. A latest chest of drawers is also no exception. It is a huge chest with lots of drawers in various colors and sizes. Unless someone tells you, it will be hard for you to make out if this drawer has been made from discarded drawers. The signature element of quirkiness is present in the set of drawers also and immediately grabs the attention of onlookers.
Design Direct is only 10-year-old but it has managed to create a niche for itself as a space which is a shop but doubles up as an art studio for providing quirky furniture to people and organize exhibitions, lecture series, discussion among furniture enthusiasts, etc. The store also provides the additional facility of enjoying paintings, objects of art and furniture made from lost or discarded things. Customers can also get ideas about how to implement their own furniture designs.
1000 drawers derived its name from the fact that Design Direct thought of salvaging 1000 discarded drawers languishing in the dustbins or storerooms of people and to make them of use again. In the process of rejuvenation, each and every drawer was closely observed, holes or other problems were fixed, repainted into bright and vivacious colors and then each drawer was given a wooden housing for itself. The wooden frames are so designed that they can directly and easily be fitted into the wall. The drawers will remain sturdy in the wall. Besides, each drawer comes with a specific number and certificate and hence a unique customized piece in itself.
So, if you plan to enliven kid's room or want to make that dull corner of your living room useful and uniquely decorated, head towards Design Direct. Happy shopping!
Via: Inhabitat.com