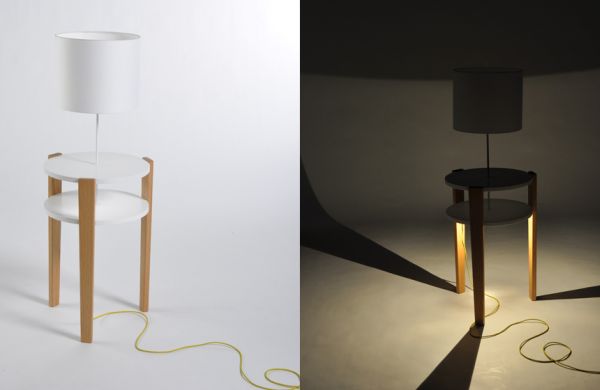 Tables and lamps have been associated with each other from a long time. Here, to give this amazing combination an all new meaning is the SunDown Table. The dainty piece of furniture has been designed by James Uren. It promises to add an angelic glow and lend unending warmth to indoor spaces.
The table comes fitted with two illuminating sources: one like traditional lamps on the upper part and an additional source at the bottom. This will give birth to mesmerizing shadows. The furniture piece gracefully stands on three legs, crafted from oak, and has been dipped in lacquered MDF. It comes swathed with a minimalistic appeal and will perfectly fit in a contemporary setup. The outer facade looks very neat and tasteful.
SunDown will let the user flexibly alter the fading of light as per their mood. Illuminating the table from underneath will create a romantic atmosphere, while the one from above will add a magical radiance. Such a choice will give birth to a variety of atmospheres in no time. The SunDown table can be placed anywhere in the house. It vows to brighten up even gloomy spaces with a mystic aura, which will never fade in your hearts.
Via: Jamesurendesign