With the ever-evolving world, automation has evolved itself to fit into the society, making things easier for humans, right from a computer to devices that can control the entire landscape with the help of a single, small device. Automation has entered nearly every aspect of human-life: military, security, sports, entertainment, education and, now, home. The concept of home-automation is bit different from other automation-types, given the fact that it is for the simple, non-technical homeowner who is the boss of the system.
Unlike other automation systems, the home-automation system should be easy to use for the owner, without him or her knowing the operation-details. This brings in less sophisticated systems for the home-market which are capable of controlling more than one devices at a time. These devices may be air-conditioners, music-players, lights, heaters or other home-appliances. This concept is known as "multitasking," and in a home, this feature should be present without compromising with the comfort of the user. The recent automation-products that are creating waves in the market come equipped with above mentioned features.

1. Bang Olufsen

In order to provide people with better intelligent-home options, Bang & Olufsen has come up with the Master Link Gateway full integration solution, which connects Bang-Olufsen A/V products and home automation systems. It has overcome the disparity of the earlier version – Master Link System – by providing integration to all other electronic equipment at home, along with the B&O A/V products. All the integrated systems can be controlled using a single Beo5 remote control. With the help of Master Link Gateway, the home owners can control their automation equipment with the Beo5 remote control. Using this pre-programmed remote-controller, one can control equipment, like lights and air-conditioner, along with the standard A/V products of the company. In total, 130 devices can be controlled by the single controller.

2. Beo5 Remote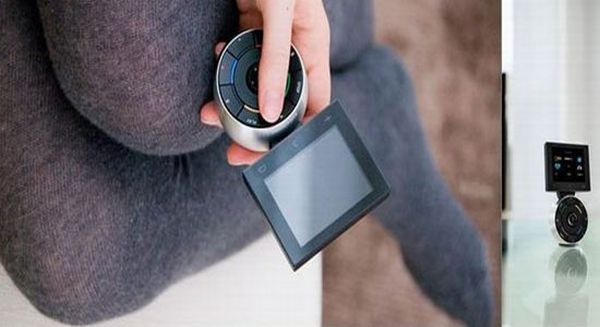 Beo5 remote control offers the best way to control all the B&O Master Link Gateway-integrated devices. With a beautiful look, easy controls and small size to fit in a palm, this controller manages to simply control all home devices, ranging from blinds to TV.

3. Control4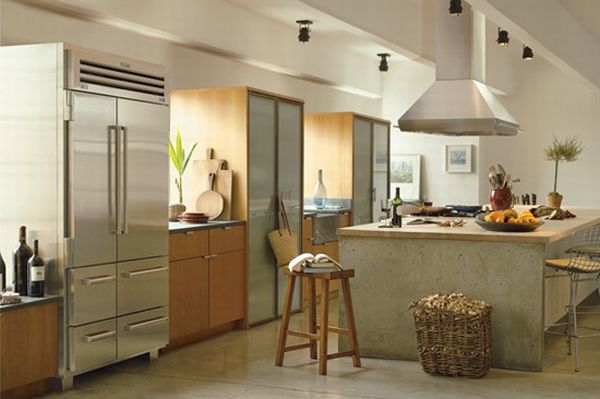 Introduced at CES 2011 by Sub-Zero Inc. and Wolf Appliance Inc., Control4 system connects to the companies' appliances for helping save energy, bringing convenience to the user's doorstep and preparing a perfect environment for cooking meal in the kitchen. Manufactured by the above companies in partnership with Control4, a leader in IP-based control and entertainment systems, the Sub-Zero operates on Zigbee and uses serial ports to connect the users to the appliances via touchscreens, smart-phones and other enabled control-devices.

4. DPAC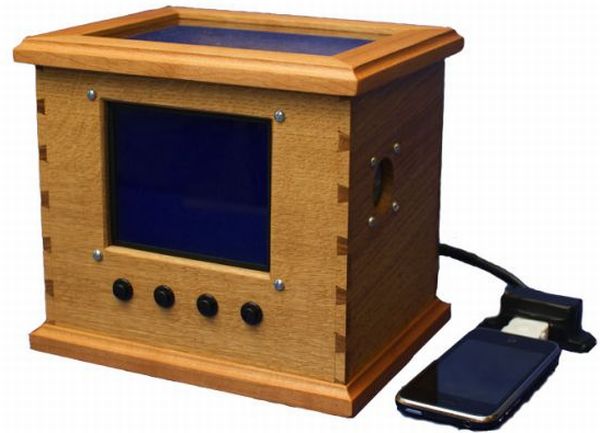 An invention of Northeastern University's students, DPAC (Dynamically Programmable Alarm Clock) acts as a clock and alarm. It synchronizes with the user's Google calendar and integrates with the home-automation system to control the devices as per the time-schedule (for example, turning on the lights in the early morning). The best thing about this device is that it can be configured using a web-interface, and has a built-in FM radio and an iPod dock.

5. Intel Home Automation
In the race to dominate the home-automation market, Intel has unveiled its latest Home Automation System, which runs on the energy-efficient Atom processor. This system has an OLED display and Zigbee-based connection to the home-appliances. The OLED display shows usage of energy, and provides access to a central control panel with information such as temperature, utility cost and weather conditions.

6. Lifepoint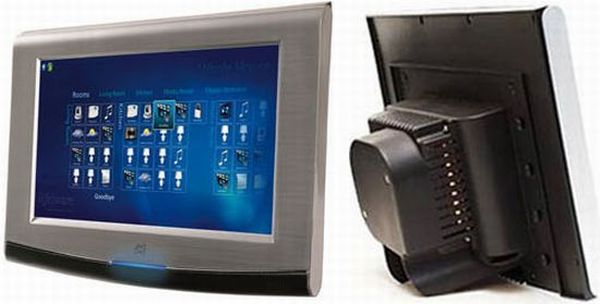 A product of Lifeware, Lifepoint is an all-digital, high-definition touch-panel, which helps the user navigate through four videos on a single screen, controlling home-appliances (like camera and security-systems) and giving access to digital entertainment. Other features include stereo speakers, microphone, ambient light sensor, and an automatic touch-to-wake power saving mode. It comes in various sizes.

7. Nokia Home Control Center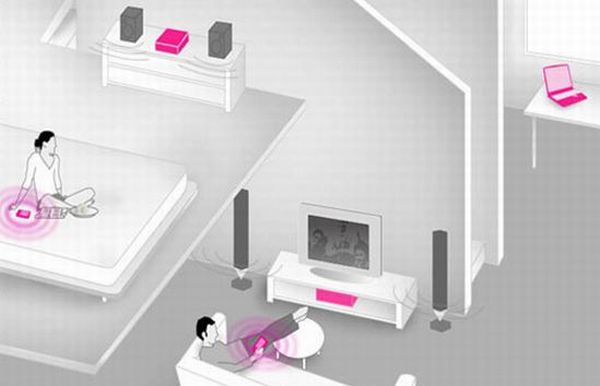 Nokia, the world's largest cellphone-producer, has come up with the idea of providing home-automation through a cellphone. Known as "Nokia Home Control Center", this system involves using a cellphone to control all the integrated home-appliances, like switching on lights and turning off the radio.

8. Savant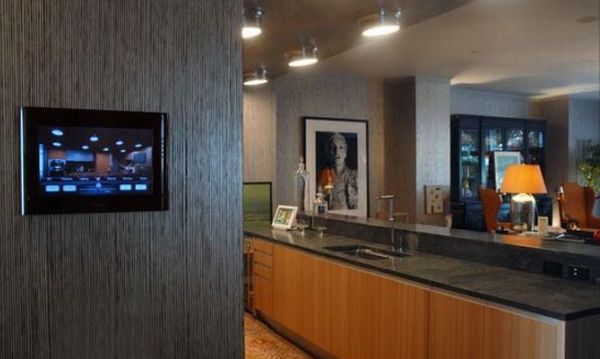 Savant Home Automation Systems helps the user control everything in his house with a remote control, using the only Apple-based networking product in the market. One can turn ON the television in a room, while switching OFF the lights in the other at the same time. Such a feature helps in making life easier for the homeowner. Available in various touchpads, the system can be synchronized with iPads.

9. Sound Vision Frank Levinson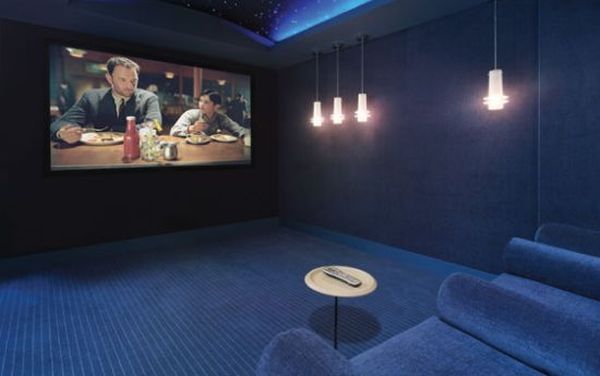 Other automation systems have the problem of consuming large amount of energy even when switched OFF. This problem has been taken care in Frank Levinson's house designed by Sound Vision uses little energy during the same period. It has the following technologies used to bring energy-consumption to 800W-1200W when the electronics are not in use:
a. Blown-in Air-crete insulation and energy-efficient low-E windows to reduce heating costs,
b. Lutron HomeWorks light control system to dim lights and programming preset scenes to turn on lights only when needed to save energy,
c. Crestron home control system to completely turn off A/V components and audio system, and,
d. Agilewaves energy-monitoring system to monitor electricity-use

10. Supernova 6-inch Touch-panel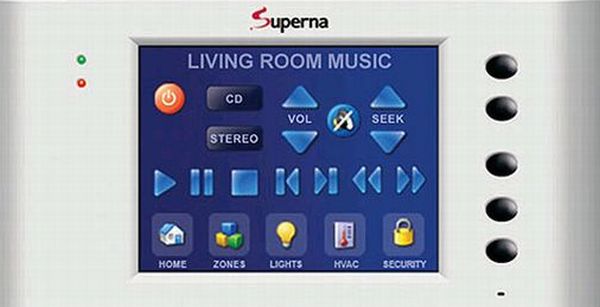 The Superna 6-inch Touch Panel is a cost-effective solution for the user-interaction with the home automation system. It provides serial and USB connectors for all common types of interface modules for controlling household devices, appliances or systems. It uses Linux as its operating system. The touch screen can be wired to the network via CAT5 cable or wirelessly communicable via Wi-Fi connectivity. In addition, it provides direct audio and video streaming of major formats, and can direct streams to a specific resource such as a TV or stereo from any PC on the home network.

11. Voice-activated home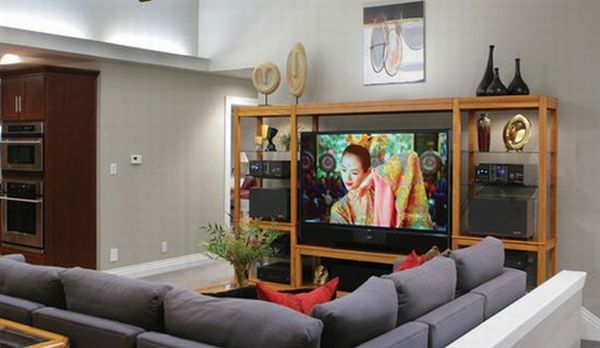 Developed by Home Automated Living, HAL is an automation-system using voice as activation. If a homeowner needs something to be done with a particular device (say, play "Crushing Day"), he has to utter his wish into a computer-microphone or telephone, and get the thing done for him. The HAL is voice-compatible with Leviton lighting system, the GE security system and the HAI thermostat. In addition to this, it also displays caller's ID on the TV and signals the visitors' arrival.