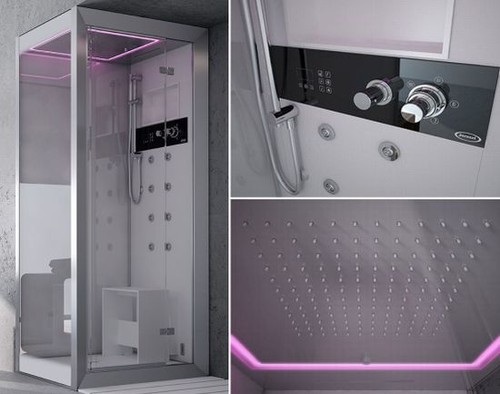 If you are looking for bringing some change in your bathroom with some great features and decor, then you must go for hi-tech showers. After a hectic schedule, you will find your bathroom the best place to relax. You can decorate your bathroom by introducing some unique style of showers in it and enjoy the bath. Here are 12 hi-tech showers for your luxury home. Explore!
1. Hi-tech Massage Bath Tubs with Shower
These days, people are demanding for the recently created high tech massage bath tubs with shower. It is the combination of a bath tub and a shower. They have stylish and unique design that enhance the utility manifold. It includes massage jets, thermostat, devices to check the water levels, ozone sterilizers and some other accessories controlled by computer. The recent model of this shower cum bath tub also includes FM radio and 15 inch LCD TV.
2. Frame Shower Designed by Mario Ferrarini
This is another hi-tech shower invented by Jacuzzi. It can make your home look unique. It features transparent glass with a contemporary integrated lighting with a sophisticated look. It is very user-friendly and features touch screen panel to control the energizing cascade, hydro massage type, and stream bath with raindrop effect to the central shower head. The specialty of this shower is that it relaxes and rejuvenates you.
3. In2ition Shower Head by Mnaki Yoo
This shower is designed in a way which can match up to the old house furniture and interior. It is an unique design made by Delta company which is called In2ition. It provides two shower heads which you can use at the same time. You just have to remove the detachable and enjoy the two water shower flowing on your body.
4. Deltri Steam Shower Cabin and Tub
It is another great hi-tech shower which comes with the combination of bath tub. You can place it on the left or right side of the bathroom. It has got some great features which allow you to have a water massage and adjust the water volume and steam with the powerful shower. There is also a plug in connection for your iPhone or iPod.
5. Modern Shower System by Samo
This shower features unique characteristics. It is known for its elongated shape and high-polished hardware. You get this bathroom shower in funky colors as well to match up with your bathroom theme. The rain shower drizzlier is its special feature. This shower is famous for its revitalizing waterfall jet or wide rain whichever you like. It also comes with a built-in audio system with loudspeaker. You can also get connection for MP3 or iPod with great LED lights.
6. Luxury steam shower with Althasa
This is said to be a royal shower which comes in two types 165i steam shower and luxury steam altheas unit. It comes with a black glass and steam shower which represent its unique design. It also features FM radio, LCD and MP3 player. The whole unit is filled with florescent lights.
7. Enjoy your Bath with Aquagate
This shower cabin has all the unique features of bathroom technology. It is designed by Villeroy and Boch and Matteo Thun. Other than this, it also features great touch screen control panel and MP3 player which you can enjoy while relaxing in shower.
8. Quapeutics Steam Shower
This luxury steam shower makes your bath relaxing and soothing. Other than spa technology, it also comes with massage jet including acupuncture massage system, steam box and two handheld showers. It got LCD TV and integrated light with alarm facility. It is a complete computerized shower which is fitted in the bathroom corner.
9. Shower Cabins from Savona
You have to install this glass steam shower placing one person either in corner or middle of your bathroom. The entire set of shower gives a great relaxation and massage feeling. It features LCD, MP3, hydro massage, radiotherapy. It also comes with digital control panel which fixes your steam timings. The set also has wooden bench for you to sit comfortably while having steam.
10. High-end Living Steam Shower Unit
Enjoying watching TV and having a bath is something which you can enjoy in this shower set the most. You get 2022 steam shower with inbuilt telephone system and integrated TV. This shower unit also offers you to adjust water pressure and steam temperature. It comes with oval style shape mirrors.
11. Shower Cabin with Bluetooth connection
This shower system has been specially designed for spa lover. It comes with Bluetooth facility, chromo therapy, head shower, provision for steam/sauna, steam shower and body jet which allow you to enjoy a royal bath. The whole system of shower is controlled by digital keypad.
12. Pure Skin Shower Line
The bathroom shower line was earlier introduced in Arizona. In this bathroom, you will enjoy the combination of regular shower with amazing spa. You can consider it as a combination of hygiene and beauty. It has got integrated technology of injecting vitamin C and E.