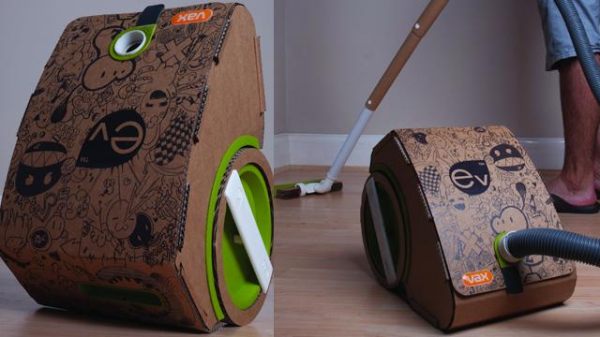 Vacuum cleaners, which are also known as hoovers, are devices used to clean up dust, dirt, and they have been around for more than a century. They have become so prevalent in every household's day-to-day life now that imagining a dust-free, and dirt-free home without a vacuum cleaner is unfathomable. Today, to keep our home spotless, healthy and happy, we have plenty of choices that we get to choose a vacuum cleaner, from the usual powerful upright cleaners to hybrid cleaners, handheld cleaners, and portable automatic floor crawlers. We have populated a list of unique and top vacuum cleaners of 2011. Read on!
Cardboard vacuum cleaner by Jake Tyler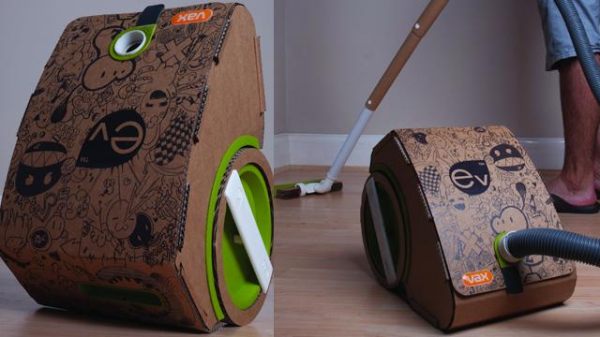 Jake Tyler from Britain, a student from the University of Loughborough, has made a cardboard vacuum cleaner which has no plastic or metal covering. The vacuum cleaner could be among the most eco-friendly devices out there, which is called by the name 'Vax ev'. This student has earned numerous appreciations for his work and has even rewarded with a place at the New Designers exhibition, in UK's best graduate work category.
As a sign of its success, Vax, a leading brand in UK in floor-care products, has taken up the task to promote this eco friendly vacuum cleaner by Jake Tyler, in the UK market. Vax is a well-known brand in the UK with a comfortable market position, which has posted record sales into billions in the year 2010. This gives a platform to push Jake Tyler's product into the limelight that it deserves.
The Vax ev vacuum cleaner is lightweight as it is completely made out of cardboard, which is easily manageable and extremely portable. The only protection that it needs is from exposure to wet environment, which can shorten its longevity. The entire enclosure of the device is grooved together as against gluing them together. This gives the benefit to easily replace them in case of damage, and the cost of building is drastically reduced. The cardboard that is used is also fire resistant.
Settebello II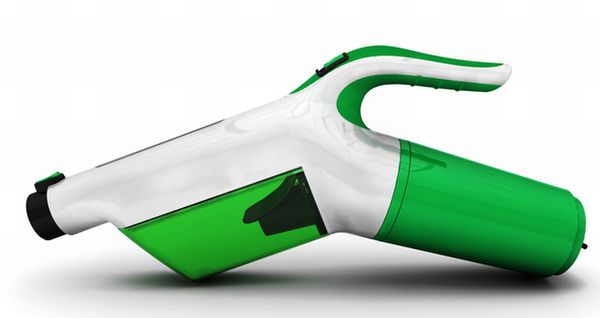 If you often complain about toting around a heavy vacuum cleaner to reach those remote areas, which are beyond the usual convenience of cleaning a carpet, and those nooks and corners that always evaded your big and heavy vacuum cleaner, then look no further, Settebello II is what you need. It is a lightweight handy vacuum cleaner, which the makers have made after being inspired by the mini cleaners that appeared in the 1960s. The designers, Andrea Brivio, Davide Caprioli, and Stefano Airoldi, along with a group of students, decided to look in the past to find a solution to the cumbersome vacuum cleaners, which led them to create this device that weighs around a kilogram, yet it's powerful with its ability to churn out 750W power.
The device is powered by cabled AC power supply and has an elastic tube length that can stretch from 25cm to 80cm for easy reach to remote areas in your house. It is also supplied with different attachments for different types of areas.
Anelino vacuum cleaner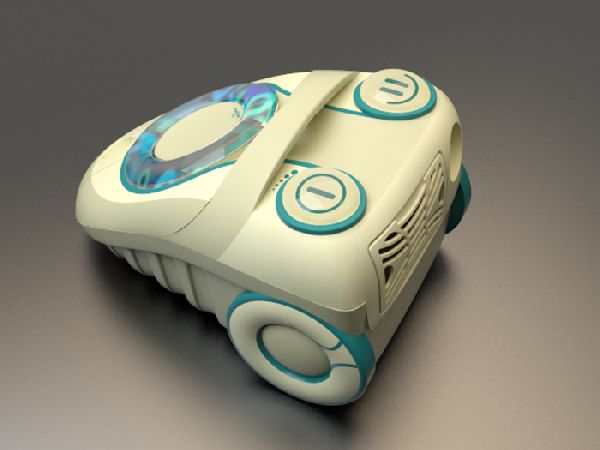 Anelino – as much as the name sounds cute, so does its appearance. It looks like a small cuddly household pet, which doubles up as a portable vacuum cleaner that moves around the floor swiftly, sucking up dirt. This device takes cue from the design and trend created by ETA, a well-known Czech home appliance manufacturer.
The device has been designed by a young product designing graduate student, from the University of West Bohemia in the Czech Republic. The Anelino is made compact with huge ergonomically designed controls to make it very user-friendly. It's a breeze to operate around the house and can clean any place effortlessly in minutes. This device brings in some freshness and playfulness to your home, which is otherwise bogged down by the usual clunky vacuum cleaners available in the market.
Puppy Robotic vacuum cleaner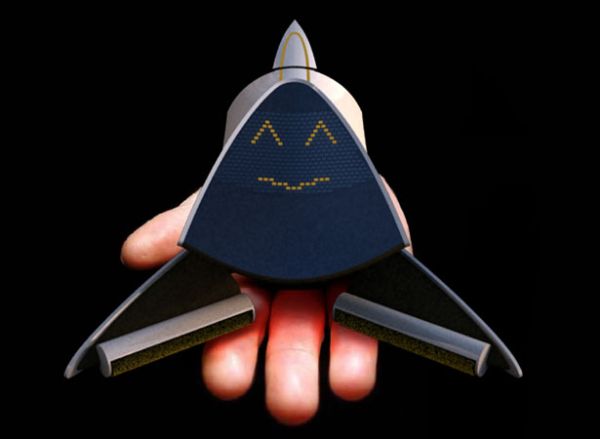 Puppy Robotic vacuum cleaner is a cute, small puppy-like device that will help you clean your house, instead of becoming a liability and messing around. Hyun-Seok Kim is the person behind this cuddly invention, who has given a whole new appearance to how vacuum cleaners look. What makes it even more interesting is that it can be instructed to perform cleaning while sitting comfortably. It is operated by a remote control, and the puppy is programmed to follow where ever the remote control goes. In other words, if you hold the remote and you walk across the hallway, the Puppy Robot will follow you while performing the cleaning along the way.
Just like the aliens always return to their spaceships, this puppy comes with a cradle dock which acts like a spaceship for these miniature cleaning robots. They serve mainly two purposes: first it charges the puppy while it sits on the cradle dock, and secondly, it serves as a dumping ground into which the Puppy Robot can unload all the dirt that it collected along the way. And the amazing features do not end here, it can also play music with its entertainment mode making it one unique home appliance device that is fun to have.
Electrolux Hybrid Vacuum Cleaner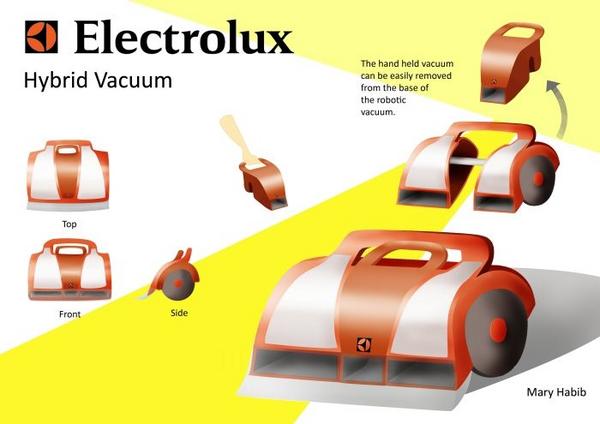 Electrolux Hybrid vacuum cleaner, developed by Mary Habib, a student of Industrial Design, is not just another vacuum cleaner, as it is a robotic device that is powered by solar energy. The key drive behind this invention is the need for a eco-friendly device that also offers carefree cleaning.
This device takes all of its power from the sun, it is made up of photo voltaic cells, a kind of organic material that converts the light energy from sun into electricity. The device is also made up of raw materials that are sourced from recycled materials such as corn, old car tires, and other recycled items. It has an unique of displaying status of its working, and it does it by changing the color of its enclosure. It also has a hand-held unit attached to its center that one can remove to clean places like corners in bed, couch, curtains, chairs and so on, which are otherwise difficult to reach with the full sized cleaner.