Folding homes are perfect for those who like to be on the move. They can dwell in one place as long as they want, and they can move on , especially if their folding house is portable too. Modern folding homes offer m ore independence to the residents as they can be equipped with solar panels. Thus the home can generate the electricity required for the frugal needs. Check out these amazing folding house design concepts:
3 folding house design which are extremely portable
Folding portable home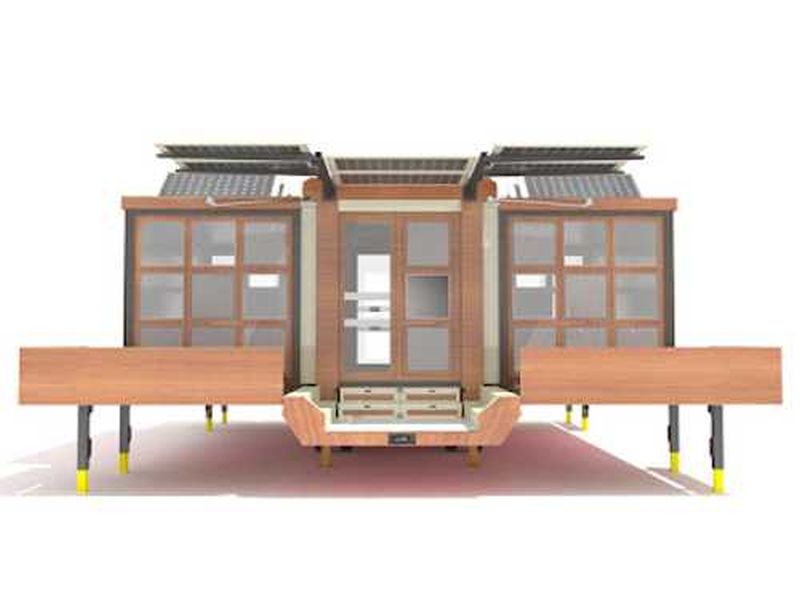 Image Source :  lushome.com
Like other modern folding house design concepts, this concept also offers comfort and convenience. It can be transported anywhere. It was designed by Mehdi Hidari Badie and has features such as foldability, portability and solar panels. The designer has used the concept of pop-up folding home and integrated it to a transportable home design. Small portable homes like this one can suit the nomadic lifestyle of people who love to be on the move.
The contemporary design has all the features of a green building. It has a recyclable steel-aluminum frame and the insulation used is made out of recycled plastic and thermoplastic. It can be used as a cottage or small home, and can be taken to many places, thus offering the owner an opportunity to stay in their own home while visiting out of town. The look of this portable home is quite attractive, and unlike conventional portable homes.
Italian folding home concept – M.A.Di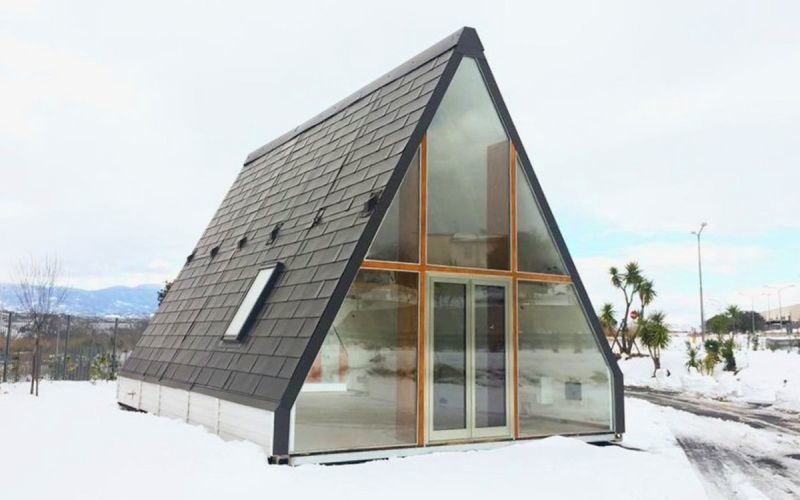 Image Source : i2.wp.com
This is another folding house design, designed by an Italian architect, which is an innovative new type of housing for small urban or rural spaces. Three people can assemble this portable home in only six hours.
Italian architect Renato Vidal, designed the home called M.A.Di, who ensures that his homes are built using high-quality, safe material. The homes designed by him also have the anti-seismic certificate which is required by law in Italy. The new style of portable homes designed by Renato Vidal is customizable.
You can customize the houses with gray-water treatment systems, LED lighting and solar panels. The company provides wooden veneer exterior walls in a color chosen by the buyer. The exterior can be customized with other finishes such as aluminum, plaster, marble fillets and natural fiber.
The most basic and affordable design, 26 sq meter in size, costing about 30,000 USD, is equipped with a furnished kitchen, toilets and the important technical installations such as water and electrical systems.
This house can be extended to a maximum of 84 meters any size, priced at approx 75,000 USD as you can keep adding modules according to your need. The best thing is that a concrete base is not required. The modules in this folding house design can be assembled on the floor itself, so homes of any size can be made, only requirement is that the base remains level.
For people who want to have a stable home, they can buy their affordable model and build their home on foundation stakes made by the company. People can start with a smaller size and add more modules as and when their requirement increases.
The Ten Fold folding home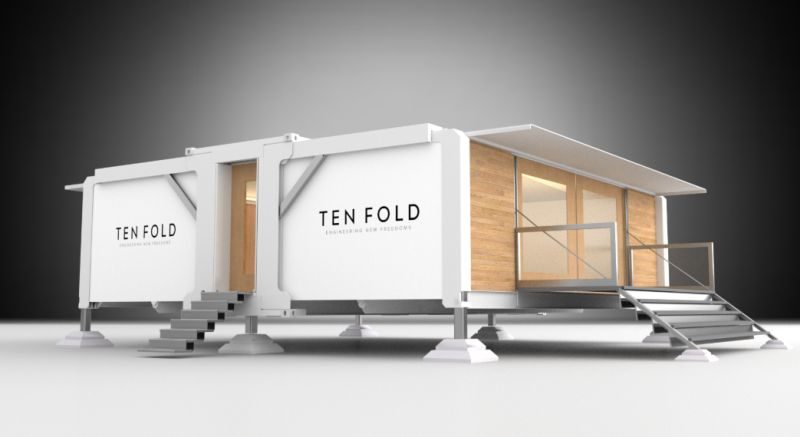 Image Source : blog.allplan.com
As portable homes go, this is one of the most innovative folding house design. The company's name is Ten Fold Engineering and is based in the United Kingdom. The house which everybody's talking about is an amazing modular home which assembles itself in just around 10 minutes. No manual labor or machinery is required to accomplish this.
This incredible portable home, which can be relocated anywhere you want to, and can deploy itself without any help, is a dream come true for many people. It can build itself just by pushing the button, and opens out to approx three times the compacted size. Though the internal fixtures are pre-fitted, owners have the choice to arrange them.
The Ten Fold home has color levers which are color coded to denote their specific functions. For instance, green levers for down and blue levers for going up, to make the expansion process easy, and to serve as supports for the home's unfolding side walls and floor.
There are different sizes available, such as the TF-64 folding home measures 30 ft x 8 ft x 10ft. The company, Ten Fold reassures buyers about the sturdiness of the models, as they are made from a basic steel structure. This steel structure is resistant to extreme weather and thus is protected from damage.
In spite of the heavy tonnage, this folding house design can be relocated numerous times. The self-assembling mechanism is designed to function off-grid, in conjunction with water-treatment systems and many other types of energy systems. The Ten Fold home can work with fuel cells, batteries, generators and solar energy. This makes the home very versatile, as it can go off-grid easily.
The bathroom and showers can be installed inside the unit or built inside an attached module. The folding home structures can be stacked to make a hotel kind of structure, or interlinked in different combinations to make large homes, offices and so on. There internal unit is interchangeable with a number of folding partitions, so that people can personalize the floor plan as well as room combinations.
The plus point about this extremely convenient movable home is that the owner only has to load it onto a truck to get to the new destination and does not have to worry about the hassle of assembling or disassembling it at all.
Another possibility of the Ten Fold structure is that it can be used for several purposes. It can be used as a shop, as a clinic or restaurant or even a school, and as pop-up shops. The prices start from 129,000 USD.
All of these folding homes which are portable have designs which are unconventional. They look striking and as they are fitted with the latest technology, they can easily go off-grid on renewable energy. Portable homes can have multiple purposes, such as pop-up shops, which can be relocated all over the country.