The farmhouse theme is a lot more welcoming and gives a very traditional and rustic look. Out of the various elements that make up the farmhouse look, shiplap's are one of the most significant and important looks. This theme is also about the antique looking furniture, earthy or neutral colors and a touch of country styled paintings. Now you can bring in this warmth into your modern day home just by adding a few shiplap themes to your house. Although you do get shiplap wallpaper in the market, if you want to go for the real deal, then here are a few shiplap wall ideas you can use. In fact, you can even blend these ideas with various elements and transform the look of your house to replicate a farmhouse.
1.     Having a shiplap fireplace in the living room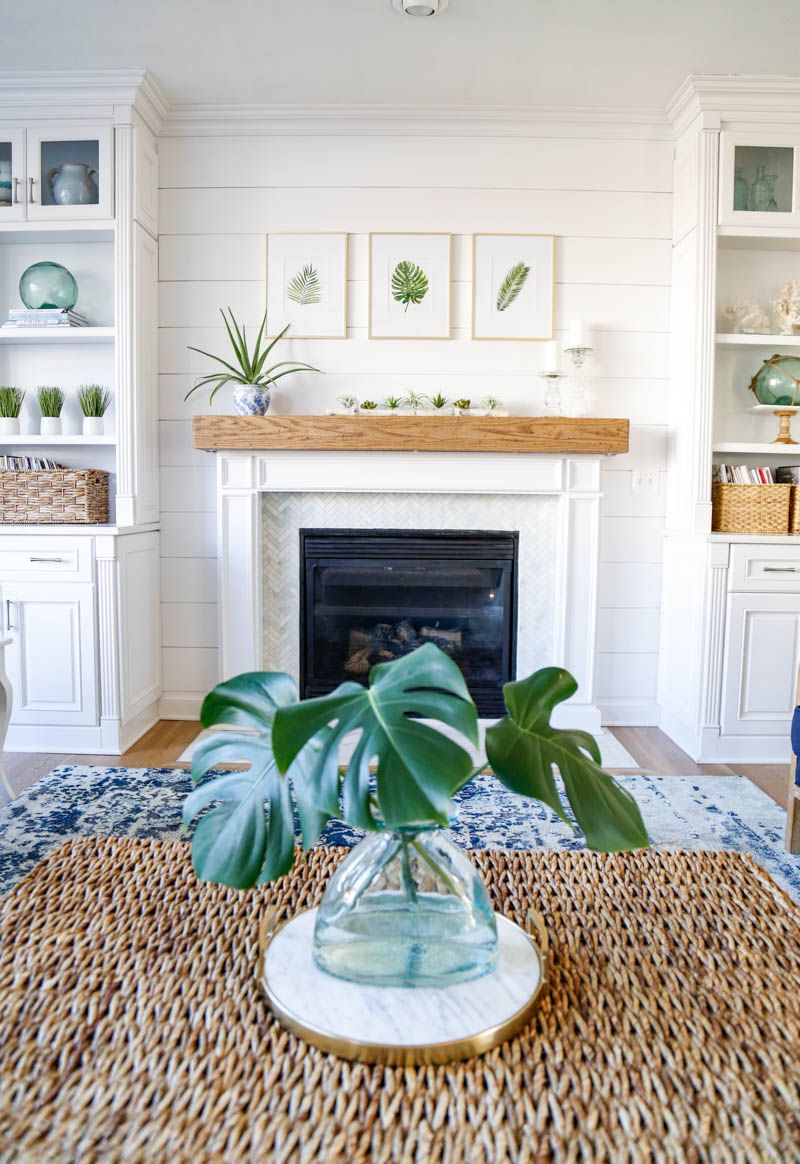 Image Source : sandandsisal.com
When you live in cold areas, having a fireplace is a very natural thing. If you do not want to go for the traditional look, you can opt for the modern looking fireplace. Use the shiplap concept on the wall where you plan to have the fireplace. Use shiplap boards to panel the interiors of the chimney. It will be best to take a professional advice or hire a chimney expert. This way all the safety precautions will be considered while making the fireplace to avoid any mishaps.
2.     Using shiplap wall ideas with round décor
One of the best ways to incorporate the shiplap wall idea is to combine it with round décor. Some people use shiplap in bathroom along with rounded mirrors. This is a perfect way that newbies can bring in the look. Shiplap walls have straight lines and when they are combined with round furniture, they complement each other beautifully. 
For the living room, you can compliment shiplap wall ideas along with wheeled furniture, wreathes and even portraits. These sorts of elements go well with each other and also give your space a very different look.
3.     Distressed or stained shiplap wall ideas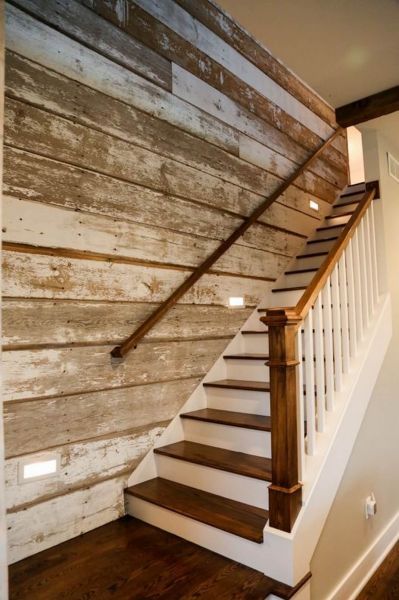 Image Source : homebnc.com
The traditional colors used in shiplap wall boards are generally light pastel or white. But, if you want to go for a modern look, you can opt for stained and stripped boards. They look very beautiful and add a nice touch to your walls. Moreover, you also have the flexibility of making changes to the colors whenever you want so that you get a new look every time.
4.     The farmhouse kitchen and shiplap wall ideas
If you are looking for a perfect example of a traditional country looking kitchen; nothing can beat the shiplap wall look. Even if you do not want to go for the real look, you can replicate this wall by installing shiplap wallpaper to a regular wall.  It will give you the perfect feel of a shiplap wall in your kitchen.
5.     Make a friendly looking shiplap in bathroom to welcome guests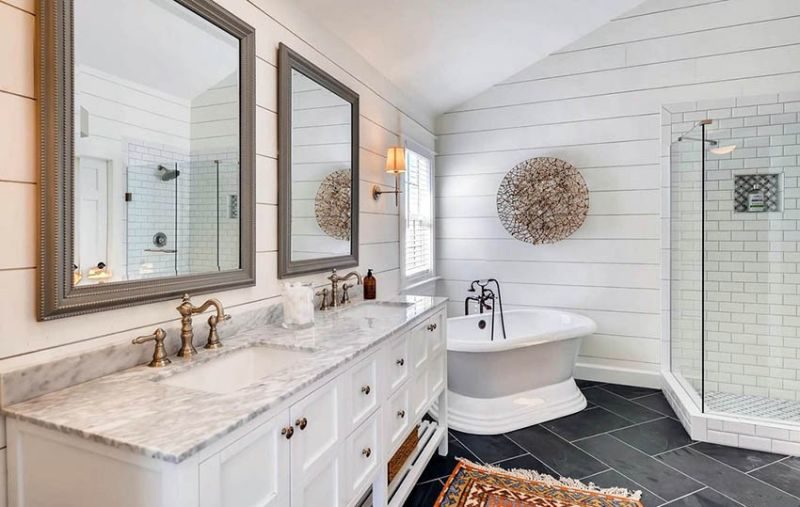 Image Source : designingidea.com
If you want to keep your bathroom looking more welcoming and to reduce the austere and coldish look, then install shiplap bards on one side of the wall. The paneling will not only help to make the bathroom look beautiful. But, it will also help to keep it watertight. This will in turn prevent various other concerns you may face as a homeowner.
6.     Stone and shiplap wall ideas
Another creative way to decorate your house is to use the classic but modern combination of faux stone and shiplap wallpaper or boards. Another good combination is to go with the concrete, marble and brick combination. This is a good way to reduce or break up large sized sections of the house. The warmth of the paneling not only enhances the look, but makes it welcoming in every way.
7.     Entryway shiplap wall ideas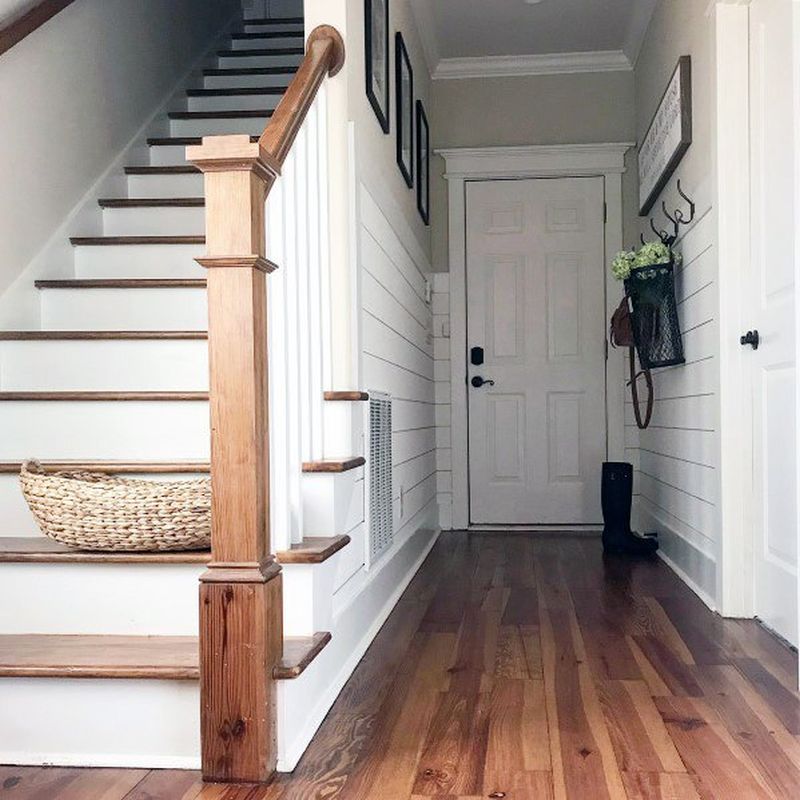 Image Source : nextluxury.com
Of you want to make the entrance unique and different, this idea is something you can consider. Use shiplap boards on the entryway walls to give it a different look. Then choose paints that not only blend in with the theme that you plan to have, but you can also go ahead add a few other elements to make it look good. If you want to keep things to the bare minimum, just add a few shelves on the wall, a nice long flower vase on one side of the corner wall.
8.     Diagonally shaped shiplap wall ideas
Want to make a particular space stand out? Why not opt for the diagonally shaped shiplap wall. This is a perfect way to break free from the regular vertical or horizontal look, this theme is perfect for high profile areas, fireplaces and stairways. The shiplap in bathroom can also be placed diagonally, you can blend this with some simple wooden furniture and you are all set.
9.     Shiplap doors are another way to go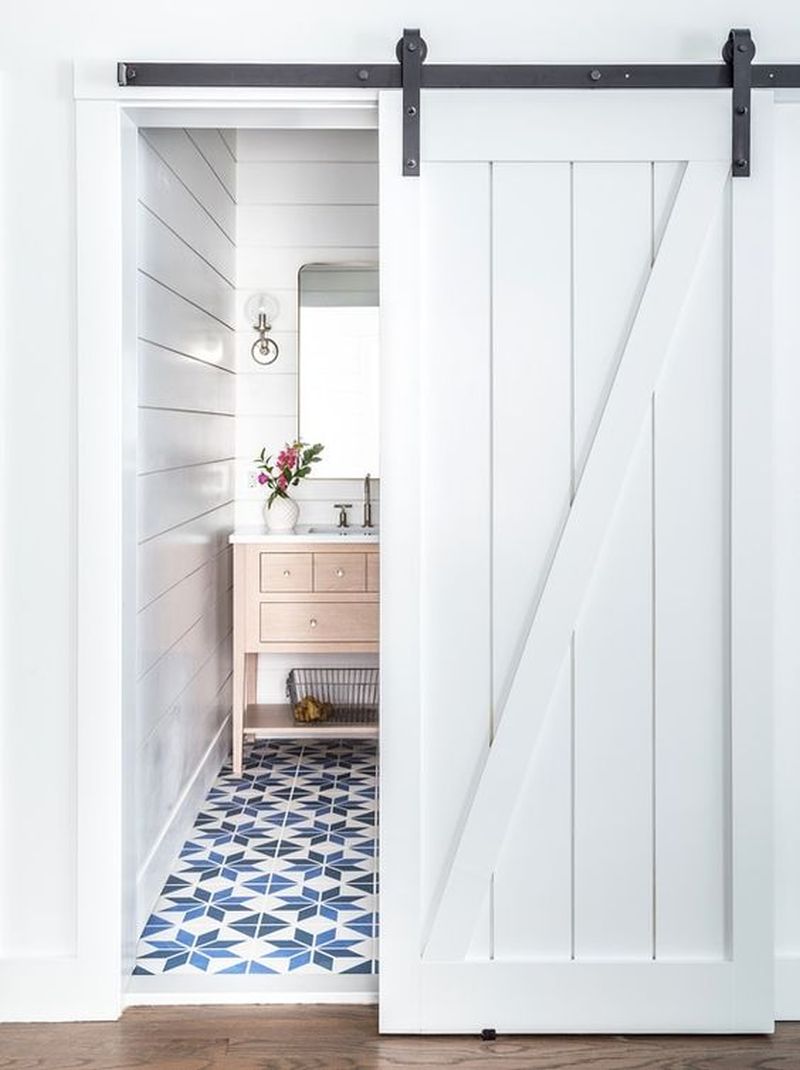 Image Source : carltonlanding.com 
Apart from having a shiplap fireplace, you can also use this theme. One of the best things about shiplap panels is their versatility. The vertical shiplap door is a perfect contrast to the shiplap bards placed horizontally. It also stands out instead of the regular door. This is a perfect option to use of you want to give your house the barn look.
10.     A dining table with the rustic look
 Looking for a perfect finish to your dining area? Well, apart from the small sized shiplap fireplace you can also choose to go with a shiplap dining table. This will blend in perfectly with some wooden chairs, a floral styled chandelier and earthy colored walls. For the flooring, you can opt the all-natural wooden flooring to blend in with the shiplap themed dining area.
11.     Headboard shiplap wall ideas for the bedroom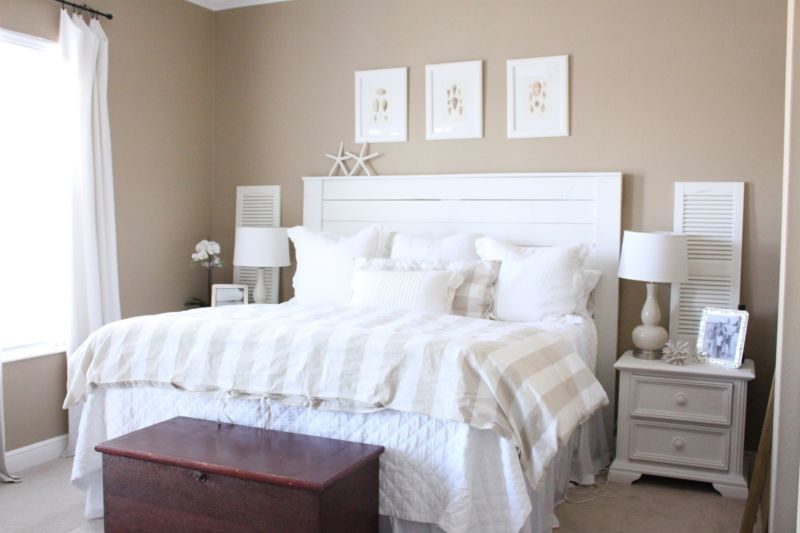 Image Source :  starfishcottageblog.com
Instead of going the whole nine yards, you can opt to go with small renovation ideas for the bedroom. The headboard is one of the places where you can start. This is a simple way to start renovating your bedroom.  It is also one of the most economical and budget friendly options to consider if you are running low on cash or do not want to make too many changes at the same time.