We have many crayons in our home because of the little kids. Kids love the coloring and using different crayons for their project, arts, and crafts. But as the crayons get older, it gets shifted to one side with the new one. Most of the time, this all get wasted and every time, kids wanted a new one. You can make use of those crayons and give you nice home décor ideas. Yes, with the help of extra and unused crayons, you can create many melted crayon art ideas. Here, we have shortlisted some of them for you which you can help you choose the best for you.
Crayon hearts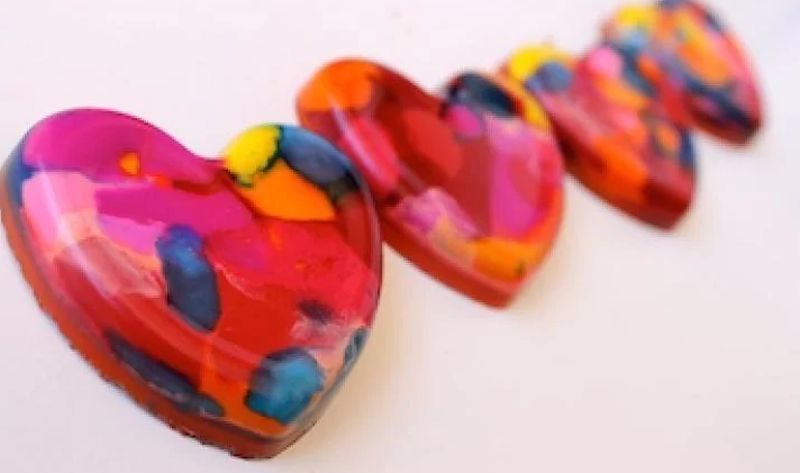 Image Source : cdn.newsapi.com.au
These translucent hanging hearts are so beautiful that you would want to make it again and again. This is a very easy to make a craft with a few materials available at your kid's cupboard. Some waxed paper and crayons. Let's make it.
You will need:-
Waxed paper
crayons
A pencil sharpener
pencil
iron or hair dryer
craft paper
scissors
silk thread
How to make:-
Start the process by taking the waxed It should be around 12-16 inches in size.
Fold the waxed paper into half along its length. Now unfold it. Put wax-crayon shavings (made with a handheld pencil sharpener) evenly on one half of the paper.
Over the flakes, fold the clean half of the paper. Fold the three open edges to hold the shavings.
Secure your ironing surface with craft paper. Place the waxed paper on the craft paper, and cover it with another sheet.
Iron lightly on medium heat; make sure to check the heat with every movement of the iron till the flakes melted. Keep it aside to cool.
Outline and cut out the paper hearts of various sizes as per your choice and now string it with each other with nice looking silk thread to hang.
You can make it into display wherever you want; this home decor ideas with melted crayons is a perfect décor for your home which gives some creative outlook to your space.
Beautiful crayon candles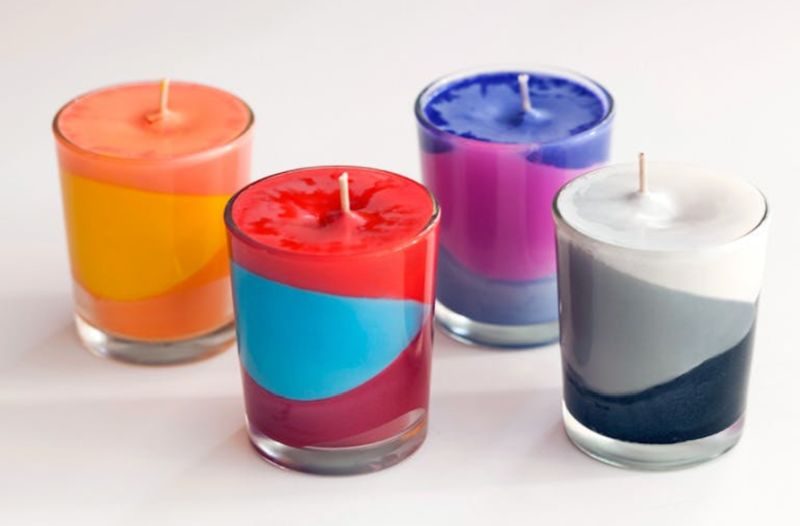 Image Source : alittlecraftinyourday.com
Candles are always beautiful when you make use of it, it makes your home warm, cozy and beautiful. Candles can be made many ways but by using crayon, it keeps things clean and crisp and as simple as the way you want it. This tutorial will help make your own candles and also with the color of your choice. It is very easy to make.
Materials required:- 
crayons
wax
some wicks
votives
popsicle sticks (for stirring)
small container or jar 
Tools:-
Method:-
Put a small amount of wax in a jar. Microwave it for a minute. Stir and pour a thin layer into the bottom of the jar with the candle wick in the center. Let it gets dry and harden.
use some crayons and put it into the top of the wax and again microwave it for some minutes
Support your votives with a wick on your plate stand and pour in the colored wax into it. The idea is to create angled layers of colors wax. Let the first layer dry for 20-30 minutes.
Now repeat it with the second layers so you get another angle. Let it dry for 20-30 minutes. Now place the jars flat to pour in the third layer.
Let it dry it completely and or for an hour before lighting up and your beautiful candles are ready to rock.
Melted crayon flower garden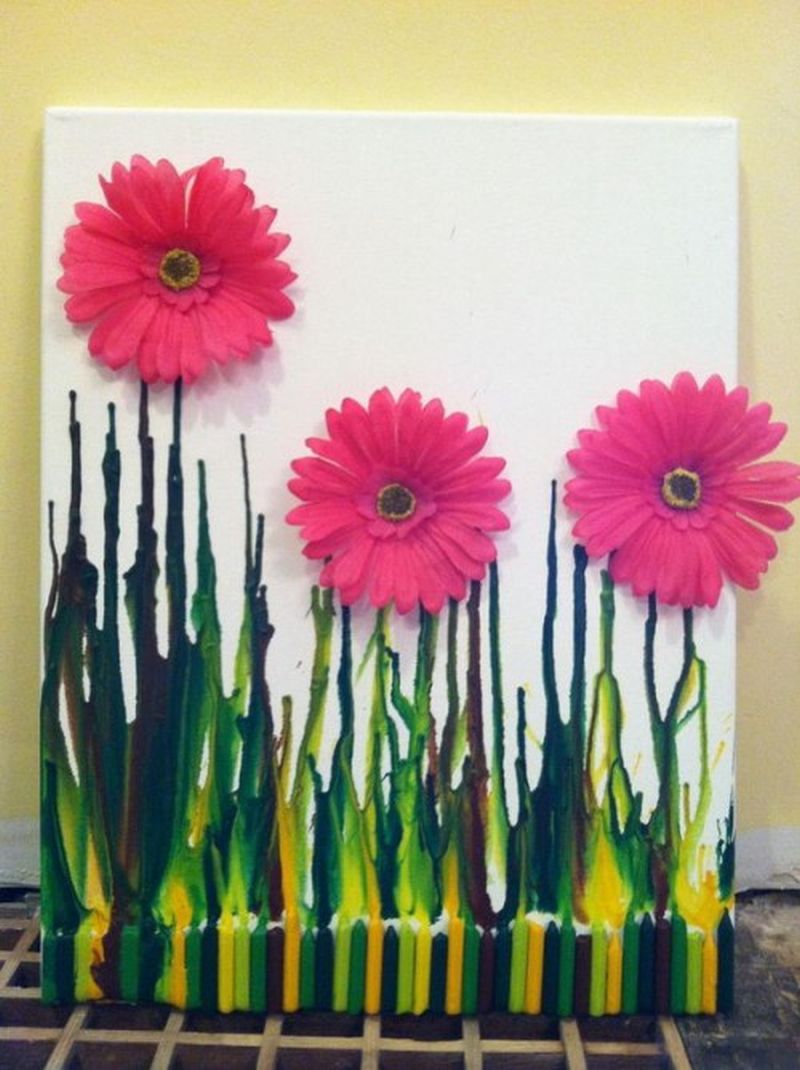 Image Source : fabartdiy.com
These melted crayon art ideas are perfect to make and gift it to your loved one. What's more beautiful and creative than gifting a nice handmade melted crayon flower garden? Why not make it and make this as the new gifting option which you can make easily at home with some of the materials.
To make this piece of art, you need a canvas, crayons, artificial flowers, glue, and hairdryer. Start with the canvas, turn it upside down so crayons can point towards down. Glue crayons to the edge of the canvas with a glue gun. Now start melting the crayon with hair dryer, the melted crayon will make a nice pattern. After it gets completed use glue again and sticks those artificial flowers.
Quick tip: – You can make your own colorful paper flower to stick it into the flower garden. It can give a more creative and personalized look.
Modern Crayon Art on Canvas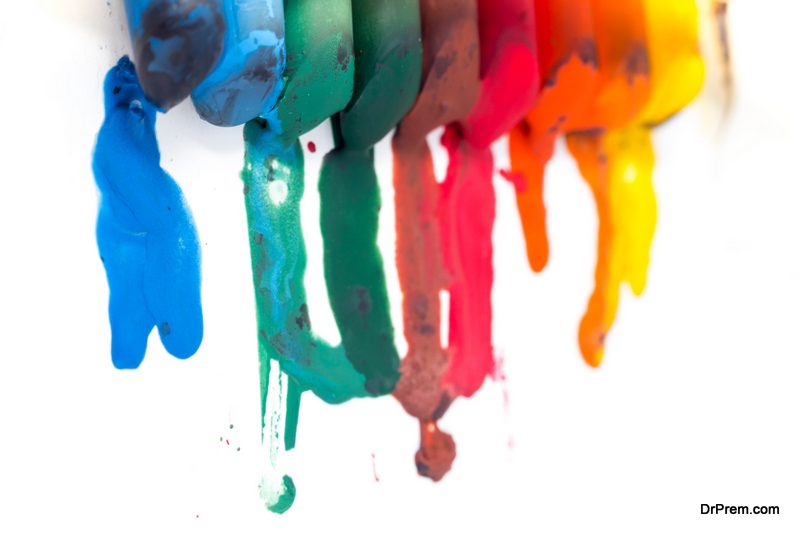 Are you looking for some fun and interesting element to decorate your home? This one crayon art idea for home decoration can make your work easy and inexpensive and adds lots of color into your home décor. This DIY's craft is perfect projects for growing kids and for college students as well. For this, you need:-
Materials:
Canvas
Crayons
Glue gun
Heat Gun (or hair dryer, but the melted crayons are more difficult to control using this)
Old newspapers
Steps:
Before you start your craft, don't forget to put a newspaper on the area so that your work area doesn't get messy. Wax can damage your furniture.
Line up your favorite color in a nice spectrum and attach the crayons on top of your canvas using the glue gun.
Now give some support or positioning it at about 30 degrees and now hold the gun as around 12 inches away from the crayon. Don't heat it from too close.
Now as the crayons get heated, it starts melting and runs on the canvas. Now you have to be a little This might take a little time to complete.
When you are done, lay your canvas with the bottom edge hanging and scrape off excess wax, or if you find any of them gets gooey, settle it again by heating.
An easy wall hanging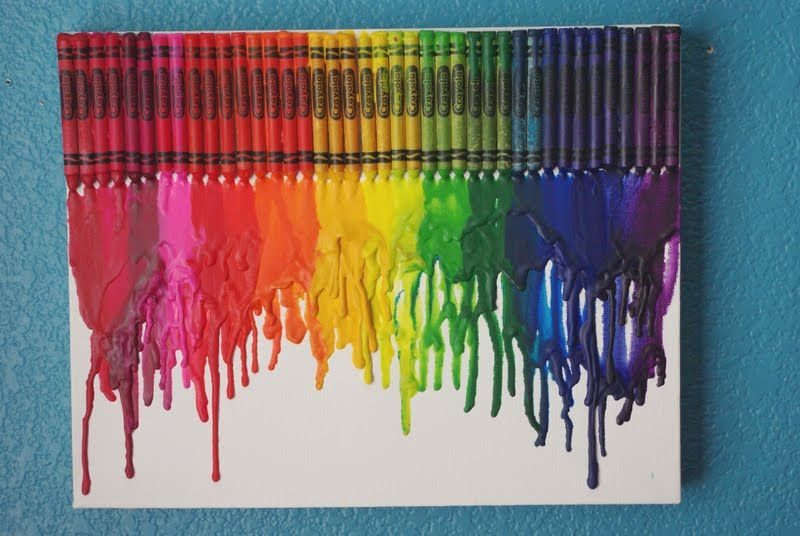 Image Source : happinessishomemade.net
Let's see how to make a nice crayon art it with some very easy steps. All you need is a box of crayons, a canvas, a fork, and a hairdryer. Making it as simple as arranging the material. First, break the crayons into half and stab it with the fork, lay out some newspaper under the canvas.   Turn the hairdryer on and here you go. For the smudging effect, twist the fork for a unique effect while blow-drying the crayons, this allows you to blend the colors together and gets the mix to give a nice effect. Let it dry and you have a brand new wall décor for your home which doesn't look like less than an art gallery workpiece.