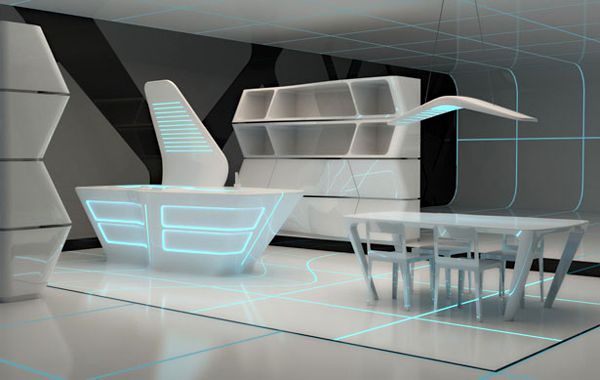 The people who are hooked to technology are called geeks and these people want technology in nearly every aspect of their life. The geeks these days are now looking for furniture designs, which are tech-inspired. The modern technology has allowed the designers to come up with furniture designs, which are loaded with modern technological features.
Here is a list of seven tech-inspired furniture designs for geeks.
1. i-Sopod bathtub with spa comfort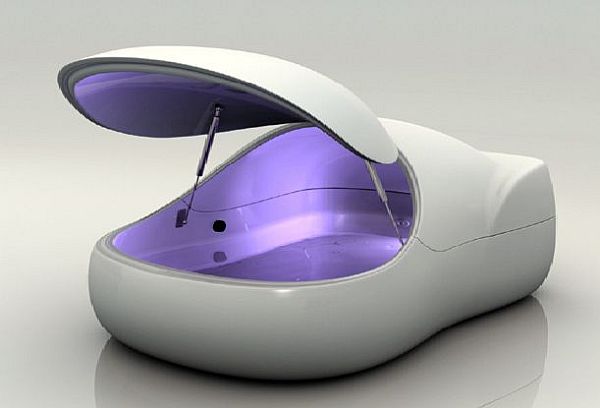 This elegantly designed bathtub gives spa comfort. This futuristic bathtub can be used perfectly as a spa and it can be fitted in your bathroom. The i-Sopod bathtub is a floating tank that refreshes your brain, body and soul. This bathtub has a shallow pool, which allows the user to suspend their body in it. It features a modern internal filtration system to maintain high-level sanitation. The shape of this bathtub with modest lines is highly innovative. The bathtub has LED lighting system and a music control system, which is programmable. This unique bathtub is available in 6 colors.
2. Unique High Tech chair inspired by computer cooling system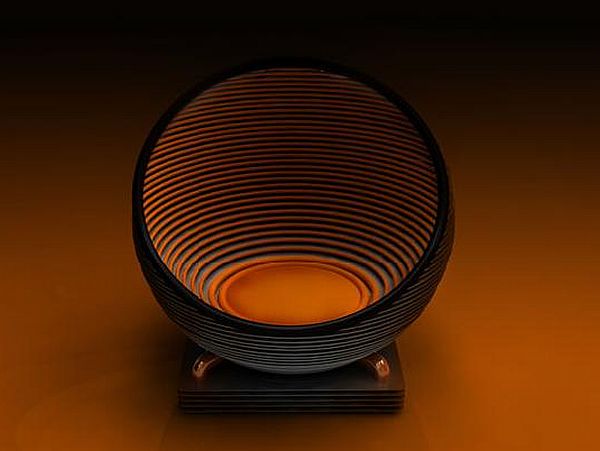 Some innovative designers have come up with a stylish high tech chair that uses the cooling system used in computers. This unique and beautiful chair is made of recycled metal boards and tires. The back support of this chair is very comfortable and soft because it is made of foam. Recycled pounded industrial plastic is also used to make this high tech chair. This chair will definitely add to the beauty of your room and office. The chair can be moved from one place to another quite easily because it is lightweight.
3. High-tech table furniture design inspired by iPhone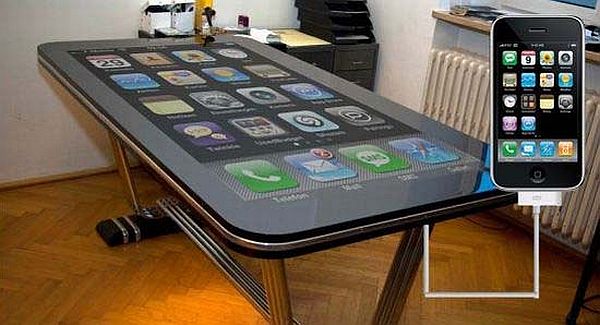 Apple's hugely popular smartphone iPhone is without doubt one of the most famous of gadgets in the world. Millions of people across the world use iPhone and its soaring popularity have prompted some creative designers to come up with a new desk called the Table Connect. The design of this high-tech table is inspired by iPhone because it looks like a replica of the Apple's device. The table has a 58-inch multitouch surface and it has the point to accept the connections of the iPhone 4 a 30-pin Dock Connector. After connection, you can use the table as your iPhone. The design of the Table Connect is sleek and stylish giving it an ultra-modern look. This unique table is set to attract many geeks.
4. The PlayStation controller coffee table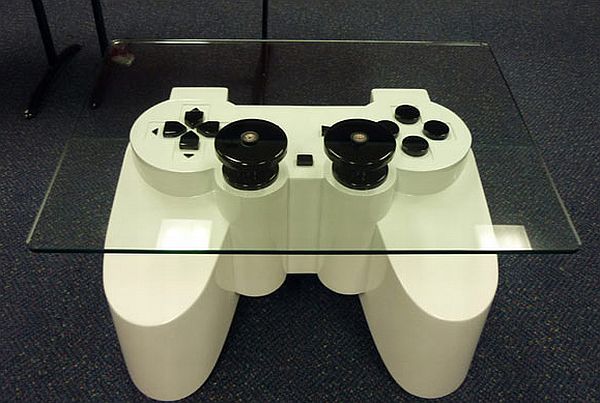 The high-tech PlayStation controller coffee table is the brainchild of an Australian student, who has built a modern and innovative table using inexpensive MDF and plywood. The student spent around 20 weeks to come up with a table, which will definitely find many takers. The student is named Mark M and he designed this high-tech table as part of the project for industrial technology in his High School examination. Mark has also used veneer in the table, which was finished using a polyurethane full gloss. For the whole controller, Mark has used white gloss. Control sticks and buttons have got the black gloss. This high-tech coffee table is a perfect thing for PlayStation fans.
5. Hi-tech toilet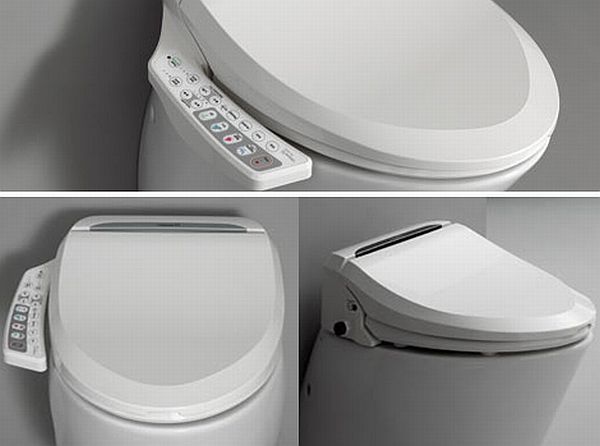 Manufactured by Italian firm, New Linea Italia, the Aqualet is a high-tech toilet featuring modern facilities. This modern toilet has an inbuilt bidet, which is controlled by a side control. The toilet also features a heated seat and the temperature setting of the seat is adjustable. Some other features of the Aqualet are energy saving function, smooth seat and lid, touch sensitive sensor. This modern toilet can be mounted on the wall, which means that the Aqualet can be used even in small bathrooms. The design of the Aqualet is high-tech, modern, sleek and stylish.
6. Multifunctional chaise-lounge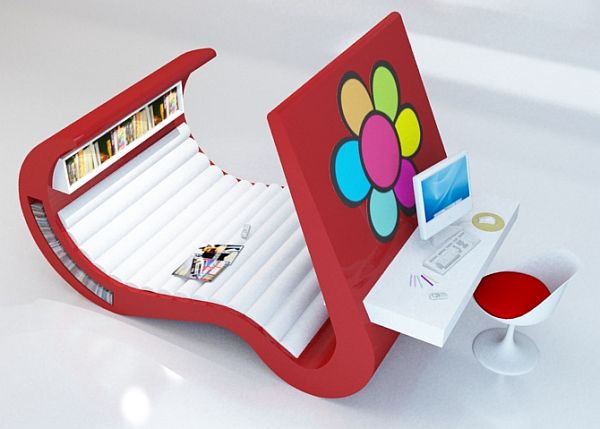 Brazilian designer Roberta Ramme deserves credit for designing high-tech multifunctional chaise-lounge. Ramme has combined 3 elements namely beauty, functionality and comfort in this furniture, which has been designed to attract tech-savvy teenagers. This high-tech furniture is named Wave Chaise. This modern furniture boasts of TV, music system and DVD. It also features a computer desk in its front. This furniture can also be used to take a little nap.
7. Tron furniture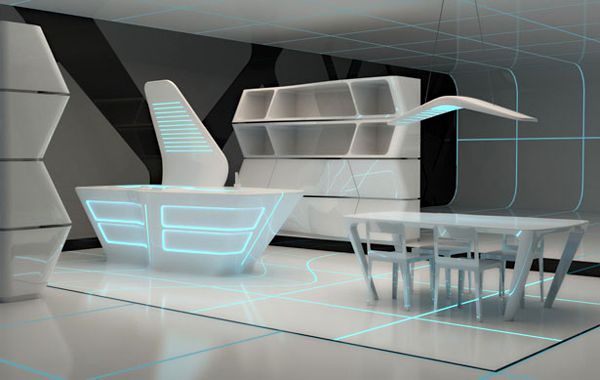 The TRON designs CORIAN exhibition has been art directed by Disney and DuPont. The furniture designs are created using DuPont Corian surface. Designer Dror Benshetrit deserves credit for designing a special edition of the TRON Armchair. This high-tech armchair features modern audio and video equipment.