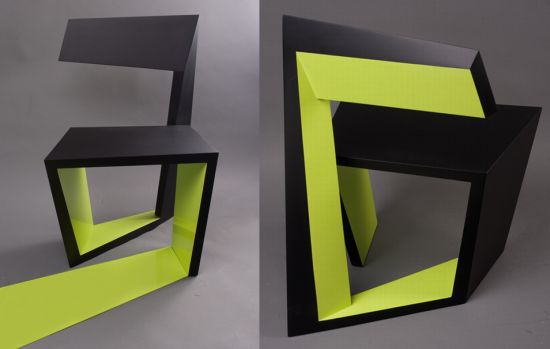 Designed by Serbian architect Ivo Otasevic, the aChair is definitely a new design in the furniture assortment. The chair takes the name because of its a-shaped alphabet letter. Its spiral shape reveals the beauty of the alphabet with the daily use furniture. Made from wood, plastic and metal, the furniture turns out into a comfortable seating to endow you with ecstasy. Carrying a simple design; the chair with its multiform formation makes perfect furniture. You can create a focal point with this chair; since it replicates a sculpture in an inspiring space. The spiral and elegant appeal of the chair makes it an amazing addition for your decor. Let us look at some other ideas which blends art with furniture in a unique way.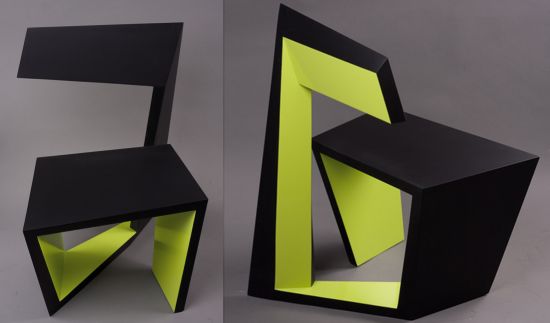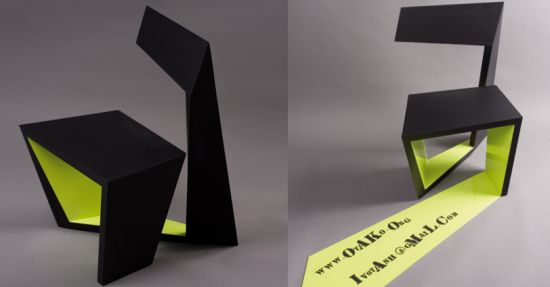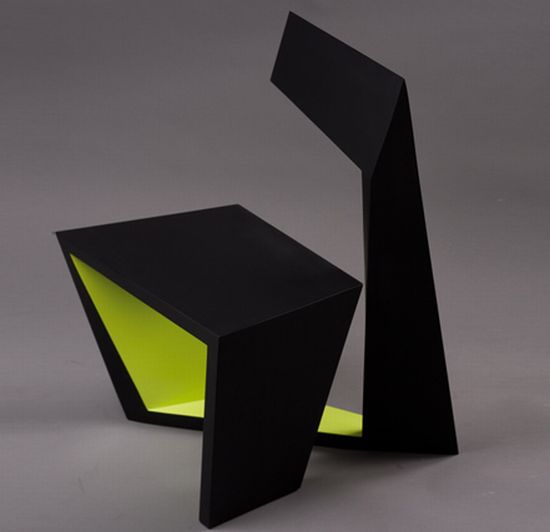 Via: Dezeen
Some other artistic furniture designs that will add elegance to your home décor
When it comes to choosing furniture, many home owners opt for function over form. Traditional furniture also seemed to follow either one of these factors during the design phase. However, times have changed now and the more modernistic furniture designs feature a perfect blend of both form and functionality that makes them stand out in any space. Here are a few artistic furniture designs that fit into this category.
Canape Sofa – blends art with furniture
Designed by Lila Jang, the Canape Sofa will confuse you at first. Resembling a normal sofa, the Canape looks like one of its side came alive and decided to crawl up the wall. The sofa made its debut in the Parcours Saint Germain exhibition in Paris and surely raised a lot of eyebrows there.
Karton Art Design
A designer team consisting of a husband and wife, an artist and a carpenter has come up with a line of furniture designs made entirely or cardboard. The Karton Art Design features a number of chairs and shelving units that are made out of lightweight cardboard, albeit via a process involving complicated folds and clips that makes them as strong as wood.
The easy and efficient construction process helps home owners save tons of money on buying and transportation costs. The furniture pieces are also easy to assemble and can be easily set by using some paper clips and following a set of DIY instructions.
Gravity Lounger
Designed by Varier Furniture, the Gravity Lounger will give you the impression of experiencing zero gravity (at least the closest experience). The chair is a standard recliner that comes with an interesting design allowing you to recline almost to the point where you start feeling weightless. Classy, stylish, sturdy and durable; the lounger can also be set up in an upright position to double as a standard chair for your work desk.
Tentacle Bench blends art with furniture in a unique way
Somewhat creepy in appearance, the Tentacle Bench owes its unique design to Carpenter's Wood Gallery. The bench seems normal at one end; but looks as if it generated a mind of its own and decided to float away into oblivion at the other end. The perfectly straight wooden slats simply collapse at the other end, with the slats taking on the form of wooden vines that seem to creep up the wall like a money plant.
Artistic Meta Bench
Remember the 'Blob' movie where an alien being swallowed everything in its path? Take one look at the Artistic Meta Bench and that is exactly the first thing that will come to your mind. Designed by Jennie Peiz and Yvonne Fehling; the bench features a long stretch of wood with back rests sprouting up from it at random intervals.
The first impression is that of the stretch of wood having swallowed a couple of chairs in the process of creating itself. The designers claim that the unique feature of the Artistic Meta Bench is; its ability to connect people who remain silent on isolated when sitting on a bench.
Trap Beds
Ever get the feeling of being trapped in your own bed? The Trap Beds tend to give you that same feeling. The beds aim to create the impression of a false safety which a person can feel even in the safest of beds. You can experience this safety in a closed chamber like a nest.  Accordingly, the two beds feature different designs. The first one showing a comfortable bed which is rigged to be a trap. While there is another bed that looks like a cooped up nest. Both these beds remains warm, comfortable and safe. Must say, the designer blends art with furniture in a creative way. 

Uniquely designed Calibration lounge
Calibration Stool like product pictured above is actually the lounge that allows you to crawl into position. Designed by US designer, John Briscella. It's a cool piece of home furniture that takes inspiration from the lounges and rocking chairs. We are sure believe your kids will love it!
Unique seatings bring nature into your home
Collaborative effort of David L. Hays, Kevin Stewart and Shuangshuang Wu of the Analog Media Lab has resulted into the two unique chairs for green homes. This new set of chairs dubbed "Rococo Armchair Retrofit" and the "Ghost Chair Retrofit"; are the part of an experimental series. These creations explore the interface between human and insect life. The chairs bring nature into your home. They also make individuals examine the impact that human evolution has had on insects through time. The chairs are connected by flexible tubing to ports in a perimeter wall and the interior volumes make them inhabitable by insects. The cool traits make these chairs a wonderful and unique addition to your home decor.
Conjoined Chairs blends art with furniture
Jeroen van Laarhoven's 'Conjoined LAT chairs' are interesting piece(s)of furniture. The design of these chairs are ideal for couples or lovers. These chairs are crafted of simple material; but their unique and inviting design, is what makes them one of the coolest furniture set worth checking out. As y'all can see in the images, one front leg slides in front of the other, the back rests tilt toward one another. The description might baffle y'all so, I would rather suggest you to check it out for yourself.