Bar stools can make or break your bar décor. Pick these to make a statement or to complement the décor theme of your home bar.If you are trying to spruce up your home bar with a few funky bar stools, you might find the following ideas very intriguing indeed.
1. Beer Keg Bar Stool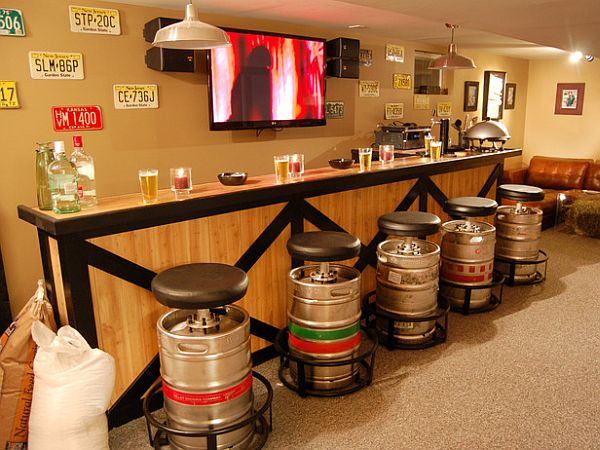 If you want to keep your bar looking appropriately close to the theme of your space, this beer keg bar stools would be awesome. Plus, if you get a pal to make them for you, you can always use real kegs to make stools and even put in a mechanism where visitors can pump beer right out from their stools!
2. Hand bar stool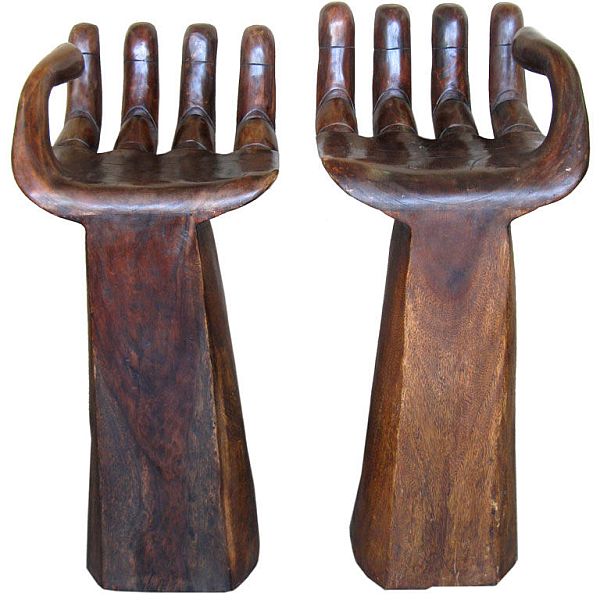 Or should we call it the fondler bar stool? Anywho, for the more perverted of folks who want their homes to look a little creepier, the Hand Bar Stool would be a welcome addition to any kind of suggestive décor!
3. Scooter Bar Stool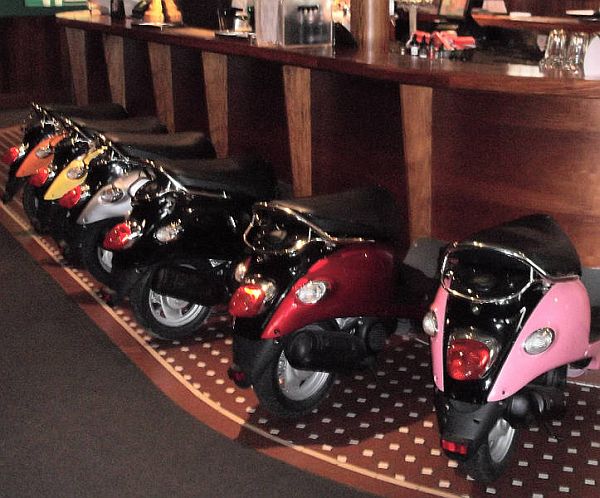 If you live by a junkyard, you can easily get your hands on
a bunch of old scooters, chop them in half and make your own Scooter Bar Stools
that are ironic enough to be perfect conversation starters.
4. Stocking legs bar stool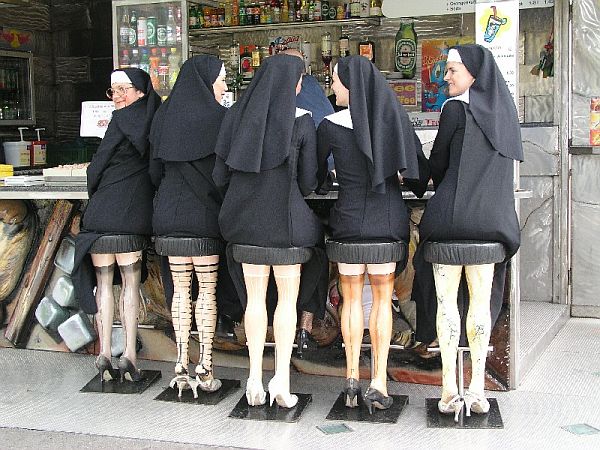 Want your modest home bar to have some shock value? You can try getting these, er, entertaining stocking legs bar stools.
5. Horse Saddle bar stool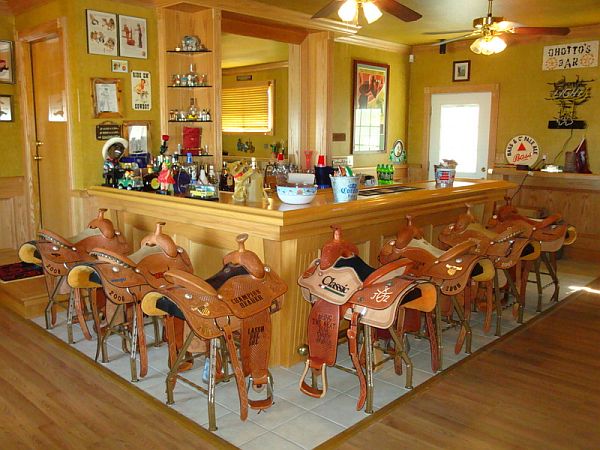 No self respecting cow boy themed home bar would ever be complete if you didn't throw in a few of these uber masculine, rugged and totally badass Horse Saddle Bar Stools in.
6. Horse's Ass Bar Stool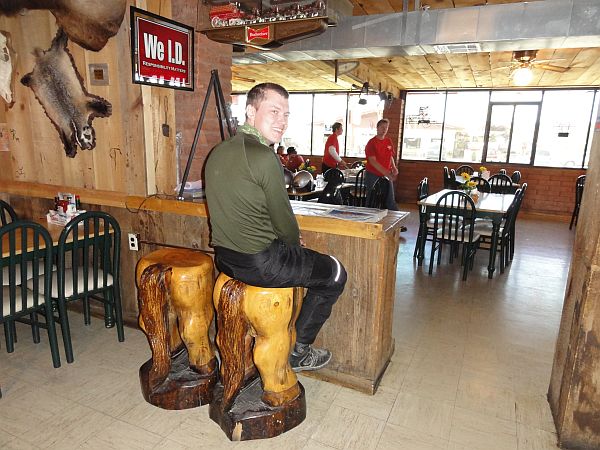 And if you want to push the envelope further, you can always use the Horse's Ass Bar Stool to make (drunk) man feel more at one with the (fake) beast('s bum).
Cool accessories to punch up your bar decor
Since we are looking at different ways to make your home bar look good and classy; there are various others ways to decorate your home bar apart from a bar stool. A well stock and well decorated home bar is a symbol of class and taste. But it requires more than a good collection of wines to turn your home bar into a truly inviting hangout space for your drinking buddies. Here are a few inspired bar décor ideas to punch up your home bar.
Barware
You can choose to be as liberal and original with your barware as you possibly can. From picking up a vintage crystal barware set to showing off all the different kinds of unique shot glasses you have collected over the years, interesting barware can make your home bar a lot more fun.
Booze themed lighting
Lighting is crucial for most home bars. You don't want to go too bright or too dim though booze themed creations tend to add humor to space easily.
Funky decanters
Your wine decanter doesn't have to be boring and dated looking anymore. Thanks to wine loving innovators, your wine decanters can also double as décor items.
Ashtrays
Since you don't need a license to allow drinkers to smoke in your home bar, you can decorate your space with unusual and humorous ashtrays for sure.
Bottle openers
Since most home bar owners often used smaller bottles of flavoring and beers, having a few unique bottle openers could be a great décor idea.
Wine racks
To display your sizable wine collection, you can include a designer or funky looking wine rack in your bar décor. Pick one that can hold most of your prized wines or get a smaller one purely for display.
Punch up your bar decor with these Classy bar cabinet designs for your home
Bar cabinets are your style and class definers. Whether you are throwing a party or just want to curl up and relax, these bar cabinets serve you not only practically, but also fashionably. Spruce up your home with these elegant bar cabinets that pep up your space with their antique charm and multi-functionality.
Fitzpatrick home bar
Made from Mahogany wood, this cabinet has been carved in an antique style and decorated with stained glass overhead panels. It has a sink cabinet with granite top and wine racks with moldings. With a birch and oak finishing, this bar is lighted up with lights installed on the ceilings.
Carlow Heritage oak home bar
Made with real alder wood, this bar has spacious countertop that can be used as a serving and display area or can be used as a generous storage space by sliding back the top panels. It also has a drawer in the center middle that can be used for storing utensils and accessories. In addition to this, it also has a faux drawer in center top, which enhances the design. It has two side cabinets, which can be used for bottle mixers and stemware racks for holding glasses. This bar has been given a finishing of warm oak finish for a traditional look.
Polidor bar cabinet
This is simple bar cabinet with a cinnamon finish. This bar cabinet is a three-tiered bar cabinet, which has three different sized stack cabinets for storing your valuable wines and accessories. The top tier has a cubby with doors. The middle cubby also has storage spaces with doors. The lower tier has been divided into three sections with two shelves on both sides and a storage space for stacking bottles.
Badin bar
This makes a wonderful addition to your house. It has decorative raised panels for serving and has open shelves with ample storage. Made from custom selected hardwood and poplar veneer, this bar also comes with a mini fridge/cooler to chill your wines.
Line bar
A wine cellar designed by Nathan Yong, this bar cabinet has two shutter style doors, three open cubbies, a stemware rack for holding glasses and a storage rack for 12 bottles.
Chintaly Broadway two-tiered indoor home bar
Made from durable fiber board, this bar cabinet has a two-tier countertops made of glass to lay, serve and place drinks. A bar with curved design and chrome accents, it has three in-built shelves, which have separated artistically. The top shelf has a stemware for holding the glasses and the bottom shelf has two open cubbies to place accessories.
Powell Bourbon Street Yorktown cherry home bar
An antique styled bar cabinet made from solid Asian hardwood, it has a three-paneled front with stepped up pediment. This bar cabinet has features like two shelves with two cubbies in each of them, two drawers for storing accessories, a stemware rack for holding the glasses and three open spaces for stacking the wine bottles. With a black granite countertop to serve the drinks, this bar cabinet has a finishing of cherry veneer.
Coco mini bar
This is a versatile mini bar designed by Leonhard Pfeifer. This minibar, which was launched at the Museum of Modern Art store, New York, has been given a blood dripping finish of Chanel's red colored nail varnish over the white lacquered exterior. This mini bar, which has taken its inspiration from Femme Fatale, has two flip-open doors on either sides. The two sided interior features a storage space for storing bottles and also has two serving shelves on either sides that have created by the flip-open doors.
Lambert traditional wine wall bar
An out and out antique bar cabinet, this free standing bar cabinet has carved details, wood panels and antique brass accents. Perfect for leisure and dining spaces, this bar cabinet with a cherry finish has two sections with awesome features. The top shelf has six open shelved cubbies for storing accessories. The top cubby has a stemware rack for holding the wine glasses. The lower section has a storage space that can store 30 bottles. Apart from there are three drawers for additional storage and three pull out trays for additional work surface.
Steamer trunk indoor home bar
Crafted from wood with a black finishing, this bar has three open shelves, one wide easy opening drawer on glides and a stemware rack to hold the glasses. It is perfectly suitable for entertaining in a modern setting.