Moving the fish tank is a delicate process as there is a high risk of damaging your fragile aquarium.  However, proper planning will ensure that your fish tank will be relocated at your new location safely.
Here, in this article, we explain how you can move your fish tank to your new house safely:-
1. Preparation is Necessary
First things first, you need to gather all the necessary supplies. If you devote time to get everything organised in the first place, you don't have to scramble to find things here and there during the move. 
Here are the essential supplies you require:-
A fishnet
Large buckets
Duct tape
Bubble wrap
Packing paper
Insulating foam sheets
Moving boxes
Plastic bags
Siphon hose
2. Make your Fish Tank Ready to Move
The next step is to get your fish ready for the move. Don't feed the fist at least at least one day before the moving day.
It is to ensure that before you make the move, they have passed their waste. Don't you worry as fish can liveup to seven days with no food. If you have small fish, and you are approximately an hour or two away from moving, then put them in baggies filled with water. You must keep your pool safe from travelling. The best option is to place them within a tough case.
For bigger fish and longer travelling hours, keep the fish in the buckets. Ensure the cleanliness of the buckets and make it a point to free of any harsh chemicals.
Put water inside the buckets, and then put out your fish. As a rule of thumb, put four fish within a bucket. Completely tape the bucket as it won't allow any spills to happen.
3. Clean the Fish Tank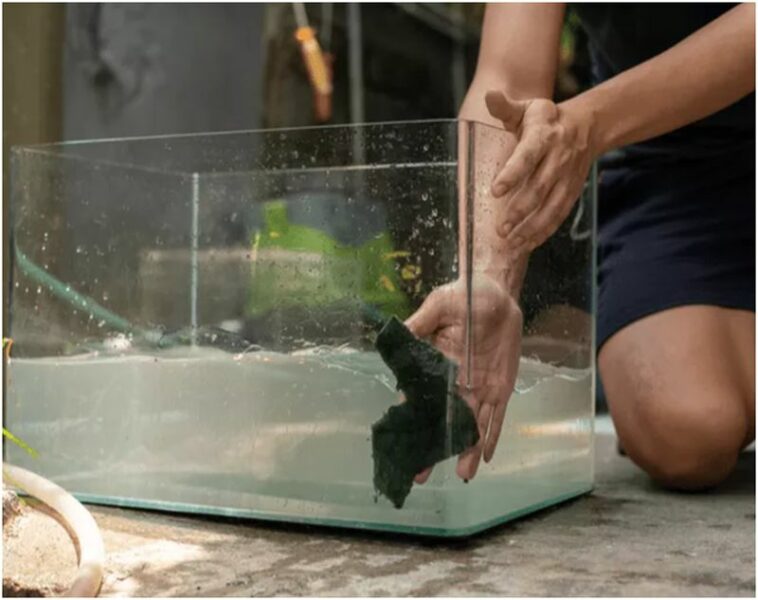 To prepare your fish tank for the move, you should unplug everything. After that, carefully remove all the accessories and plants.
You must pack all the plants in a bucket full of water. Coming to the decor & accessories, you need to clean them and dry them before moving.
Pack them individually in bubble wrap and paper, including the pump and heater. The filter needs to be kept damp and you should pack it carefully within a sealed container.
4. Drain the Water
Don't forget to drain out the water from the fish tank, especially if you have a large aquarium. You can empty the fish tank using the siphon hose.
It is highly advisable to save the water or reuse it. Moreover, the same water minimizes the health problems for your fish. You can transport the water in large buckets, taped & sealed.
5. Pack the Aquarium
Remove the lid, and pack the aquarium separately in a bubble wrap. It is highly recommended to pack your tank in a box, especially if you find a large one.
Make sure you use insulating foam for the space around the fish tank to prevent damage when relocating.
Don't forget to stuff the fish tank with foam or paper, so that the tank doesn't get scratched up.
6. Hire a Specialist for Moving the Tank
It is best if you hire a trustworthy moving expert with extensive experience in residential moving to safely load & unload the fish tank, and ensure there are no odds of damage during transportation.
Don't just hire any other moving agency, research well to narrow down on the best one in your geographical location.
The removalists in Melbourne are well-versed with the safety techniques of handling fragile items, so you have nothing to worry about. Visit https://www.cbdmovers.com.au/removals/removalists-melbourne/ and request for a free quote.
You can always seek the recommendations of your friends or relatives who have recently relocated. Their first-hand experience could prove to be valuable for you.
7. Set Up Your Fish Tank & Put Your Fish Back
Once you've moved in, start setting up the fish tank as a priority. If it was a short move, then fill the same treated water you transported into the fish tank and get it filtered by the filtration system.
You need to ensure that the water you put in the tank is at optimum temperature, pH, chlorine & chlorine level balanced before you add the fish back.
After a long move, you'll have to set up the fish tank from scratch, and everything will take time to regulate.
Once you've followed all the above steps, and water conditions are normal, it's time to put your fish back. You should take them out carefully from the bucket using a net, and then place them in the fish tank. If you've transported your fish through the baggies, then place it in the tank for some time. This will allow your fish to get accustomed to the new surroundings.
Article Submitted By Community Writer