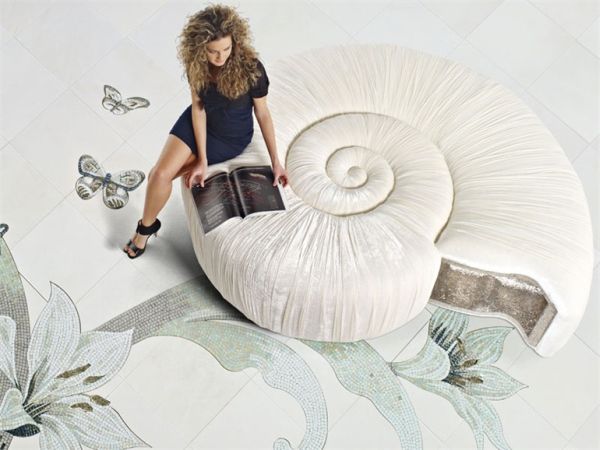 Materialization of art to normal regular functionality is a complex aspect of modern interiors and furniture design. The Milan design house SICIS, have accepted this challenge and restructured the boundaries of art and functionality to blend them easily in their furniture designs over the years. The SICIS NEXT ART Chapter One collection is evidence enough for that. One of the prime attractions in this series is the Ammonite upholstered sofa. Similar to all NEXT ART furniture, Ammonite is exemplified by gorgeous, artistic mosaic and precious silk velvet combined with the treasures of marine art forms.
Designed by Italian designer or more appropriately called artist Carla Tolomeo of SICIS NEXT ART studio, the sofa comes in a limited edition of about only 200 pieces. The luxurious creation comes encrusted with SICIS' ethereal touch and the designer's penchant for blending old art technique with mosaics and glamorous fabric.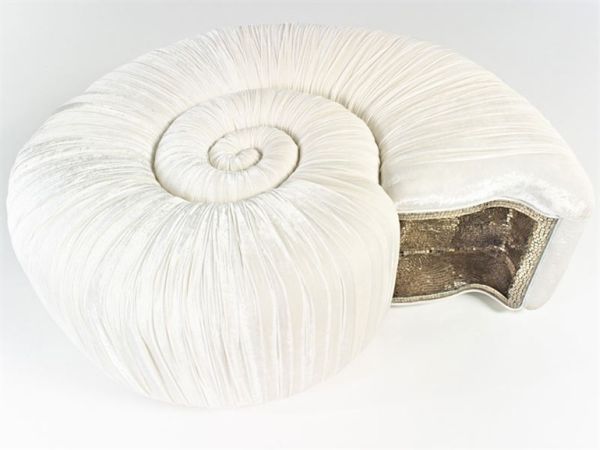 However, this time Tolomeo is inspired by the spiral shape of the fossilized shells of an extinct group of marine invertebrate animals called ammonites. Boasting top Italian quality craftsmanship, and with keen detailing, the Ammonite sofa makes an extraordinary statement about its owner and its presiding environment that is difficult to evade or outdo.
Interpreting nature in a surreal context, designer Tolomeo has woven silk velvet with an aesthetic flamboyance in this creation. Available in 43 varied colors as also that in green sage, or ivory as illustrated in the visuals here, the sofa comes in a easy acceptable dimension of 157 x 141 x 54 cm or 61 ¾ x 55 ½ x 21 ¼ inches.
Via: Archiproducts