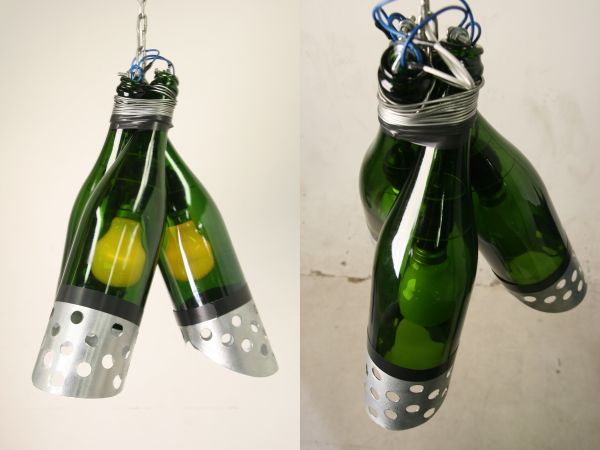 Did you ever imagine that trash can illuminate your life…and if that is an exaggeration, then at least it can light your home very well? If you find it unbelievable than have a look at this beautiful lamp made from discarded champagne bottles, aluminum sheet, wire, tape and metal chain. Three designers – Kiran Jesudasan along with Andrew Simeoni, Firdauz Baharudhin worked on this beautiful lamp to create the grey- green magic.
The three budding artists who are still studying made the lamp as part of their academic program. They were assigned to make such a lamp which was made from trash items. The assignment did not specify if the lamp had to be hanging or standing or any other shape. After much of brainstorming and raiding the scare dealer's shops, the trio decided to make a lamp from used champagne bottles.
After hunting many bars, the trio collected sufficient number of bottles for the experiment. After much of discussions and conversations around the shape of the lamp, the partners decided to make it a hanging lamp.
Next challenge was to decide on its shape and then finally they reached the consensus that the lamp should be chandelier shaped – one which could beautifully show the curves of bottles and which could look different. The biggest challenge after this was to cut the glass bottles at the bottom without inflicting damage to the body of the bottle. After much research they got to know a technique of cutting glass by pouring hot and cold water alternatively on the bottles. With trial and error they managed sets of bottles with their bottoms cut and rest of the body kept intact.
Then they hunted for aluminum sheets from the trash and managed to make a bottom out of it and to give the lamp a tapering effect. The bottles were then joined by wires and electrical tapes. Finally, the bulbs and suitable wiring was installed.
Kiran Jesudasan is a budding product designer who has done her BA in product design from Curtin University. Kiran takes a lot of designing inspiration from combat aircrafts and aspires to make exclusive pieces based on the shape of combat aircrafts.