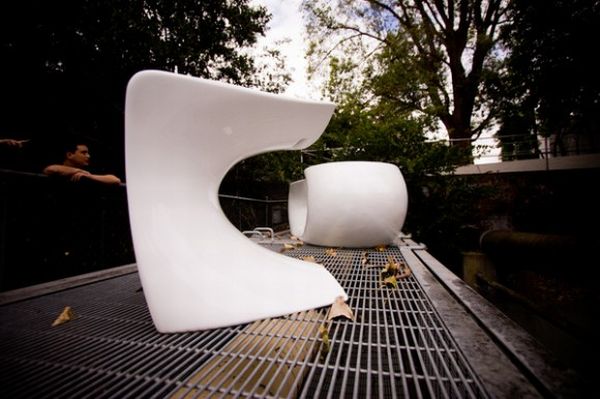 Coffee time is a time that most of you would relish especially after a long tiring day. If you were to select the most apt furniture for your coffee time space, you would want it to be a special design that would make your coffee time special and memorably cherishing. So if it's a unique design and an unimaginable concept you're looking for, Kieran Choy has the perfect make for you.
Two time winner of the best student design at the Vivid Furniture Competition, Kieran Choy came up with some geometrical designs to capture people's interest. The Aura Coffee table and stool are the results of an idea that includes distinct external and internal colors for a unique and astonishing effect. This curvy and well-molded furniture are created out of urethane foam, fiberglass and glass with exclusive color out of the conventional methods.
The aura is the best buy for the modern homes. Flaunting a creamy body and a striking emerald ocean look for the table top, it's a different, added asset for your home. The aura is created for those who love creativity and out-of-the-ordinary routines. So if you are one of them, then make sure you have your hands on them.
Via: Gblog