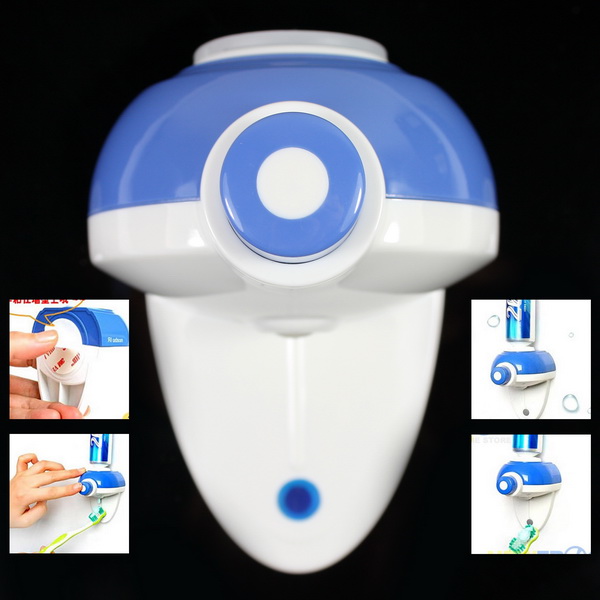 Life seems to be getting more and more easier, thanks to technological grace. Lo and behold! Here is the automatic toothpaste dispenser also known as toothpaste pump. Unlike a tube, it is made of a hard plastic and functions by pressing a button at the top of the dispenser rather than squeezing the tube. The product allows you to brush without the need to open the cap, squeeze the tube, or measure the paste every time you need to brush your teeth. It saves time and it is quite handy. And you can fix it in the bathroom mirror, tiled wall or on any surface thanks to the adhesive strips or suction cups hidden behind the tube.
It is a simple invention yet makes us wonder who invented it? It was first invented by a German, the identity is unknown. However, it is known that there were several technical defects with the product at the initial stage, including the toothpaste in the tube drying out, causing stoppage and waste or indeed becoming too wet and runny, and perfecting the function of the tube in order to make sure it works correctly. Henkel AG & Company of West Germany was the first company to sell the product. In America, Minnetonka a relatively small company in Minnesota was the first to sell automatic toothpaste dispensers. Now, several manufacturers produce this dispenser in the market. With automatic toothpaste dispensers, as seen on televised shopping networks and in home goods stores, squeezing the toothpaste has never been easier.
Advantages:
One doesn't need a special knowledge to operate it. Just push the button on the front of the dispenser and the paste is distributed directly onto a toothbrush in proper amount. Rest assured in no-mess way. Want more paste? Just push harder with little effort. It doesn't run on batteries and needs occasional cleaning with water as the only maintenance need, making it energy and cost efficient. The specific instruction for setting up dispensers may vary depending on the manufacturer. Some toothpaste dispenser handles every brand of tooth paste and every size and shape.
Automatic toothpaste dispensers can be used with one hand, making it handy for people in a hurry, for children, elderly people and for people with hand-coordination problems. It saves space on the bathroom sink and it removes the complete volume of toothpaste from the tube, saving money in the long run. The ability of toothpaste dispensers to give the right amount of paste minimizes both the chances of using too little or too much paste, giving the best hygienic result. Hence, many people consider this ease of operation as an advantage. Most brands of toothpaste dispensers often tout these abilities in their commercials as well.
Disadvantages:
According to some customers, automatic toothpaste dispenser has its disadvantages as well. Sometimes low quality pump quit working even if the tube still has toothpaste due to drying out, resulting in waste.
Also, one is not sure when you are going to run out of toothpaste. Other pumps, though defective in design, would continue to throw little bit of paste each time. Eventually, the automatic toothpaste dispenser build up a huge mess, causing it to run out way faster than a regular tube, which is sort of not so great from the consumer's perspective.
Successful products are driven by consumer needs and demand. Either the product meets the need or not. In today's competitive market several companies are realizing the importance of customer's involvement in further developing, improving and extending of a product. Thus, it is important to do certain things before buying an automatic toothpaste dispenser, a good idea is to check customer reviews and verify the return policies before purchasing it. This is to ensure that you are getting the best deal. The internet is a good way to go about reviewing. The bottom line is, technology was born to make life easier.
.