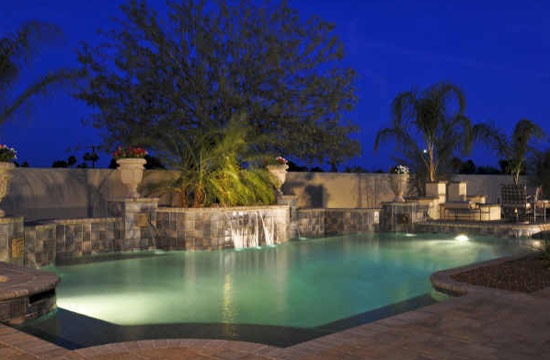 Although luxury pools are not a new concept, the trend is evolving more than ever. Temperature control facilities, water treatment technology and mind boggling designs have always been their characteristics. However, the evolution has led to the birth of better designs, beautiful lighting options, finer water treatment technology and far better location customization. It means a complete never before 'waterscape' solution. Recreate the poolside of that tropical luxury retreat you vacationed last year or build a completely new natural looking swimming pool taking inspiration from the following list we have compiled for you.
All you need is an innovative brain in waterscape architecture and design. The process is a bit painstaking and expensive. However, that should not be an issue at all if you have money and the desire.
Luxury in-ground swimming pool – Duffy's forest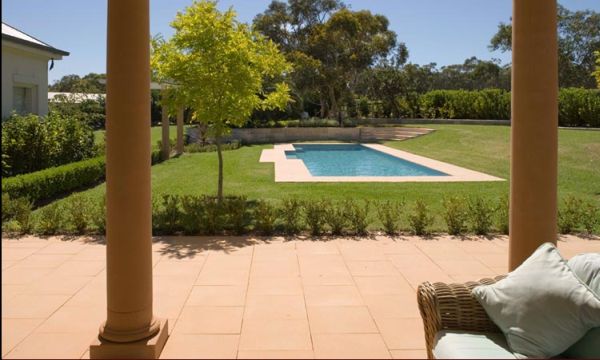 If given choice and affordability, everybody would raise hand favoring an in-ground pool. They are more natural, fun to use and easy to maintain. Here we have an excellent design of in-ground pool from Crystal Pools.
You can use this pool for your regular exercise, host poolside parties and enjoy a family get together under the summer Sun.
Its unique design allows customization to complement your home. Completely tiled interior keeps the water safe and cuts down on regular maintenance. Besides, you can choose tiles of your color preference.
Contemporary and luxury pools indoor design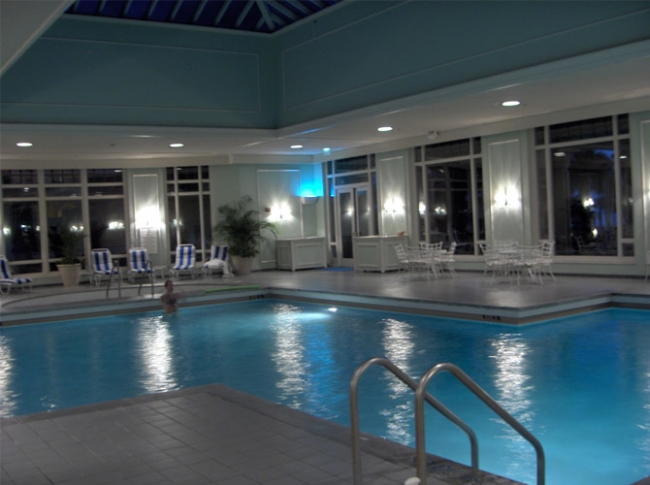 Not many of us can afford the luxury of backyard large enough for outdoor pools. Besides, you can't expect much of privacy in an urban area while swimming on your outdoor pool. Solution is indoor pools. They are confined within 4 walls and safe from bizarre onlookers.
You can borrow ideas from our design here. It's nicely-lit, properly decked and easy to maintain. Temperature controls are easier for indoor pools. And there are less chances of water contamination from outside perils. So, you don't need to spend fortune on water treatments. Even if you are not swimming, you can spend quality time on poolside chatting with friends and family or complete business work over a nice mug of coffee.
Luxury indoor pool house design by JM Architecture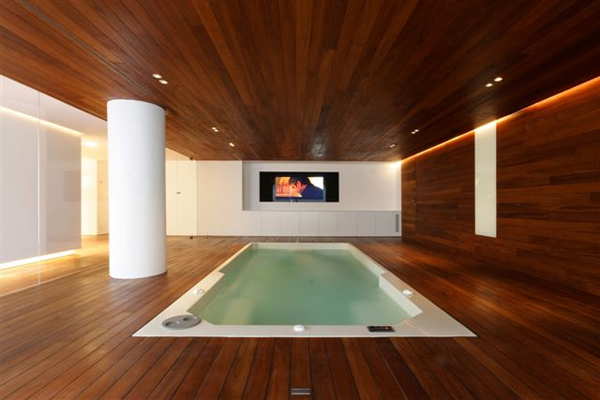 This is an indoor pool design idea from an architectural creation by JM Architecture, Italy. This indoor pool is actually a part of a pool-house, built way back in 1960's Rome, transformed into 5-starer luxury retreat.
The counter-current lap pool resides on the teak floored basement of the retreat. A glass wall separates the pool area from outside playground. It just obstructs the outside visibility but no way deters daylight from entering pool area. The minimalist design confirms aesthetics within the openness.
Luxurious swimming pools San Alfonso Del Mar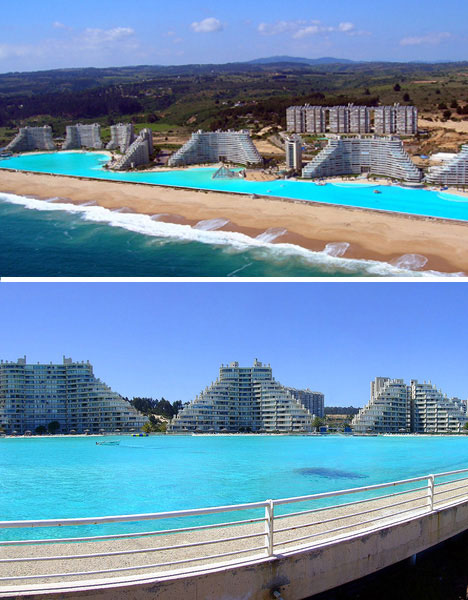 It is the largest swimming pool on earth according to Guinness World Records. This artificial lagoon is over 1 km long and 35 meters deep at its deepest point. It holds 20 acres of land. Thousands of tourists flock to San Alfonso Del Mar in Chile every year to enjoy this scenic man made pool.
Of course you can't have one in your back yard but it shows the level of luxury money can buy. Despite its huge size, impeccable water treatment keeps the pool water crystal clean through out the year.
Golden Nugget Shark Tank Pool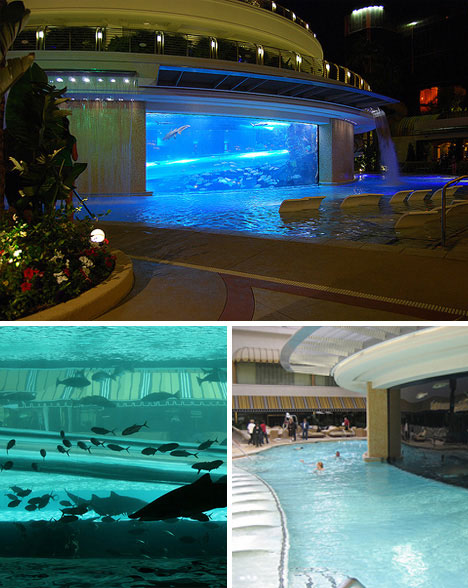 Unlike the artificial lagoon, this is more like a captive pool. But no less money has been poured into building this pool. It is, in fact, a 200 thousand gallon shark tank surrounded by circular swimming pool and cabana. Enjoy sharks' nudging on the tank wall over your evening drink or take a belly-flop for near oceanic experience. Don't worry, tank wall is well-secured.
Over $ 20 million went into building this impressive pool and money came from The Golden Nugget mega-casino in Las Vegas. After all you need to refresh yourself too between those stints on casino floor.
Luxurious Swimming Pools Begawan Giri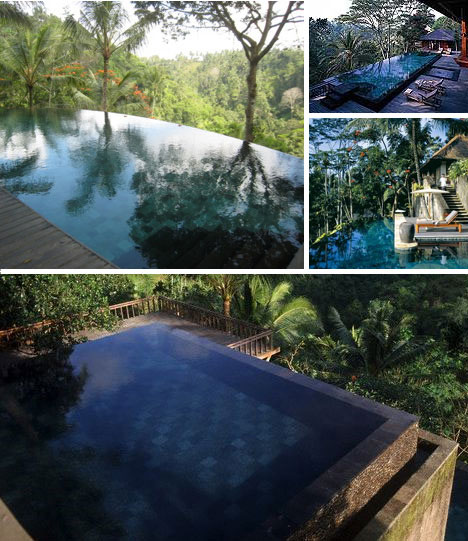 Are you living by seaside, riverside or in the middle of large greenery? This could be a wonderful pool idea. The design is actually from the Begawan Giri Hotel in Bali. Aquamarine water and infinity pool completely blends with tropical greenery.
This nicely decked pool even allows spending quality time by water side. Customize the pool with your surroundings. Choose different textures and color options for pool interior. After all, a perfect blend makes an infinity pool truly infinite.
Luxurious swimming Pools Songjiang China Quarry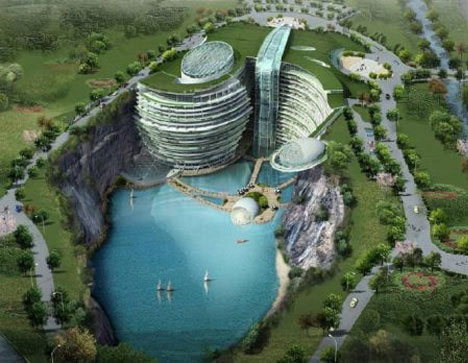 Could you imagine converting a stone quarry into a luxury pool resort? From image, it looks pretty sci-fi. But it's going to be a reality very soon. Design firm Atkins proposed to build a 5-star luxury resort in a place which was earlier a water-filled stone quarry. The resort would accommodate 400 beds along with banquettes, conference halls and other amenities. Besides, there will be all sorts of water recreations human mind can imagine. Impressive indeed!