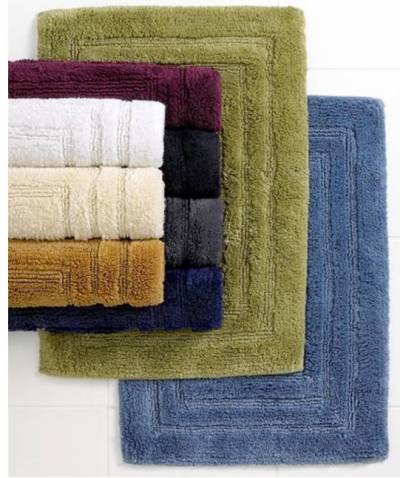 Bathroom rugs are a perfect way to revitalize and beautify any bathroom in a home. With their luxurious fabric, sturdy backing and soft feet, they are marvel and can turn a plain bath into one full of colors. Bath rugs should have good absorbing power and should be stain-free, leaving a clean floor below. Ten such durable and nice bath rugs have been reviewed in this article. Read through them and select your preferred choice to update your home.

1. Lauren by Ralph Lauren Bath Rugs, Carlisle 21 x 34
BRAND : Ralph Lauren
PRICE : USD 52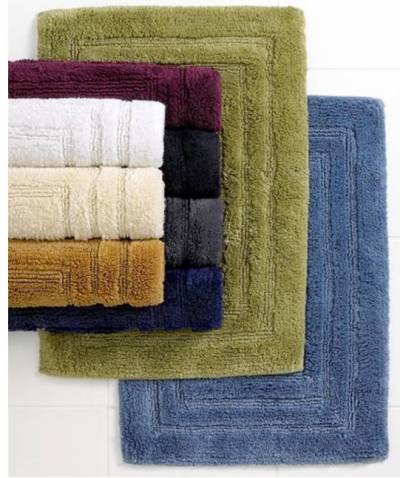 Lauren, by Ralph Lauren has always remained committed to quality and style. Continuing with this legacy are these plush cotton bath rugs which are a treat to your feet. The concentric textured rug in the collection features ringspun cotton and viscose fiber from bamboo. This construction makes this piece light and super soft. It is available in three rectangular sizes of 17×24″, 21×34″ or 27×44″. It is also well-finished with cotton duck back and cotton tape all around.
USP
This bath rug is adorned with a triple racetrack design fusing style into your home
PROS
It is no exception to a luxurious and beautiful product for your home.
This product has a matching Lauren by Ralph Lauren Carlisle bath towel collection.
It is also machine washable.
2. Royal Velvet Duet 24″ x 60″ Bath Rug
PRICE : USD 49.99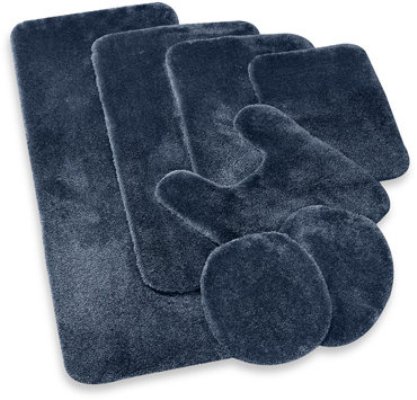 These bath rugs are durable and attractive. Constructed with 100% comforel nylon, the rugs are soft in feel and are a simple, yet great way to decorate your bathroom décor. These rugs are backed with a solid non-skid latex material. These are machine washable and thus, can be cleaned easily.
USP
They provide a perfect to grace any home décor and match well with all kinds of interiors
PROS
The velvet makes this product supple, yet a rich and lavish look.
3. Charter Club Decorative Bath Rugs
BRAND : Charter Club
PRICE : USD 65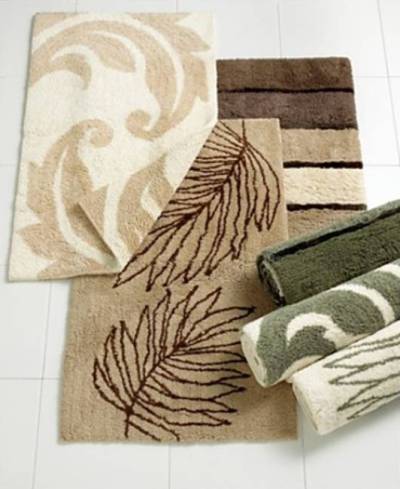 The decorative collection of bath rugs, by Charter Club, showcases a number of varieties inspired by natural earthy hues with a deep pile. The designs relate to the beautiful floral and leafy patterns similar to those found in a garden. The product is a nice addition to provide a fresh feel and natural bath. The damask rug is designed with abstracted swirling leaves on both sides. The shimmer rug features wide multicolored stripes in neutral tones. The stripes are separated by dark brown bands of silky, shimmering threads.
USP
The designs on these bath rugs make a bold impression, adding personality to your room
PROS
Each rug is available in two sizes and two color schemes.
They are versatile enough to be used in any room.
4. InterDesign Doodle Rug, Orangeburst
BRAND : InterDesign
PRICE : USD 26.99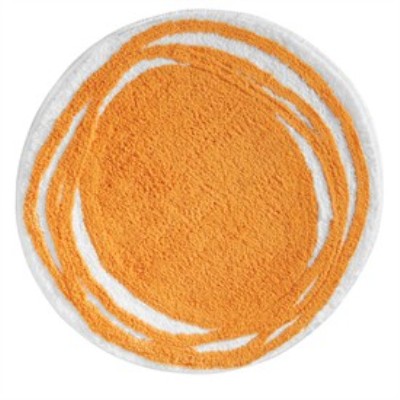 This Doodle rug not only decorates your house with a fun lively experience, it also feels extremely soft and comfortable under your feet. Be it at midnight or in the morning, your bare feet can feel its lush as you stumble into the bathroom or step out of the shower. Made with polyester, this bath rug is durable and sturdy and comes with a non-skid backing. It measures 24 inches in diameter to cover your bathroom area considerably well.
USP
InterDesign reflects true creativity, filled with blooming bright colors and cheerful poppy hues
PROS
This is a fine oriental rug made of heavy wool.
5. Cordero Bath Rug
BRAND : Croscill
PRICE : USD 30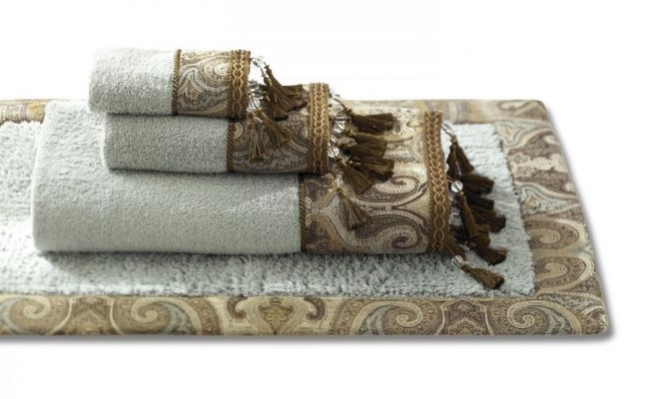 Depicting the mocha colored paisley design, the ivory base of this bath rug is a perfect backdrop. The designer border in brown and gold embellish this aqua bath rug. Measuring 20 x 33 inches, the bath rug is made of 100% polyester and is machine washable. The Cordero rug gives a feeling of elegance and rich sophistication.USP
The elegant damask fabric border made of plush cotton pile is the quintessential feature of this bath rug
PROS
This unmatchable rug is complemented with a Cordero Bath Ensemble consisting of elegant porcelain and other bath accessories like towels and curtains.
6. SpongeBob Squarepants Bubbly Fun Rug
PRICE : USD 14.97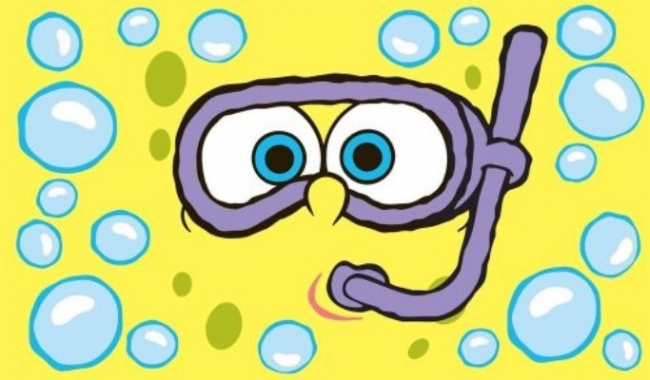 Your kids will simply love this funky bath rug. Every time you look down while drying your feet, the Sponge Bob is looking back at you through snorkeling goggles. Measuring 17 x 28 inches, the Squarepants add a dash of color to your kiddo's bathrooms with the bright yellow background, bright purple eye coverings and colorless bubbles. It is made of 100% acrylic and is machine washable.USP
This bath rug has rubber backing which makes it sturdy and skid proof
PROS
Kids would feel tempted to rise early and play with the blue-eyed diver.
7. Bedminster Scroll Bath Rug
BRAND : Turkish Towels
PRICE : USD 40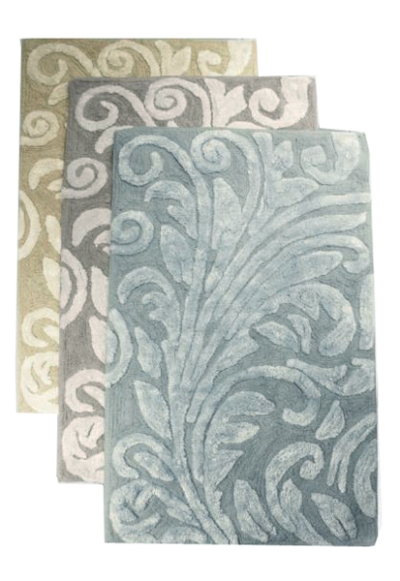 A product of the Trump Home Collection, this Bedminster collection complements your bathroom's style with lavish, yet serene looks. Generously sized measuring 20 x 30 inches and made of 100% cotton, the raised pattern marks its style statement and is available in a number of colors to coordinate with your home interiors. The design features a scrolling leaf pattern covering the entire piece. The pattern goes in reverse from light-on-dark to dark-on-light.USP
The Trump collection captures affordable luxury in a unique reverse styled design, giving an upscale look that is perfect to grace any bathroom décor
PROS
The essence of hotel experience is brought right into your home when complemented with the Trump Home bath collection.
8. C & F Enterprises "Vivienne" Rug
BRAND : C & F Enterprises
PRICE : USD 49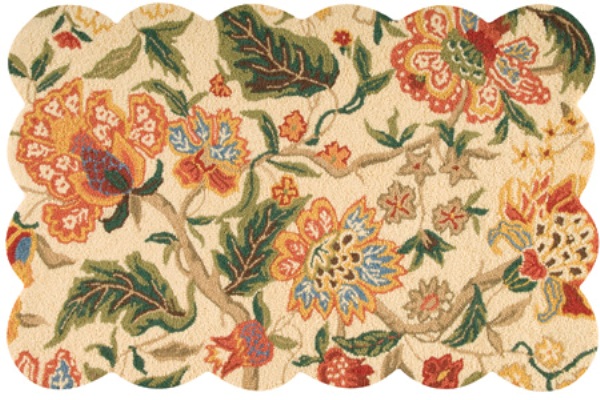 This charming rug is filled with a multicolor Jacobean floral print allover the piece. The perfect combination of colors on pastel shaded background makes this rug an exquisite piece. Its scalloped edges add to the attraction. Measuring 24 x 36 inches, the rug is made of wool/cotton/latex.
USP
The rug is hand hooked, featuring the stylized tapestry pattern
PROS
This item can also serve well as a welcome rug.
Matching ensemble in vivienne pattern is available to complete your décor.
9. Disney Pixar Cars Bath Rug
PRICE : USD 27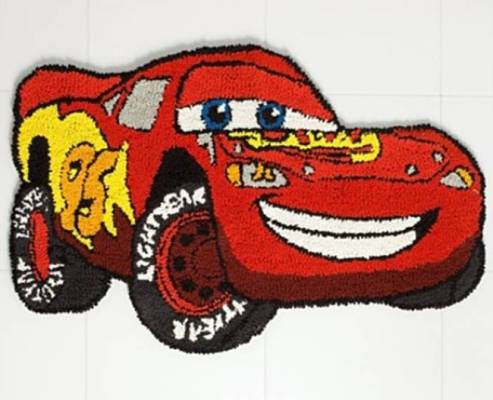 This colorful bath rug, shaped like Lightning McQueen is sure to enchant your kids for an early rise every morning. The blue peeping eyes and a wide smile will make your kids enjoy their time in the bathroom like never before. Made of 100% tufted cotton and measuring 20 x 30 inches, the rug is made perfectly in the shape of car.USP
This bath rug is inspired by the Disney Pixar hit movie, Cars
PROS
The Cars bathroom accessories available in red, blue, black and yellow, in fun shaped and racing emblems complete your kid's bathroom.
10. CLEARANCE Cameron Bath Rugs & Carpet
BRAND : JC Penney
PRICE : USD 70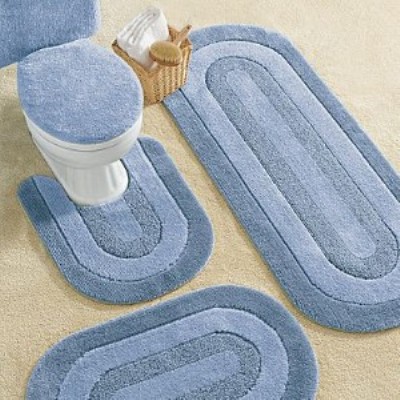 The plush nylon rugs with non-slip latex backing can turn your bathroom into a spa. With a tone-on-tone pattern, the luxurious rugs have 5/8″ to 3/16″ pile heights. Carpet and tank set have a pile height of 3/8 inches. Contour mats are provided to fit toilet base. A standard lid cover fits well to cover and decorate the bathroom further. 5×6′ and 6×9′ carpets are square shaped from corners and is solid colored without a pattern.
USP
It has a coordinating non-patterned cut-to-fit carpet with unfinished edges
PROS
The design features four matching tones cut in cylindrical shape, making the rugs attractive.