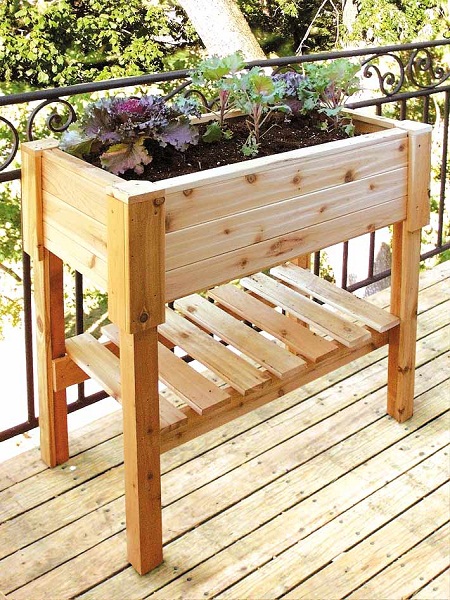 Planter boxes are ideal, where there is insufficient place for gardening. The shape, design, color and the material of the planter boxes strike a rich visual appeal to any landscape. They are also cost efficient when it comes to the maintenance of flowers and vegetables. If you too are thinking of getting one, check out our list of these beautiful wooden planter boxes.
Wooden planter box, garden flower box From China

Enrich the looks of your garden, patio, walk way or deck with this elegant looking wooden planter box. This is ideal for large as well as small plants. The classic design of this wooden planter easily blends with any outdoor décor. This garden flower box from China is made of Pine or Fir Wood and can withstand all types of climatic conditions. The planter box is made of safe and non-toxic materials. It measures 19.0" x 19.0" x 16.5" and has a natural colorless varnish. This planter box is cure to bring a cheerful look to your garden with its enhanced aesthetic appeal.
Huayi Wood Planter box

This sturdy looking wooden planter makes wonderful decoration to your home and the garden. This primed and painted wooden planter constructed out of solid pine or fir wood enhances any entryway, garden or patio. The wood makes it naturally resistant to damage from water and harsh climatic conditions. This planter box is available in natural finish and is readily blends with any stain or paint. It is available in 12" x 12" or 15" x 15" or 16" x 16" sizes. You can also customize the size, style and the color of the planter. Made of strong wood, this planter will last and stay beautiful and elegant for many seasons.
Modern Wood Planter Box by Wud

This sleek looking wooden planter has a band of woods and the clad lead detailing makes it perfect to decorate the table, shelf, floor of a home or commercial setting. Assembly and maintenance is a breeze with its removable, acrylic insert with leather handles. This allows easy access, changing and cleaning of the plant arrangements. It measures 20" W x 35.23" x 17" L and is constructed out of Walnut, Pau Ferro, Zebrawood and Wenge material. This cool and elegant looking wooden planter gives a contemporary touch to the landscaping design. Fill it with colorful and zesty flowers to bring a finishing flair to your home, office, deck or any outdoor décor.
Vintage handpainted wooden dog planter/box

Make your garden look adorable with this cute wooden dog planter box. The box has a dog cut out that is attached to both the sides and is colored in brown. It also has blue and black details to highlight its features and outline. Four tacks are available on the bottom of each foot. This can also be used as a table decoration to hold salt and pepper or as a soap or salt holder in the bathroom. The box measures 7.5" long x 3.5" Wide x 4.5" high. This vintage hand painted cute wooden dog planter is sure to be a major highlight to any room where it is placed.
Square Cedar Planter Box

This sturdy planter box made of cedar wood is not just apt to hold seeds, flowers or herbs, but also comes with an innovative storage shelf. The raised planter lets you enjoy the exquisite beauty of voluminous plants such as the Hibiscus or the Peonies. The design of the planter lets the water drain easily since it has a unique liner that allows water to pass without draining the soil. It also has a greater holding capacity. It also avoids kneeling or bending with its elevated design. Make an excuse to learn the art of gardening with this unique looking wooden planter.
Square Solid Wood Lexington Planter Box

This square wooden Lexington planter box is sure to add attraction to your garden and homes. The design, construction and the shape is ideal for any type of home décor. These planters are a fine example for quality craftsmanship and durability. This product measures 16 x 12 x 18 inches and is available in natural and white finish. This planter allows direct planting with its durable plastic liner that is included with the planter. The plastic footpads on each wooden leg prevent moisture absorption. It also has a slatted design for water drainage. This square shaped solid wooden planter is a great gift idea and ideal for garden lovers.
VEGTRUG™ PATIO GARDEN Planter

This planter makes gardening comfortable and easy with its good working height. No need to bend, kneel to take care of the plants. The shape and design of the planter makes efficient use of the space to grow rooted plants such as tomato or shallow rooted crops such as the salad greens. The factory fitted fabric liner retains the soil and allows the water to drain. This planter is ideal to grow a garden in small space. The plastic feet of the planter protect the wood from wet surface. It measures 70" L x 30" W x 31.5" H and can be assembled easily.
Hardwood planter box

This planter box is ideal for large open spaces that can be placed directly on the surface without the need of metal fittings. This planter box is constructed out of timber and comes in a wide range of stain finishes. It has inner polythene liner which prevents soil spillage. Litter bins with strengthened mesh sheets are also available. Constructed out of sturdy wood, your flowers and plants will be in great shape regardless of the climatic conditions. It is easy to assemble and maintain. This modern and contemporary looking hardwood planter box is sure to bring cheer to the open space.
IT-23009T 24" X 24" PLANTER BOX, TEAKWOOD

Enjoy the fresh sight of flowers and herbs in your garden with this wooden planter box, constructed out of Teakwood. This is ideal for any type of outdoor or home décor. Wooden boxes made of teak are built to withstand all types of weather conditions. It is naturally rich in oil content which makes the wood naturally resistant to water. This sturdy planter box is sure to last half a century without much care. These boxes are naturally beautiful and add charm to any garden. You can also use this wooden planter as a storage option as well. This product measures 24 "L x 24" W x 21 ¾ "H.
Handcrafted redwood flower planter

This handcrafted flower planter made of redwood is sure to add a touch of subtle elegance to your outdoor décor. The construction material is naturally resistant to insects and all types of weather conditions. This planter is ideal for patio walk way or a side-by-side front porch. Filled with cheerful flowers, this wooden plant is sure to accentuate the visual appeal of any type of outdoor setting.
Modern planter box ideas for your house
Everyone likes to add some greenery in his/her house. Your house only starts appearing as a home when you add a few nice plants to it. Plants may add life to your home while keeping your environment greener and cleaner. Here are some nice planters that could help you in bringing life into your home. These planters not only look great, but also enhance the beauty of your potted plants.
Air plant pendants
Now days, you may find some designer air planters that help you in saving the floor space and keep your plants safer by hanging them up in the air. These air plant pendants look amazing in modern homes. You may check out some nice wooden designs to match the looks of your garden furniture or other household furniture items. In fact, wooden pendant planters can add to the style of any place.
Living wall art
There are nice planters available in the form of living wall art. You can choose from a variety of styles, designs and colors to place them on your walls. While such planters carry real plants, they also give an appearance of wonderful artwork on your walls. Select them according to the color of your room's walls so they look complementary and stylish.
Can planters
While these can also be made easily at home, you can also buy can planters to be placed in your garden or backyard. In fact, you may also pierce them and attach them to a rod using a string. Place a number of can planters in a row and it will look like your small nursery. The metallic look of can planters also gives a bright feel to your place.
Stitched plant holders
The best part about stitched plant holders is that it does not attract bacteria because of its antibacterial material. Thus, you can keep your plants away from some uninvited guests. You can choose a few colorful stitched plant holders and arrange them in a pattern that makes the place look decorated too.
Geometric planters
You may find a wide range of planters in several geometric shapes and patterns. These look quite stylish and modern in any type of a home. You may place such type of planters on the ground or may also hang them up in the air using string holders. Your plants would really come to life in such types of planters.
Hanging bud vases
The option of a hanging bud vase is very lively for your home. You small plants and flower buds would thank you for keeping them in a cute and colorful hanging vase. You can hang such vases anywhere inside or outside the house. Many people prefer to hang such planters in their kitchens that come to life with their beauty and cheer.
Pipe planters
You can even make such type of planters by using PVC pipes. Simply color them and bring to the size of a planter. You would not even imagine that a beautiful and modern planter could be carved out of a waste object.
Summary:
Adding nice planters can add life to your house when they hold your favorite flowers and plants in them. Therefore, choose some nice and modern or wooden planter designs according to your home decor to make your place lively and brighter.