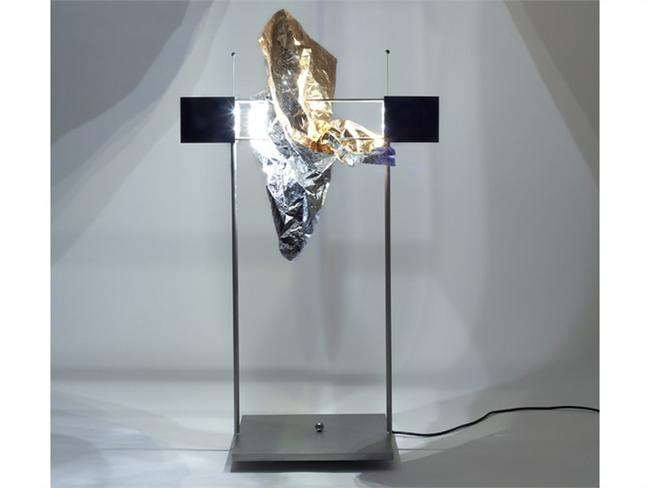 Believe it or not, this unusual looking thing is actually a table lamp. It has been designed by Ben Wirth who calls it the 1st Aid table lamp. The reason for this table lamp having such a "medical" name is that it uses two different types of Polyester foils, taken from a first aid kit, to reflect the light coming from the two LED lights in different parts of the room.
It uses two types of polyester foils – gold and silver. The reason for using two different types of polyester sheets is to make the lamp reflect two different hues of light, making the room appear all bright and colorful. For lighting purposes, the lamp has been fitted with two LED lights, which have been positioned in a way where they face each other.
The two lights can be turned on separately or simultaneously. The lights have been fitted on two poles on each side of the lamp. The two polyester foils have been placed in between the two LED lights for the maximum effect.
The lamp can be controlled by a magnetic ball which has been placed at the base of the lamp. The base is made up of stainless steel, so rusting of the metal parts will not be an issue with the 1st Aid lamp. Metal parts have been painted in black to go with the overall aesthetics of the lamp. The overall design of the lamp is pretty clean since not many switches and dials have been added.
Via: Archiproducts