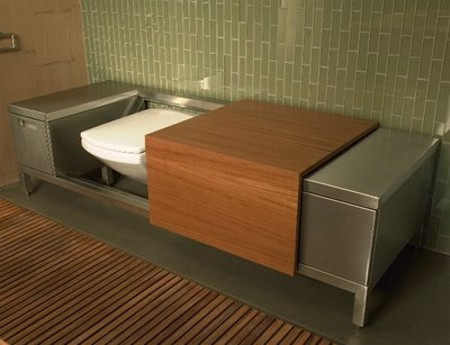 I'm confused whether I should call it a blessing in disguise or just label it as pure accentuation of the good old W.C. The Bench Toilet has left me in a semi-excited state.
The Bench Toilet, as the name suggests, is a W.C. that is integrated into a bench. Of course, the concept is so fresh that the mere sight of this unique W.C. will prompt anyone to start a debate on this topic. Designed by Troy Adams for Julien, the Bench Toilet features a stainless steel bench with a sliding wooden component that hides the W.C. when not in use. In the shut position, the bench serves as an elegant storage unit. You just have to slide open the wooden thing when you want to use the toilet.
The brush steel finish of this unit is well complimented with the exotic wooden component that comes in ebony, teak, wenge, or zebrawood. I love the concept, especially the sliding mechanism. Actually speaking, I'm so impressed with the Bench Toilet that I'm having a debate with myself regarding the primary use of this concept. Those who have the habit of reading in the toilet will find this concept very useful. They can browse through their newspaper or magazine while seating on the exotic bench, and wait for the right moment to reach the threshhold and slide the wooden cover.

However, this amazing experience will cost you a fortune. The Bench Toilet sells for a whopping $11,475.00 and up.
Source Credit: More Ways To Waste Time