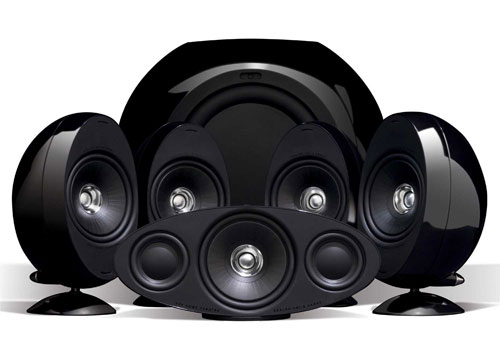 For audiophiles, every element of high-end audio matters, from equalizers to amplifiers; from power conditioners to room acoustics.
For him, the quality of sound and music has a greater meaning than just pounding bass and undistorted treble. Between finding the best home theater AV receivers to the best subwoofers and speakers, audio quality means the world to us. For such music freaks, we have come up with a rundown on the best home theater speakers of 2012. These speakers will not only synchronize with the high end video, but also complement the grandeur of your home theater setup. Loaded with powerful audio performance and impressive looks, these speakers will revolutionize the whole music experience.
Klipsch HD Theater 500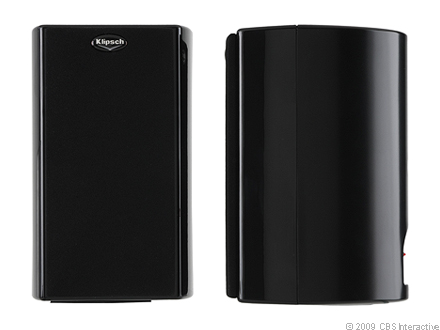 Price:
Less than $ 500
The HD theatre speakers from Kilpsch are not a deal breaker as you would like it to be. True, they have a compact surround sound which is good to listen. With four small dual-way satellites, a centre channel, complete with a 100 watt 8 inch sub woofer, they work together to fill your home with a myriad of sounds. Its sound is much better than a sound bar or a HTIB. ABS plastic speaker cabinets are curvy and are very attractive. The speakers have a 0.75'' aluminium tweeters and a 2.5'' mid-range woofer. The horn design increases the speaker's loudness. But on the flip side, its sound quality is inferior compared to other same budget speakers. The spring clips feels cheap and are not as secure.
What's unique?
The design is sleek and the grill cloths are removable.
Click here to purchase
Blackstone TL1600 5.1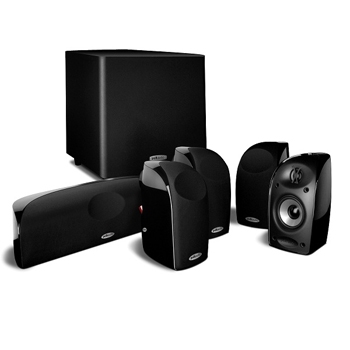 Price:
$ 499.95
If you need any reason that speakers should be bought from the best, try Blackstone's Polk Dot audio. The system has 5.1 surround sound and comes with four satellite speakers, a sub woofer and a center channel. The components really produce a great sound and your ears will surely thank you for choosing these speakers. Great products are not just great technically, they have a great design too. And Blackstone doesn't disappoint in either front. It has a very futuristic and seamless design. The subwoofer is loaded with a 8″ down-firing driver and a 12.5″ by 14″ by 13.4″ powered subwoofer. In the same price range, they produce the crispiest and the crunchiest sound of any speaker. The speakers sometimes make you feel as if the sounds are actually real.
What's unique?
The marriage of design and engineering make this speaker hands down winner.
Click here to purchase
Mirage Nanosat 5.1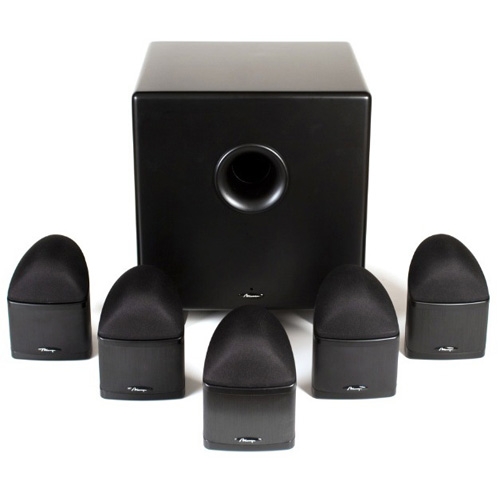 Price:
$ 799.99
One of the best sound producing devices you can get your hands on in this range. The speakers make melodious sounds almost heavenly. The system comprises of five satellite speakers and a sub woofer. The frequency range is from 33 Hz to 20,000 Hz, so it almost covers the entire frequency range the human ear can detect. It doesn't have a specific center channel, and the job is left to any speaker. The speakers have a 360 degree sound dispersion technology which bounces tyhe sound waves around the room and creates a great effect. It doesn't focus the sound waves on one sweet spot as other systems but creates a great all around effect. The bass is well blended with the sound and the speakers produce a clear sound with preservation of detail. In large rooms it may not produce the intended effect, but in small or mid size rooms, they are sweet.
What's unique?
The crisp and clear sound and the clutter free design.
Sony's HomeShare Speakers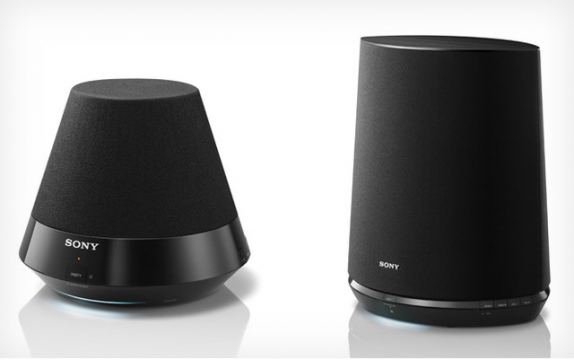 Price:
Not given
Sony has always been a frontrunner in electronic gadgets. At CES 2012, Sony has announced 3 devices which are – 2 network speakers and a full Blue ray home theatre system with Home Share. The thing to note is that the Home Share provides support for Apple's Airplay. The system is a 1000 W, 5.1 channel surround sound system which is Wi-Fi enabled and is integrated with a 3D Blu-ray disc home theatre system with front floor standing speakers and rear wireless speakers. The ports provided are dual HDMi inputs and a HDMI output and a iPhone/iPod dock. The system has a horde of features such as direct streaming from iTunes with Apple AirPlay. It can be controlled by iPad, iPhone and Sony Android tablet. It has simple installation by the help of mobile apps.
What's unique?
The AirPlay allows you to stream music from your PC, Slacker and Pandora to any room.
HT-E6730W Blu-ray 3D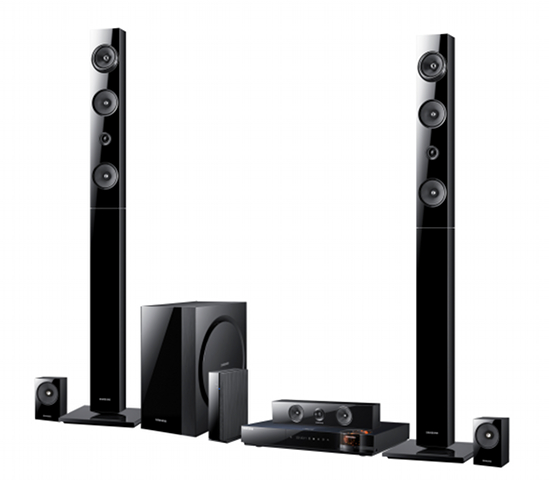 Price:
$ 799.99
The system from Samsung is based on a new vacuum tube amplifier technology. This technology uses a long lasting cathode inside a glass bulb to amplify sound. Samsung says that the new technology will deliver better sound quality than other systems. The system has a 7.1 surround sound system and offers 1000 W of power. It has two tower speakers and four additional speakers. The speakers are wireless and can be placed anywhere in the room. The vacuum tube is laced on top of each component and can be seen.
What's unique?
The vacuum tube technology gives a great sound.
HARMAN's Revel Debuts Its Performa3 Loudspeakers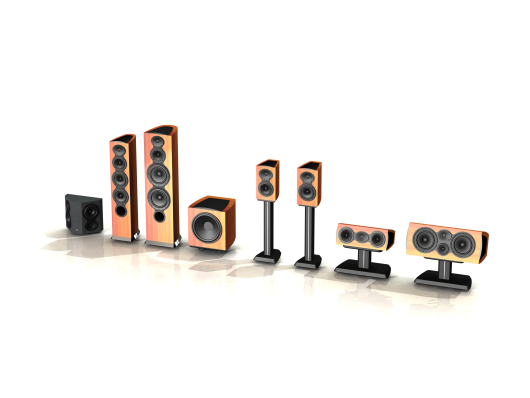 Price:
$ 1700 – 6000
Strictly for music lovers who have a loaded pocket, the Revel Performa speakers are one of the best sounding loudspeakers in the industry. The one inch pure aluminium dome tweeters produce airy sound with exceptional sound clarity and depth. Your house will resonate with melodious sounds. The aluminium tweeters operate through an Acoustic Lens Waveguide system that aids in optimum imaging and vertical and horizontal dispersion both off-on axis. Cones are provided with integral ribs which add strength for richly detailed sounds.
What's unique?
The sounds produced are very clear and the wooden design is an eye catcher.
Kef KHT-3005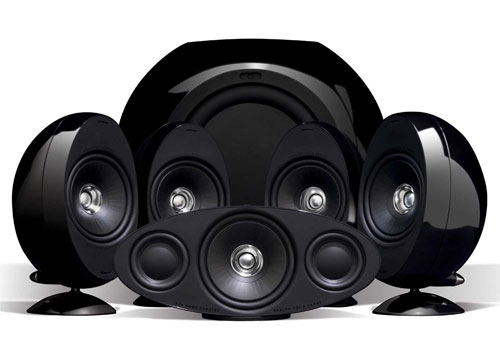 Price:
$ 1599.99
They are not only a great addition for your ears but for your room also. Speaker pods are made up of cast aluminium and the shape is carefully crafted for producing high quality sounds. The sound field is fairly deep and the any voice or sound heard was crisp and clear. The treble range is very wide and the bass is great. Watching a movie is a treat for your ears and your home will be filled with sounds that will be the envy of your neighbour. A great deal surely.