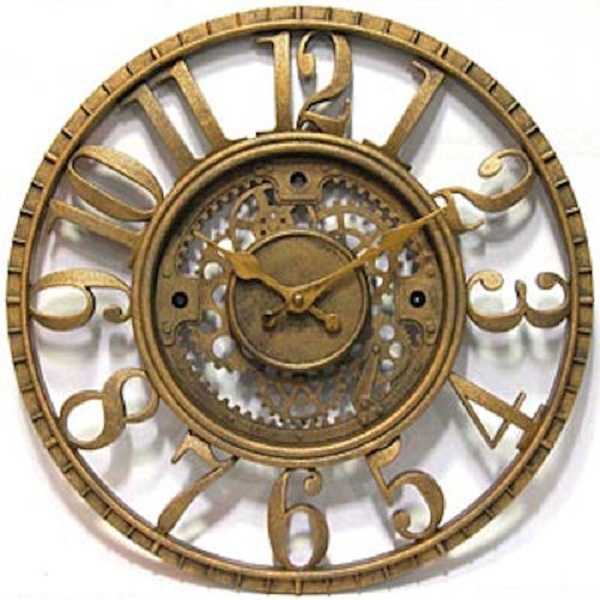 Antique wall clocks are the novelty that you can bring to the walls of your house. They not only bring the warmth and old world charm to liven up the house, but also add a depth and dimension to your living. Antique wall clocks also add the vintage grace to your house to transform it from a simple structure to a beautiful tale of time gone by.  This article is divided into two main sections. The first provides useful tips on how to select a perfect wall clock for your house; and the second gives you a list of a few antique wall clocks that you can consider.
Tips to selecting the perfect wall clock to go with your interior design
Whether you have placed it hanging on the wall or perched it on some piece of furniture in your home, a wall clock is a focal point in your home when it comes to decoration. A wall clock is not only a decorative piece but it's a functional one that can be placed in any of the rooms in your home. It is ideal for the living room, dining room, bedroom, hallway, and kitchen. In the kitchen, it can be used to keep track of one's cooking time as well as create a relaxing atmosphere in a home. The same applies to the bedroom where one would want to keep track of their waking up time.
When looking around for the best wall clock that will suit one's style, most people are puzzled at which clock to purchase. In order to select the ideal clock that complements the aesthetic value and elegance of a home, the wall clock that you select should be chosen with various aspects in mind.
Size and shape
The size selected should fit the wall space, especially for blank walls that lack wall hangings. Small wall clocks should not be bought for blank walls neither should big ones be purchased for already decorated walls. Shapes ranging from round, square and other unusual shapes like geometrical patterns, butterfly, floral and more are available. You can also get a clock for every room that matches different interior designs.
Room Theme
The wall clock that you select has an effect on the overall appearance of your room and home, in general. The look, theme, and feel of your home should guide you in choosing the right wall clock. Homes with a classic design blend in with a vintage clock design while those with a modern design would blend well with a wall clock with an abstract design. Select a wall clock that complements the theme.
Style
The style or design adds a touch of elegance and glamour to the interior design of a home. You can find wall clocks ranging from abstract, traditional, classic and contemporary styles in furniture stores and online platforms. Nowadays, 3D clocks are also available as well as customized clocks which double up as photo frames where you can have some family photos. Find the best that you can either hang on your wall or perch on your mantel.
Model and material
The model and material that you select should complement the interior design and furniture. Different models made up of different kinds of materials are available. The classic model which complements most interior design themes is one of the common models. Materials include wood, acrylic, plastic, and metal like bronze, silver, and steel. Select a wall clock that blends in with the interior design.
Click here for one of the best collections of wall clocks at reasonable prices. Free shipping available.
Location
The functions of a room play an important role in your choice of a wall clock. Where you intend to place it alongside the interior décor will determine what kind of characters you will need on the clock. One example is for a wall clock to be placed in the kitchen. Choose a clock with motifs of vegetables or spices. A kid's room would look great with colourful clocks, while that of the elderly can be a simple elegant wooden wall clock.
A few ideas
Here are some of most graceful antique wall clocks to adorn the walls of your house with all its never fading beauty and timeless elegance.
Open Dial Resin Antique Wall Clock

Extremely beautiful and elegant, the antique wall clock with open dial will add the old world charm and warmth to your house. The wall clock made of resin in a rustic gold finish, is surely class apart from the regular wall clocks adoring your walls. The Arabic numbers in the graceful wall clock are easy to read, while the visible gear movement of this antique wall clock gives it a distinct appeal. The unique timepiece with accurate quartz movement will certainly change the dynamics of your room aesthetically.
What's Unique: Open dial with resin hands in gold finish, visible gear movement.
Gilbert Shield CALENDAR Antique Wall Clock

If you love to collect antiques or if you are a grandfather wall clock enthusiast, you know how precious and heart warming it is to find the rare Gilbert Shield model of the wall clock. The Gilbert Shield is one of the much talked about timepieces of its time. The Shield was listed by Tran Duy Ly's American Clocks book for $1,000 without having a calendar. Today, the Gilbert Shield is equipped with a calendar.
The discrete and gorgeous wall clock with its original glass bottom tablet, antique original dial with the date of 1869 on the top edge and a quirky pendulum, is simply astounding. The wooden frame of this beautiful wall clock looks unaffected by the time gone by, while the calendar continues to perform its duty perfectly. Gilbert Shield is certainly one of its kind wall clocks to bring the majestic charm and opulence to the wall of your house. The heavy and deep sound of gong every hour will remind you of the precious time flying by.
What's Unique: Unique and precious, Gilbert Shield with a calendar is a rare model.
Miniature Vienna Regulator Antique Wall Clock

Extremely rare and classic, the true miniature Vienna Regulator clock is precious and a proud possession adoring the walls of your house. The beautiful and elegant, miniature Vienna Regulator is also special due to its serpentine case. Gorgeously hand crafted wall clock has the two piece porcelain dial in only 3.5 inches in diameter. Clock dated from around 1880's is a unique collector's time piece, which stands above any comparisons.
What's Unique: Handcrafted, Rare but true miniature Vienna Regulator, Serpentine case.
Howard Miller O'Brien Double Dial Wall Clock

The gorgeous conversational timepiece by Howard Miller has the unmatchable vintage charisma to adorn the walls. The Howard Miller O'Brien double dial wall clock with antique brass finish runs with two clocks that can be set for different time zones. The graceful antique double sided wall clock swivels in a beautifully crafted bracket that is to be wall mounted for various unique placement ideas. The dials made with aged parchment with black Roman numbers make this antique wall clock a timepiece that stands at the top of all its wall clock brethren.
What's Unique: Double Dial, Aged parchment dial with black Roman numbers.
Antique Design Brass wall clock

Regal and extremely beautiful, the intricately crafted antique wall clock in brass will dominate the aesthetics of your house. The gorgeous and convoluted artisan craftsmanship of Meenakari and gemstone work with two mighty swords, kept crisscross surely brings the majestic beauty of Indian emperors to your house. The gold finish of this regal timepiece adds up to the beauty of the wall, where as the work on red and green over black combined with gold gives the wall clock a distinct appeal to shine through the entire decor of the house. The clock placed in the center of the swords over the round stand that depicts the shield.
What's Unique: The unique sword and shield design, intricate meenakari and gemstone work.
The Aukland Antique Wall Clock

The gorgeous Aukland antique wall clock by Infinity Instruments; is a graceful decorative timepiece with a faux wood concave frame. The antique wall clock with distinct vintage appeal has an antiqued dial with Roman numbers. It also has  black metal hands to enhance the beauty of this classic piece of wall clock. The seconds are shown in the clock in five second increments on a half inch circular marker at the center of the dial. A beautiful antique timepiece is a perfect addition to any home to bring in the warmth of the era gone by.
What's Unique: Discrete decorative timepiece with antiqued dial in the faux wood concave.
Howard Miller 625-275 Allentown Wall Clock

Unique with the vintage rusted charisma; the Allentown wall clock is an interesting and gorgeous timepiece to adorn your walls for a classy appeal. The molded polyresin Howard Miller creation has a character and persona of itself; to explore and add dimensions with depth in the house. The aged minute and hour hands enhance the vintage beauty of this antique timepiece. A complete charmer, Allentown wall clock by Howard Miller is a timepiece; that will depict its the glorious past to enhance the decor aesthetically.
What's Unique: Discrete rusted look.