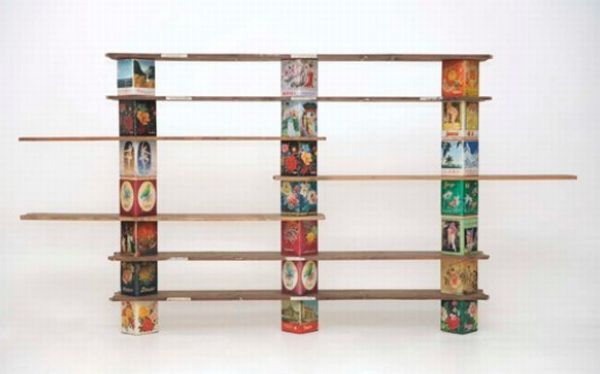 Are you a voracious reader and love to keep your books like a piece of jewel? Then how about getting a book shelf that has eco-friendliness caked all over it? Yes, you read it right! Jonas Merian has designed an environment friendly Biscuit-Box shelf for keeping your best books in a tidy manner.
The designer has ingeniously used salvaged wood and old Chinese biscuit boxes for this creation. The tasteful shelf will befriend the environment and also decorate your dwellings. Wooden slabs have been tactfully placed over these biscuit boxes to lend the shape of a perfect book shelf. These boxes have a colorful façade and are a good 30 to 40 years old. Jonas found them in Shanghai and got attracted towards them. The biscuit containers have different designs/pictures on them, ranging from characteristic Chinese images to super-sexy blond girls.
Old houses in Shanghai are being demolished to make new ones. The designer collected the wood used from such places and gave it an artistic life. The edges and the surface, serving as shelves, were smoothened before using. The whole structure is kept from falling apart with the help of drilled holes through which thread rods are passed. The alignment of all the boxes has been made possible by box shaped grooves on the wooden boards.
The Biscuit-Box shelf, with so many green traits, will fetch a lot of attention. Display your books in an elegant manner and also become a planet savior!
Via: jonasdesign