A lot of people find colorful interiors very energizing though these tend to look dated very easily. If you are the kind of person that wants their décor style to reflect an elegant timelessness, then a black and white scheme of accents is just what you need. Pristine white walls pair wonderfully with white doors and windows though you can always go the extra mile and stain your interior furnishings like armoires, cupboards, drawers, beds, chairs and headboards etc. in the same shade of white to create a seamless look. Not only will doing so tie up your décor quite neatly, it will also amplify the light in a room which makes this trick wonderfully effective for small apartments, rooms with small windows, rooms with no windows and even basements and attics converted into a living space.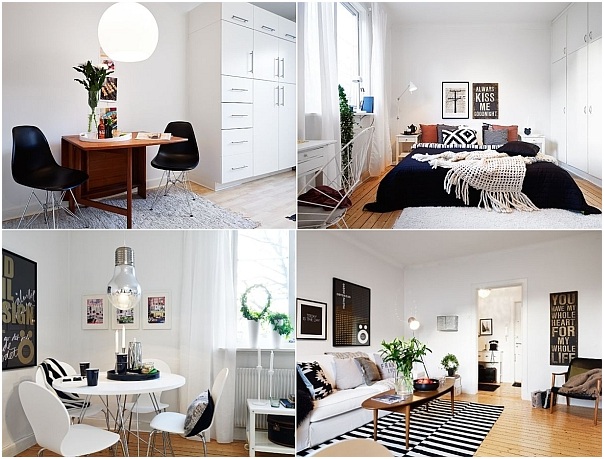 To make an all-white room look chic and modern, you can always add stark black accents to balance the light in the room. Thin plush black rugs, black throws and even black leather upholstery for your chairs and seats. Even though matt and low gloss finishes work best for black accents in a largely white room, you can opt for natural ebony woods and laminates in the same look to make your décor look slightly traditional.
The best thing about a black on white décor scheme is that you would need to only add one or two small bits of a bold and bright color (scarlet, canary yellow, mahogany, navy) to soften the look of the whole room. By using a single big scarlet cushion, you would be able to infuse your entire room with a sensual aura while adding a yellow throw on a chair or a blue vase to a side table would be enough to make the room look inviting.