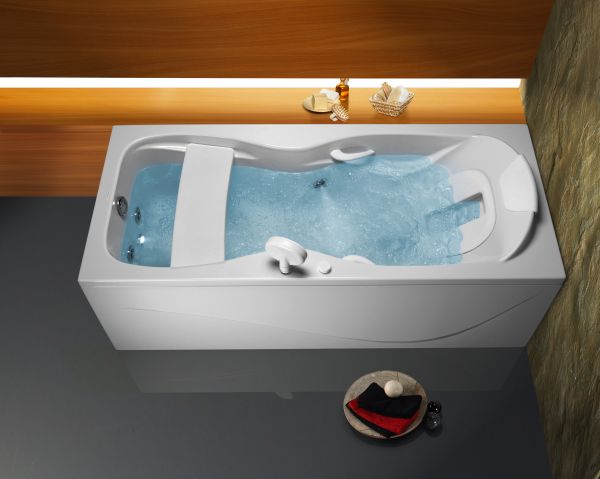 In the last decade, Hydrotherapy has evolved from being more than just a fancy spa treatment to being a highly recommended alternative health treatment. Most products in the market that offer the benefits of the therapy, however, come as specialized gadgets or in the form of outdoor baths and hot tubs. The bodyline whirlpool bathtub concept by Melissa Vilar seeks to integrate the soothing treatment right into your daily bathing experience. Named Bodyline, the design draws from the contours of the human form and comes infused with state-of-the-art technologies to give user the optimum benefits of the relaxing treatment.
The specialized bathtub comes with a unique hydro-massage function that lets out jets of varying water pressure and varying temperature flow onto the users' body to promote and manipulate blood circulation. This relaxes various tissues and promotes greater health.
Three groups of injectors are strategically located in key areas of the bathtub to enhance the effectiveness of the hydro-massage. There are seven injectors in the lumbar/dorsal area of the tub with six of them providing double water outlet and one with air/water outlet that varies the texture of the water stream. The ergonomic design of this specific part is covered in polyurethane and adequately supports the users' back and head via specially molded head/back rests. Two groups of adjustable air/water injectors are integrated at the lateral area and feet area.
Bodyline also has a built in control panel that lets users customize functions while lateral handles provide stability while getting in and out. The designer suggests that a soak in a water temperature of 37C lasting at least 15-20 minutes would be sufficient to provide you with all the health benefits of hydrotherapy when you use this product.
Thanks Melissa Vilar!