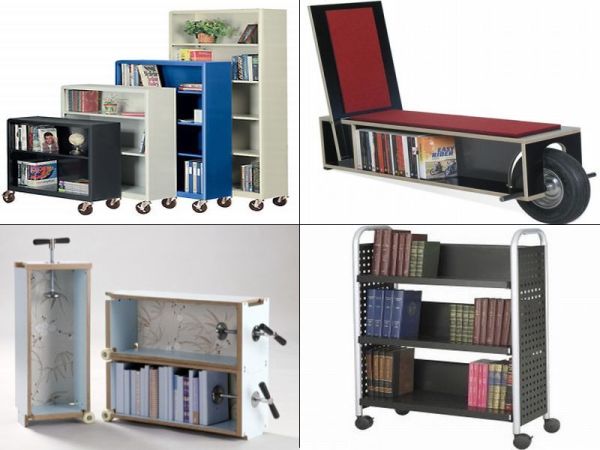 Bookshelves are common bits of furniture that can be found in any home around the world as we simply cannot do without precious books. From novels to reference books, we all love to stack them up neatly inside bookshelves. We have always known bookshelves to occupy one particular area in the main room, however, there are some amazing designs of bookshelves on wheels. Here are ten such novel portable bookshelf designs:
1. Portable kids' bookshelves by Hotel Fun4kids
These amazing designs for portable bookshelves for kids are done by Hotel Fun4Kids who have given each one a special theme for your little one to enjoy reading time. The bookshelves have non-toxic finishing and you can also complete the kid's room by adding similar themed kiddy furniture also designed by Hotel Fun4Kids. Furthermore, as the bookshelves are on wheels, it becomes easier for kids to drag it to wherever they plan to read.
2. Quitante bookshelf by 20.87 Estudio
This amazing portable bookshelf is eco-friendly as it is made out of old plastic crates that are used to load vegetables and fruits that are arranged on top of a plywood base with industrial castor wheels. Designed by 20.87 Estú­dio from Sao Paolo, this is a great way to use sturdy plastic storage crates and convert them into a very functional piece of movable furniture. Minimalistic in outlook, this portable bookshelf is a great design.
3. 'Books to Go' bookshelf
This amazing bookshelf is a great design for transporting your books without dropping them. Designed by Rose Cobb, the 'Books to Go' bookshelf is a great portable furniture for people who enjoy taking a stack of books along with them. The bookshelf has wheels attached at the bottom with the handy dandy clamp that secures the books in place so that they don't fall while the shelf is being rolled across.
4. The Librespiral by Gerardo Mari
The stylish and modern-looking portable bookshelf is a great buy if you love books and would like to see them organized in a proper manner. This bookshelf is an assortment of vertically-placed shelves in an abstract manner. The Librespiral is coated in steel and comes in many delightful colors such as orange, white, black and many more. This bookshelf is not only portable, having wheels attached to the base, but can be conveniently reached from all four sides.
5. ZiG by Ryan
The ZiG is a great bookshelf design made out of solid bamboo. This portable bookshelf on wheels is a great multi-shelf storage unit that resembles zig-zag patterns that give it a very aesthetic appeal. The bookshelf is available in many natural colors.
6. B.B Bookcase
This very minimalistic yet stylish looking bookshelf on wheels has been designed by Hasper Morrison and manufactured by Cappellini. The bookshelf has macroter finishing and a novel back-side that resembles a porthole. The B.B. Bookcase is available in different colors and a different shaped back as per customer requirements.
7. Easy Reader – An integrated portable bookshelf and bench
The design of the 'Easy Reader' does justice to its name as it is a mobile ensemble of a bookshelf and bench that makes it easy for you to move it around the house. The Easy Reader is a comfortable reading arrangement with cushions and a backrest on the wooden bench and there are two bookshelves that are located on either side of the bench so you can easily reach out for your favorite book. Due to its compactness and portability, you can even haul it easily to your backyard and have a nice read outdoors.
8. Library Book Cart
The Library Book Cart is a great multipurpose design wherein you have the traditional bookshelf along with your own workstation unit on wheels. The design is the same that is used in libraries to ferry the returned books back to the shelves. This minimalistic design is great when it comes to moving around books and other work material is a convenient manner.
9. Bookinist
The 'Bookinist is a chair-cum-bookshelf design by Nils Holger Moormann which was originally designed to be a portable reading chair. However, the shelves or storage units for books that are located along the sides and the arm rests, a reading lamp, a cup stand, disclosed compartments for storing stationary, truly make this an innovative design for the person who wants it all.
10. Pkolino Book Buggee
This cute little bookshelf design for kids is a great way to make reading a part of a child's magical world. The Book Buggee by Pkolino is a great portable bookshelf fun mobile that is ergonomically designed with the classic 'V' storage compartments for the books which makes it easier for kids to handle. Apart from that, there is ample space for storing other 'treasures' for your dear child.
 Style your portable bookshelf with these interesting tips and tricks
A bookshelf is a readers pride and joy. The flexibility of reading your favorite book whenever you want; is only understood by a true reader and book lover. There is something with how books can keep you busy for hours. The various genres available to a reader give them the option of choosing whichever book they want.
Having a book collection is not something new. Some people take all the pain and trouble to preserve the collection so that it looks as good as new even 10 years down the line. Instead of going for the usual way of stacking your books, you can consider these nice tips and tricks of enhancing the way your collection looks.
Mix up the way you place your books
Horizontal and vertical arrangements of your books are a perfect way to mix up. You can do this method with all the shelves of your bookshelf. You can opt to have this mixed arrangement on ever shelf or every alternate shelf depending on how you want it.
Arrange by the colors of the books
A unique way to arrange your books would be to go for the colors. You can opt to choose one single color or even make it interesting by going for two colors one after the other. A small idea on this front is to arrange the book in such a way that it looks aesthetically pleasing. In short, a large picture frame of books that is just like a painting on its own.
Add in some deicer
Who said that a bookshelf cannot have some decor to it? You can add some nice and cute looking decor that resembles your favorite genre. Another way to decorate your bookshelf is to have a nice painted glass cabinet so that your books do not collect dust.
Create a nice and beautiful backdrop
Backdrops are another perfect option when you want to decorate your bookshelf. The splash of colors will enhance the look and feel of your shelf beautifully. You can choose to have metallic colored backdrops for the added glam factor.
Go all-natural with the tone
If you want to go all-natural, opt for the natural pallet of browns and tans. You can incorporate nice and natural colored decor to blend in with the color of your bookshelf. You can also consider contrasting it with the tan or off-white shades. This option is perfect when you want to redo the bookshelf and bring in a change.
The big and small effect
If you do not mind arranging your books in any order then one of the great ways is to go for the big and small effect. You can arrange differently size books based on their genre or even as per the author.  The high and low look is ideal when you do not have too many books but want to make it look like a huge collection.
Artwork will bring in some life
To make your bookshelf come to life, consider having some nice artwork just above your bookshelf. This is a great option when you have a ground level bookshelf and lots of space above it. You can also consider one-liners or favorite quotes as a part of this idea.
Play with colored lighting
When there are books, there is bound to be light. You can never go wrong with this idea. Instead of opting for regular lights, consider colored lighting. This will highlight your bookshelf area perfectly and you do not have to spend too much of money.
Drape in some fabric
You can always beautify your priced collection with some nice fabrics. Consider net or lace materials and leave it hanging loose on the sides. If you want, you can install nice curtain rods and add the frilly small sized curtains to give it a good finish.
Make it a theme
You can also choose your books in the form of a theme. For the bookshelf design, you can opt for differently sixed shelves and arrange your books accordingly. You can also make it look like a flight of stairs, an airplane; you can also choose any other simple and easy to do concept.