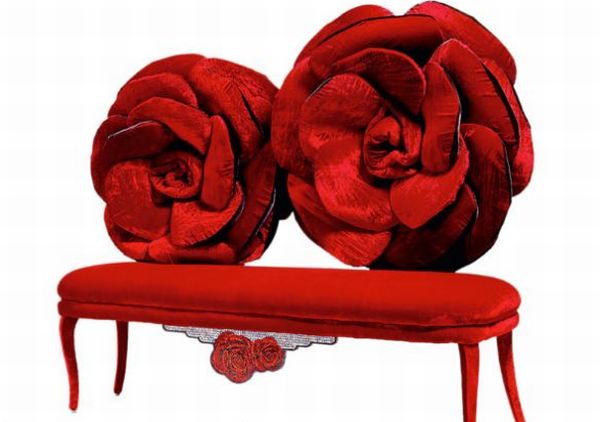 SICIS NEXT ART is a world renowned international chain of luxurious furniture and has produced most eye catching and valuable pieces of furniture. This time also, SICIS NEXT ART has brought you an enchanting piece of furniture in the form of a two-seater sofa made from velvet.
The sofa is named as Moi et la Rose, which means 'me and the rose' in English. The beautiful and luxurious sofa immediately catches your attention as it has two beautiful roses attached as the backrest. The roses are made up of silk velvet and are very beautifully cut and finished, giving the roses a very lifelike silhouette. One rose is slightly bigger than other, giving the user flexibility to adjust well on the sofa.
The sofa is available in two colors of red and blue but if you want some other color for your sofa then you can choose from the vast and vivid range of 43 colors and your bespoke sofa will be made by the best of artists in Italy, who made the mosaic entirely by hands. The legs of the sofas are also adorned by the same velvet making it a treat for eyes and irresistible.
The sofa is a part of chapter one collection and is available in limited edition of 200 pieces. The size of the two-seater is also quite reasonable at 168 x 140 x 70 cm. Beneath the seat, on the frame of the sofa, a beautiful mosaic has been carved by the mosaic masters of Ravenna, Seattle. The mosaic also depicts the same roses used as the sofa back.
Via: Archiproducts