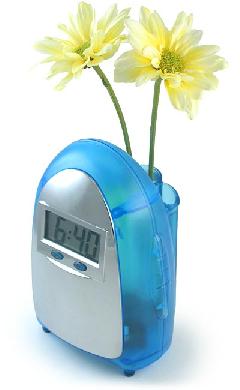 If you are one of those avid power savers then, this Water Powered Clock is one for you. Yes this table clock is powered with water.
Just fill the liquid reservoir at the back with water or any liquid of your choice. Soda, coffee or even beers work for it. You won't have to refill it quite often as you had to do it with other batteries.
How does it Work?
Obviously a scientific reason goes behind it. The internal converter extracts electrons from the liquid and provides electrical current to power the clock.
Must say an innovative idea to keep a watch on time. You can also put flowers in the reservoir and decorate your home this Christmas.
Via : thinkgeek