It is easy to get a clutter free bathroom
One cannot underplay the importance of the bathrooms in our household. Your bathroom is that one place where you can shed all your inhibitions and be yourself. Remember all the times when your various singing and dancing talents were unearthed in your bathroom? The bathroom is a place where one can unwind and relax and many have confessedly admitted that the best of creative ideas have dawned upon them in their very own bathrooms. All said and done, it is understood that a place that is so very important in our lives should be kept clean and organized. A fuss free bathroom has more benefits than one. Cleanness and good organization not only enhances the good looks of the bathroom but it also makes it very easy for you to get your hands on the toiletries without having to hunt for them. This will not only save you a lot of time when you are on the go but will also spare you the frustration which comes out of ransacking your bathroom for small things like your manicure set or a shaving brush.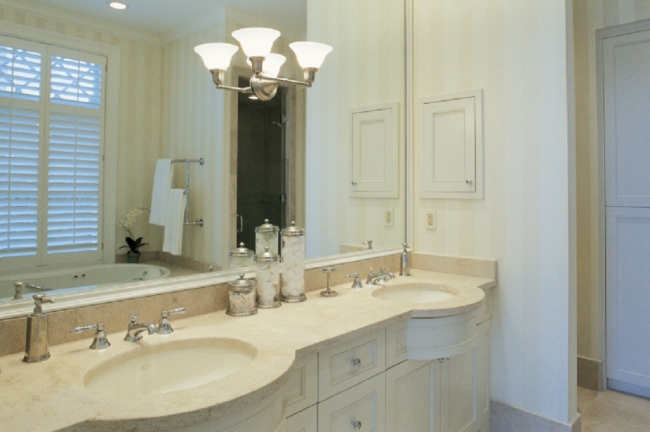 Bathroom Furniture Arrangement for a Clutter-free bathroom
The secret behind a clutter free bathroom is the presence of well-planned storage furniture. Storage units are now an essential part of all bathrooms because they help in minimizing the clutter better than anything else minimizes by giving every single item that needs to be in the bathroom a designated place. The bathroom furniture should be designed keeping two things in mind – the size of the bathroom and the number of people who use it. You must also take into account the requirements and the things that you will need to store in the storage units. Soaps, shampoo, dispensers, towels, pedicure and manicure items, shaving kit and a few products related to hygiene are basic bathroom items but now many other appliances such as hair dryer, ironing boards and so on, are also being accommodated, thus increasing the need of a well planned storage system.
You can design spacious storage cabinets with a number of shelves where all the toiletries and other appliances of the bathroom can be kept. While designing storage cabinets you must try to utilize the wall space as much as you can. Another brilliant innovation would be to design the outside of the cabinets as mirrors so that two purposes can be served at the same time and this will also save you a lot of wall space that would have otherwise gone in accommodating a mirror. Apart from the wall, storage cabinets can also be built below the washbasin. This will utilize the ample space, which is present below the washbasins and will give your bathroom a tidy look. If you opt for such a cabinet then you might have to put in separate handles for towels and arrange for a few toiletries to be kept outside the storage unit.
Economical Bathroom Storage Options
If your budget for bathroom storage furniture is not very high then you can always opt for a few alternative storage facilities such as wicker baskets, shaker boxes, hatboxes and so on. These alternative facilities will help you de-clutter your bathroom and give it a tidy look without creating a dent in your pockets as they come in very cheap. Besides, you can also go for flexible storage cabinets, which might not have mirrors and lights, but they come with ample space for basic toiletries and other electric appliances.
A lot can be said about the sense of hygiene of a person just by looking at the way he or she keeps his or her bathroom. Hence, it is important that your bathroom is clean and organized for a healthy and hygienic lifestyle.