Developing a working and effective commercial cleaning regimen for your offices can be a daunting task. If your space is small, then you might be able to handle things yourself. On the other hand, with a larger space, hiring a commercial cleaning company to handle all the various tasks involved would be the best move.
If you do want to tackle this yourself, the following are a few guidelines to help get you started.
1. Preparing Your Office Area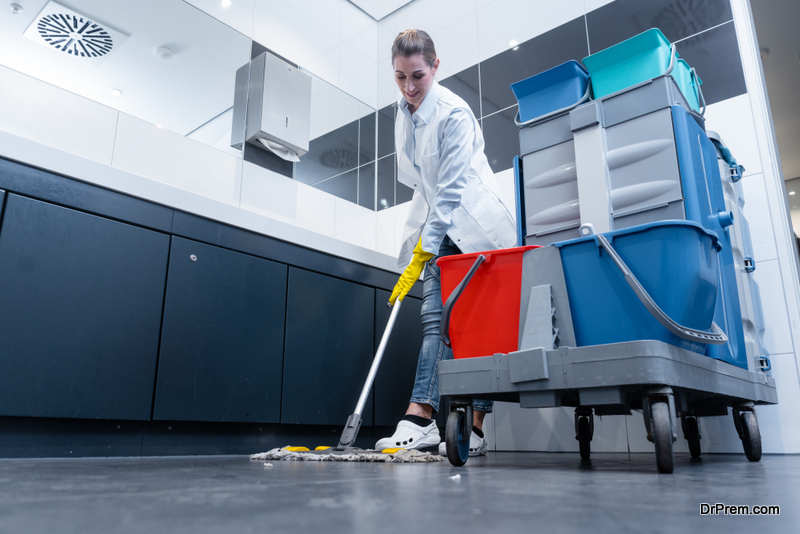 Collect all of the necessary accessories, equipment and cleaning chemicals to do the job. Stock your janitorial cart with the chemicals and supplies you need and then head over to the cleaning area.
If you need to do any extensive cleaning or mopping, put up signs that say, "closed for cleaning" and then block off the area using the proper wet floor or caution signs. The steps below assume that someone can clean the office on a daily basis. If that is not the case, then you can combine the weekly and daily cleaning procedures.
2. Daily Cleaning Procedures
Inspect the area for paper and debris. Pick up those items and properly dispose of them.
Vacuum up any debris or dirt that you cannot remove by hand. One great way to efficiently and quickly vacuum around the office cubicles is to use a backpack vacuum.
If there are any stains or spots on the baseboards, furniture, walls, floors, or carpets, wipe them up immediately. For upholstery or carpet stains, your best bet is to hire a professional carpet cleaning company to get the job done right.
3. Weekly Cleaning Procedures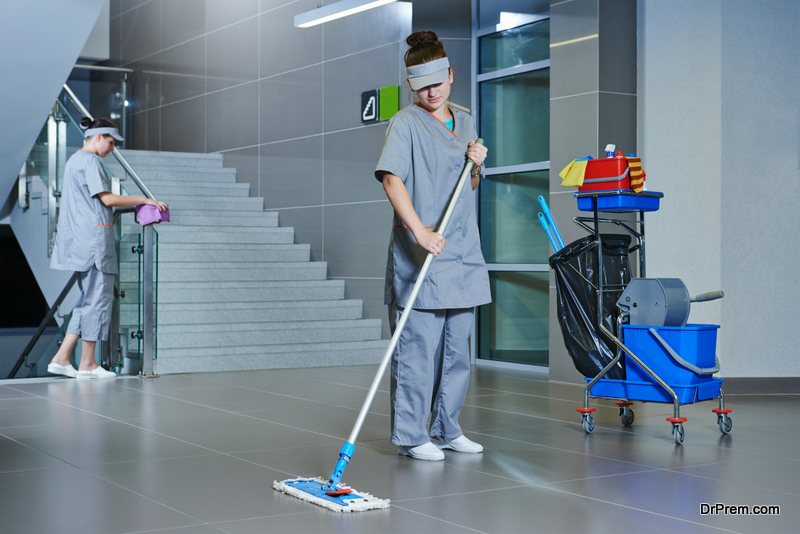 Dust every surface, including shelves, cubicle walls, filing cabinets, and desks.
Empty all garbage cans and replace the trash bags. 10- or 15-gallon high-density trash bags are a popular size to use in individual offices. If necessary, clean the trash cans and surrounding areas.
Thoroughly wipe down computer keyboards, calculators, telephones, and desks. Use disinfecting wipes, such as germicidal wipes, or a disinfectant spray that is sprayed onto a microfiber cloth.
Dust all windowsills, door jambs, ledges, and heating vents that can be reached.
Dust mop all hard surface or tiled floors, then sweep up any debris into a dustpan and follow the dust mop procedure.
Wet mop hard floor surfaces. Follow our step-by-step instructions for floor mopping.
Vacuum all carpet, beginning with the runners and mats. Use our carpet vacuuming process.
4. Monthly Cleaning Procedures
Use a disinfectant wipe or spray to clean all wall-mounted units like hand dryers and paper towel dispensers. Pay close attention to all items and fixtures in the bathroom and follow our bathroom cleaning procedures while doing so.
Use an all-purpose cleaner to wipe down all office vertical surfaces.
Use trusted burnishing or spray buffing floor procedures to spray buff all hard surface floors. A low-speed floor buffer, such as our 20-inch low-speed floor buffing polisher is used to perform the spray procedure.
For the burnishing procedure, it is best to use a high-speed burnisher, such as an ultra-high speed burnisher. For particularly dirty hard floor surfaces, start by using a low-speed buffer to scrub the floors.
Use furniture polish to polish chairs, tables, desks, and other wood items to help maintain their professional shine.
Vacuum or dust all overhead circular fans, vents, and behind areas that are hard to reach such as desks and tables.
Use a glass cleaner to clean all windows to remove all fingerprints and marks.
5. Semi-Annual Cleaning Procedures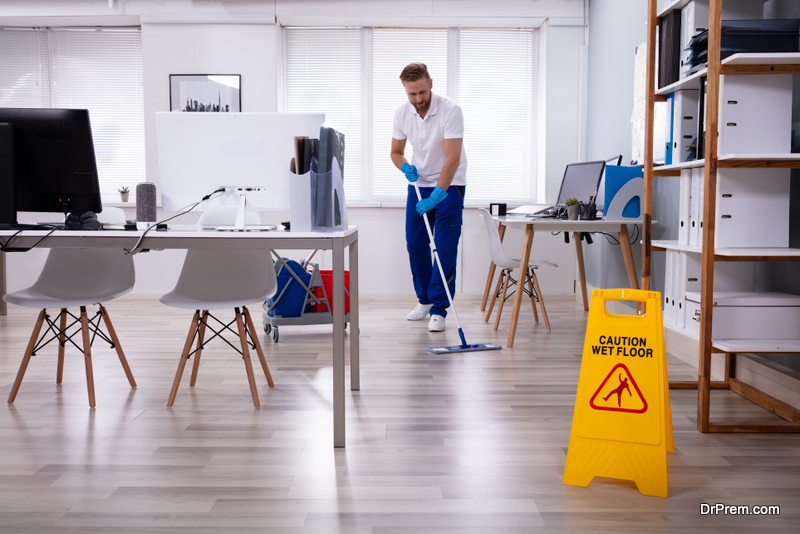 Strip any tiled floors and recoat them in order to remove any imperfections and scuff marks in the finish. Use trusted floor stripping and applying floor finish procedures to guarantee your floor has a high shine. It will also make your floors very durable for a long time., which will extend the amount of time that you need to strip and re-coat your floors.
Burnish or spray buff the floor immediately after so that the finish has the maximum amount of "pop."
Get a burnishing program implemented in order to extend the lifespan of your floor. Also, make sure to maintain the appearance of your floors throughout the year.
Use proper carpet extracting directions to extract all upholstery, mats, runners, and carpeting. For traffic pattern areas and heavily soiled areas, use the carpet bonneting directions to scrub the carpets properly.
6. Clean Up
Clean up all equipment immediately and clean out all cleaning gear including mop buckets. Rinse all mops out and hang them out to dry. Put all cleaning accessories and supplies back in your janitorial art and put everything back into their original storage areas. Remove all debris and garbage by putting it into a garbage bag and then properly disposing of it. Put away all caution/wet floor signs and carpet dryers after the areas are totally dry. Put all furniture and other objects that have been moved back into their original positions. Using a cleaning cart is an efficient method for keeping all waste and cleaning supplies on a mobile platform.
In Closing …
We trust these tips will help you develop your own cleaning regimen, or maybe it simply served as an eye opener to just how much work is really involved. As we mentioned in the intro, you might be wise to hire this work out to a reputable commercial cleaning company.
Article Submitted By Community Writer