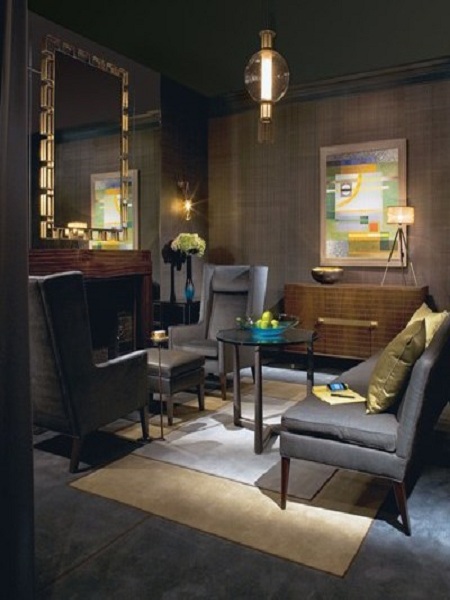 Offices can be dull, drab and boring, especially when you have one at your own home. Space and designing issues along with work needs can make your office appear dull and your job can become monotonous. So, why not try different work ideas which will not only make your home office look more cool and creative, but will also inspire you to work better, thereby increasing your productivity. Here, we have combined a list of home office designs that are creative, innovative and easy to follow. Keep on reading to know how your home office can become your home haven.
Home Office 'Pod'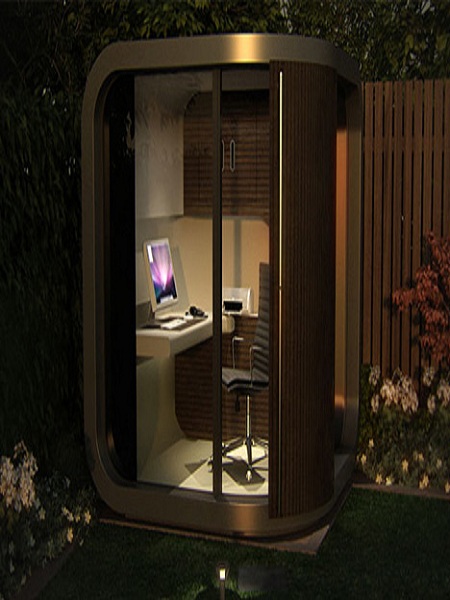 There can be several issues when it comes to designing and having your own home office. But corner office can resolve the space issues without compromising on the designing capacity of the office. The prefab office design is one such design that provides on stop search for all your office needs. It is a solution for the space troubles and provides you a well fitted cube that can be installed at a corner of your house and has chair, desk, cabinets as well as a shell to help you work in privacy. The design is modern as well as contemporary and unique. The decor is quite appealing as the walls have a contrasting black and white color while the wooden cabinet and door surfaces are textured for a complete designer look.
Unique modern home office design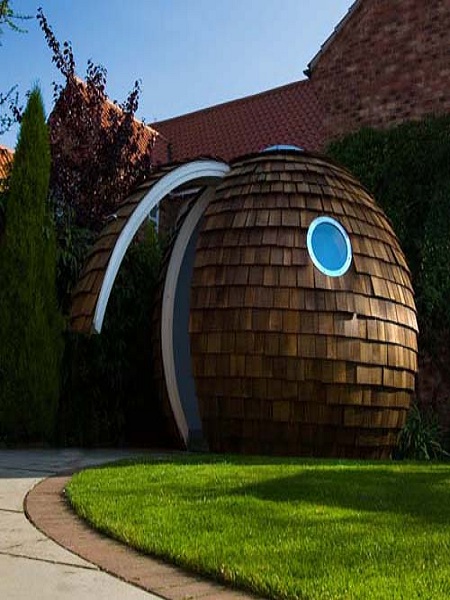 If you can't find a well-suited place in your whole house to create a home office, then you can turn to your backyard to make yourself a work station. The Archipod Technology office design provides you an opportunity to have a home office in the comforts of your own backyard. The idea is quite cool-the design is modern while the interior decoration is quite minimalistic so that you have a home office that is not just vibrant and good looking, but also functional. This office consists of a 3 meter diameter sphere and it can be carried and transported, so that you don't have to worry about shifting all the elements of your home office if you ever shift your home as you can transport your office to your new backyard. The roof dome has a system of natural light that will reduce your electricity expenditures.
Built-in home office idea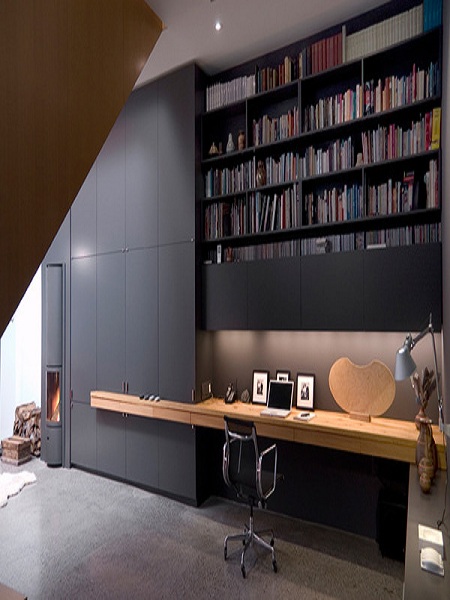 Paul Raff Studios can provide you incredibly innovative ideas to shift your office into your home. One of these ideas is to have your home office tucked under the stairs. Although, it might sound quirky, but with their professional help, you can have your own privacy, extra space and creative design in your home office. The desk, chairs and cabinets can be added into this office. Apart from doors, you can also have a firewood and a wood burning stove with high efficiency to keep your office warm and working even during tough winter days. Plus, you can integrate a cocktail bar into your own office, so that you can have a drink alone or with friends once in a while. For sure, a man wants no more from his home office.
Andre Felipe's home office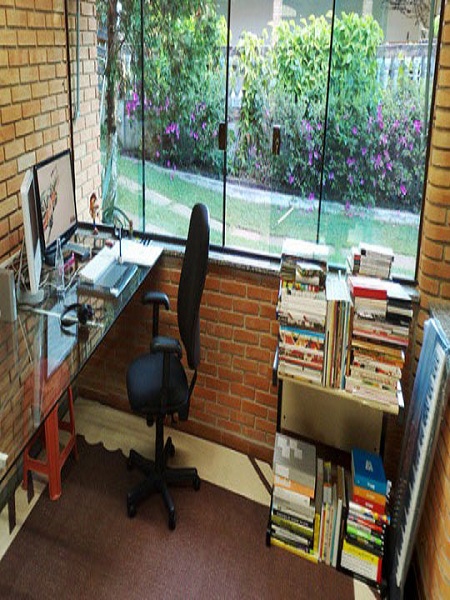 There are some people who worry that if they will work at their home office, they won't be able to see their kids grow up. But this is not true. With Andre Felipe's home office design, you can work while enjoying the favorite view of your house. The huge windows in this home office can provide you the view of your backyard or garden, where you can watch your children play while you work on those office files. Moreover, the windows will allow you to work in natural sunlight that will not only reduce your electricity bills but will also keep your home office fresh and free from germs.
Inviting home office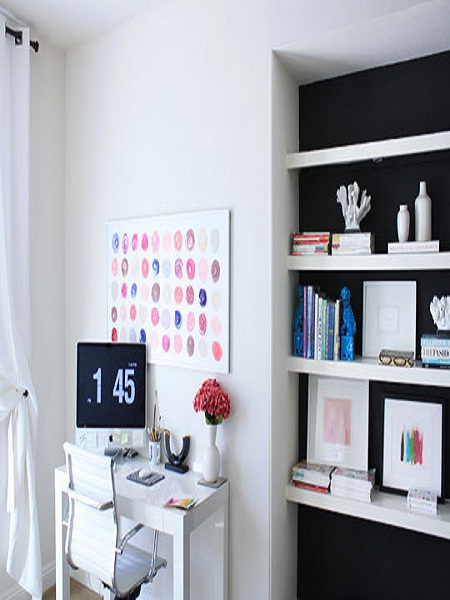 Mostly, home offices can look very small due to lack of space, but this home office of Jen Ramos is so inviting, warm and inspiring that you will never shy away from your work every again. The home office design cleverly uses white color in the backdrop that instantly makes the room look larger that it actually is. Along with this backdrop, the home office plays with several colors that make the room quite inviting, warm and bright. This is a classic mixture of classic and contemporary because of efficient use of colors and lighting. Instead of cabinets, there are shelves where you stack your files and your work or keep your photo frames and show off antique pieces from your collection.
Black hole home office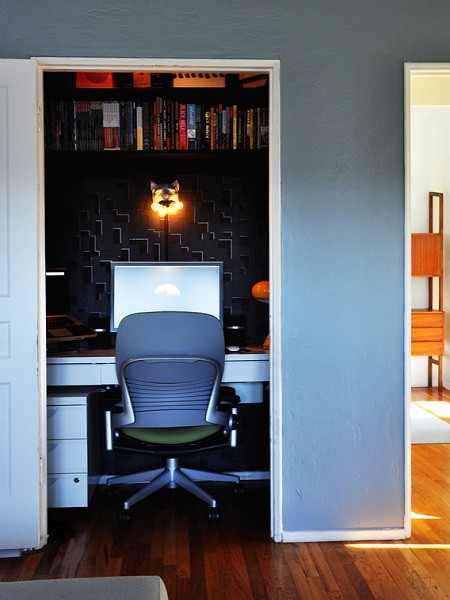 There are occasions when your home office actually be the size of a closet. But in such situations, you don't have to moan or worry, because this office design by Gregory Han can help you utilize the space to the fullest. This design aptly uses black color to create a hole like area where you add your desk, computer and a chair. The desk design incorporates several drawers that can be used for efficient storage. Moreover, several lights can be installed to make the room bright and cheery so that you can work in a well-lit, warm and inviting, home office workspace.
Dream home office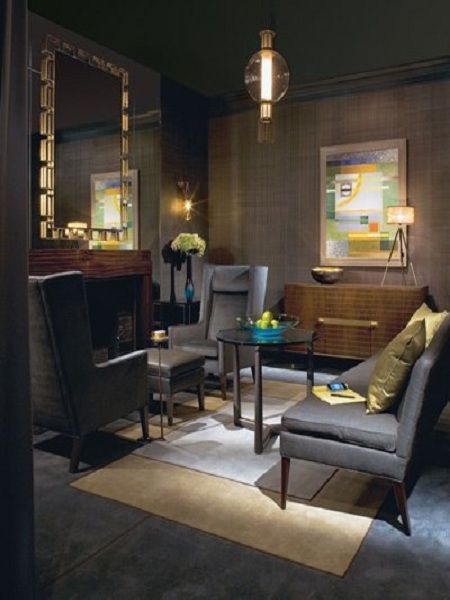 If you don't have space issues then you can always try the Douglas Levine home office that uses efficient technology, modern approaches and the idea of contemporary styling to make your office look more creative without the need for any desks or even cabinets. The drapery hardware compliments the mirror frame and effective lighting solutions. The walls are textured and have bright artwork inviting you to come and work at the home office. The traditional furniture pieces like chairs and desks are modified into something quite slim and extraordinarily contemporary so that the space is effectively utilized. The modern shaping of this home office provides it a unique and warm appeal.
Modular home office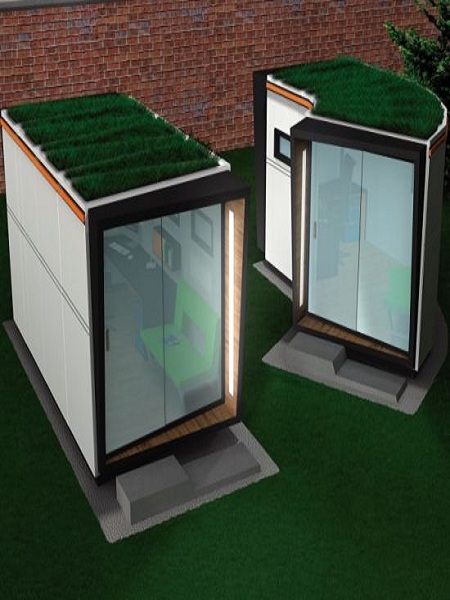 Most people with home office face a major trouble of home chores and household distraction. This home office was designed as a solution to this crucial problem. The modular office is highly functional and at the same time the design is modern. This home office is designed in such a way that separate quadrants are assembled together. This allows ease of assembling the office in your own way, makes the office space more comfortable. But most importantly, the interiors and lighting are provided in an energy efficient manner. The rubber seal between each quadrant is watertight and the electrics in the office are housed with the main frame. The office can be assembled in several creative ways and can be personalized.
Funky old cubicles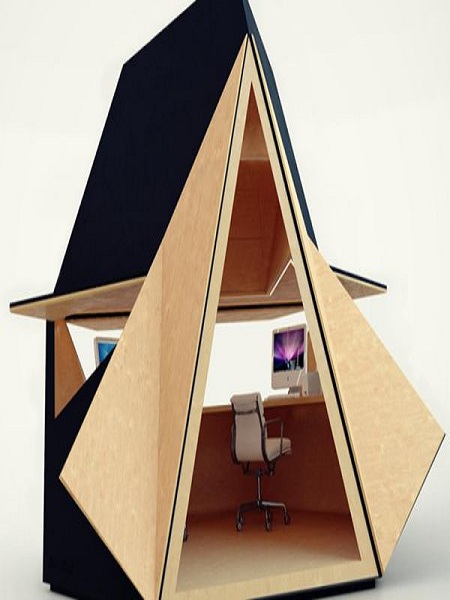 Cubicles can be just so traditional and plain. Plus, they are so uninviting. So, if you want a home office that is as cool as a company's skyscraper, then it is the high time that you shape up all the loose cardboard boxes with which you designed you earlier cubicle. The Tetra shred modular building system can help you turn your ordinary garage cubicle into something extraordinary. Plus, you can ask them to customize it according to your own needs, wishes and desires. They can turn those cardboard boxes to give you a full-blown home office room.
Sustainable home office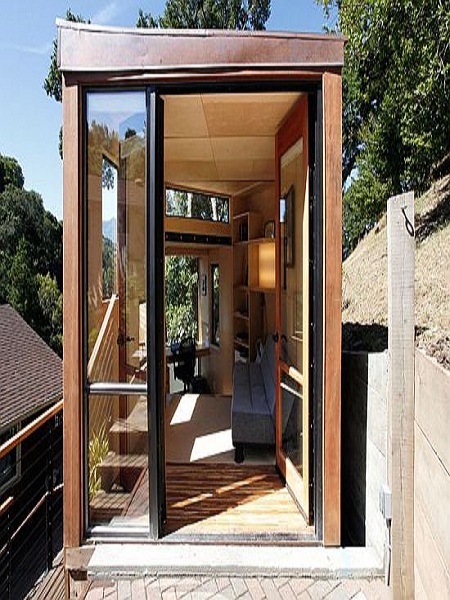 Students from Academy of Art University have managed to design a home office that essentially uses sustainable techniques. The prefabricated design techniques are used in building this home office, so that the owner doesn't have to ask for building materials and construct a office. The office is simply designed and built in a factory. The home office can then be simply planted into owner's backyard, which makes it sustainable, highly functional, cool and creative home office.