There are always options for those who prefer something aesthetic and unique than the usual furniture. In this case, furniture made out of reclaimed materials can come in very useful and creative. Sometimes old furniture pieces are used to create entirely new pieces which have different form altogether. In addition to its new style and form the furniture pieces made out of reclaimed materials give out real craftsmanship appeal. One design studio which is the Argentine based Gruba has come up with a new set of furniture made of reclaimed materials. Despite its second span of life these furniture are recyclable and are totally versatile.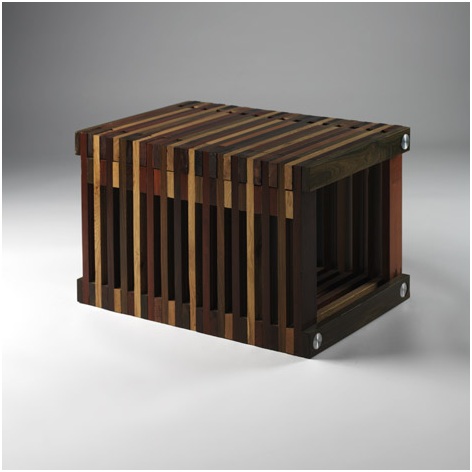 The design team
Gruba has come up with several furniture pieces ranging from benches, tables and chairs which are not only sturdy but has a lot of aesthetic appeal. Gruba's designers like Maria Constanza Nunez and Gabriel Pires Mateus have given a new twist and look to the reclaimed materials in their designs which are becoming very popular. They have given a new inspiration towards recycling by their ingenious designs from recycled elements which includes window blinds. The designers have given their design functionality in artwork by giving the retired materials a fresh new look and use. Their designs certainly stand out as they have given a second new kind of look to the old materials. By fusing the old materials with new ideas the designers have come up with the rustic and pastoral look in new shapes and styles.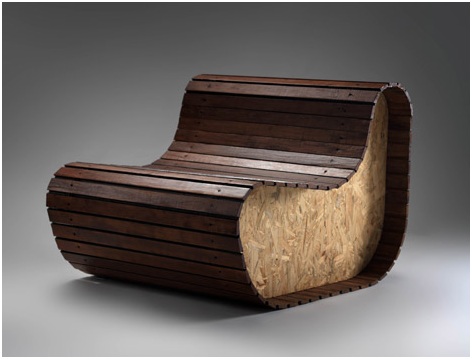 Gruba's furniture pieces
The design duo at Gruba's has infused new life into a sofa chair which has been made out of reclaimed wooden window blinds. The reclaimed window blinds are wrapped along a wooden structure support and gives out a look of real comfort. What is so great about this sofa is the fact that it can be recycled and reassembled when its second lifespan is over. The sofa chair is lightweight and can easily be moved at strategic positions and can fit into any kind of home decor. It can even be disassembled whenever the need arises.
The design duo even went so far as to create a multipurpose coffee table made entirely out of reclaimed wooden floors and tiles. The coffee table is versatile enough to be utilized as a bench, table and magazine holder. The tiles have been cut in uniform lengthwise and bunched together and are flexible enough to be molded into different shapes. This style will not only ensure a longer lifespan to the used materials but adds a degree of flexibility to its usage.
The final design of Gruba comes in the form of benches which have all been made out of discarded materials, such as iron and reconstituted wood from construction sites. By exposing the used materials which were generally hidden away, the designers have brought the recycled woods as the new face of the benches. These benches too can be dissembled and recycled once its second lifespan is up.
The furniture's clearly indicate how reclaimed materials can take on new forms and flexibility in addition to their aesthetic appeal. The designers have truly and skillfully blended the reclaimed materials into an urban delight.
Via : Treehugger