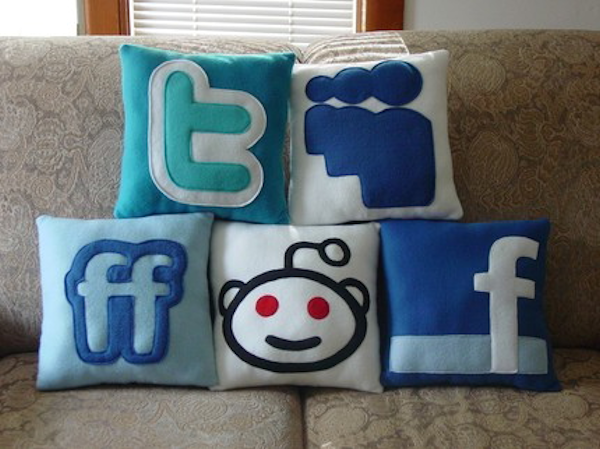 Wondering what to gift your nerdy tech friend who already has everything? A pillow or cushion will probably not be the first thing that springs to mind. Or, almost certainly, not even the second. But if you're planning on gifting your geeky buddy with a non-techie item, you can get him or her to go bananas over the dozens of great tech-related pillows, cushions and other stuffed stuff that are floating around these days. Believe it or not, some of the pillows you can get both online and offline are not all that non-tech, either.
Take, for example, the "Boombox Speaker Cushion", which the folks at ThinkGeek are offering. This pillow is shaped like a black and white retro boombox, but plug in your mp3 player, and there you have your musical pillow. It comes with an in-built classic equalizer panel that moves with the music. ThinkGeek's tongue-in-cheek product description assures us that the Boombox Speaker is a "soft cushion excellent for snuggling while listening." Now what more could you, or your nerdy friend, want?
The Dosgus pillow represents a black computer screen with DOS directories embroidered in white. Or should that have been in green? A lot of monitors during that prehistoric epoch (1980s) showed their output in those colors. It's sure to appeal to the nerd in you. For the non-techie, DOS stands for Disk Operating System and predates Windows.
For Mac lovers out there, ThrowBoy presents the very beautiful Icon Pillow Collection. These 100 percent fleece, lovingly handcrafted pillows are filled with polyester fibers, and they faithfully render the colorful Mac icons.
Your friend doesn't even have to qualify as a geek to be a social networking addict. In fact, chances are that you are one yourself. So drop your inhibitions and go for the Facebook and Twitter pillows illustrated in the article. They'll give you that warm fuzzy feeling that Piglet and Pooh pillows used to give kids.
Another gadgetized pillow is the Moonlight Pillow at Gadgets and Gear. It's an illuminated ultra-soft plush fur pillow with an internal LED light source that shifts colors. The shop claims that "kids also love the comfort that the gentle light up pillow brings. It's a perfectly soft nightlight that helps gently put them to sleep." Well, it's fine for mood lighting, but it's pretty doubtful you or your kid can actually use it to sleep on. The battery pack has been popped inside the pillow, and it gets switched on and off by a tap to the center of the cushion. It makes you wonder what happens if you decide to use it as a head rest. So much for ultra-soft plush!
Ivonne Dipmann designed a laptop powered pillow called i-Sleep that's meant to let you take a nap when you're working late. Try to avoid closing your notebook before taking your forty winks, though. The i-Sleep keeps the pillow inflated by taking up the warm air from your machine's fan vent, which would shut off the minute you pulled down the hood on your laptop. You might find that four winks are not quite enough.
Or maybe the geek in you might fancy the Android icon pillow to match your phone's OS or the Alt-Ctrl-Del pillows. They're a stylish triple set for your couch, with a white base and black writing. Blogger, Skype and RSS all have their icons featured on colorful cushions, while the huge MP3 player pillows come in white, pink or blue variants.
With the plethora of choice out there, you're sure to find the perfect tech pillow for your pal.