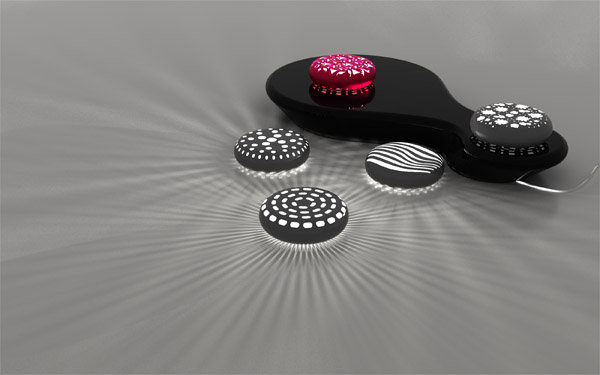 Generally when you think of buying a lamp, you think only in terms of a lamp that you can either place or hang at a place. These lamps are stationary in nature and you can't change their place frequently. The result – you end up buying a couple of them as per the lighting needs of your home. In that sense, customizing light is tough for any may man. Keeping this limitation in mind, Jorge Angarita has created such a lamp which you can place anywhere with utmost ease and can lit any corner of your home with the same piece of lamp. Angarita has named it Ambilum.
Ambilum gives the user freedom to control and customize the lighting pattern of the house with ease and efficiency. It's a new and exciting way to change the home decor of your home. All that you need to do for the same is to plug the induction station and charge the wireless chips and voila…you are good to go. You can place them anywhere you like.
If you have some friends coming for coffee, you can place them in the patio of your house and enjoy coffee in the light of these vibrant and interactive lamps. The key to control the lamps lies in placing the light chips on the supporting magnetic pads which accompany the light chips. There are four chip controls in the lamp and each chip controls one parameter of lighting system – color, brightness and light projections. The fourth chip is designed to control all the functions simultaneously which in return creates a spontaneous and random lighting effect.
The induction recharge comes with wire and needs to be plugged in for charging. The wireless light chips get charged simply by placing them on the induction station. The fully charged lights glow with green color, otherwise an orange light blinks to show the charging status. The mounting pad comes in metal and has an adhesive backing at it, which makes it easier to fix it on any surface.