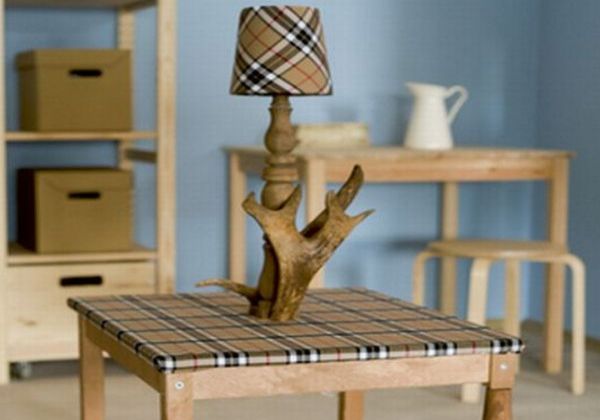 Artists in general have always been inspired from nature and their works clearly reflect nature in its true element. Keeping this in mind, Ivan Proskurin from Russia has created a table that reminds us of hunters and their houses in the midst of dense forests – having decor that is acquired from the forest itself.
This uniquely styled table can be termed as a 'hunting-styled' table as it makes use of earthy colors and materials in their original state. Other material that has been used for creating the 'hunting style' within the room are the natural linens, natural walls and the stuffed animals – a hunter's delight! Ivan's table also has a lamp that is affixed on to it – just like those in a hunting lodge. The table is very aesthetic and compact, hence, is easy to move around and its round shape is very ideal. The one striking feature of the table is that one of its legs matches the baluster of the lamp – that gives it a very unique look.
This table is also quite easy to make and requires very little effort to do so:
1. Firstly, take a pair of balusters and drill a hole inside one of them in order to pass a bulb holder and cord for the lamp.
2. Remove the fourth leg of the table and replace it with the second baluster and keep it in place with glue and dowels.
3. Take a cloth and cover the table top with it and fix it with staples along the sides.
4. Take the same cloth to make the lampshade by covering white cardboard with the cloth and affixing it with masking tape to come to the shape of the lampshade.
5. Drill a hole at the center of the table – big enough to pass the electrical cord and fix the lamp permanently on to the center with screws.
6. Fix wooden antlers near the base of the lamp i.e. near the lamp baluster to give it that hunting look.
The Hunter's table is a very interesting piece of furniture and would give a very earthy feel to any room.
Via: Liveinternet