Is it a problem arranging different kinds of books, magazines, newspapers, etc. per your priorities and in a neat fashion? If you need a stylish and spacious bookcase that you could customize per your requirements, do give a glance to this Colorado bookcase that has been very creatively designed by Carlo Pierantozzy. This unique bookcase design is original in itself and is good fun too. You may judge that by its flexible design that appears to be like a modular wall consisting of various different box units. All these units vary in size and dimensions, while being available in a range of colors.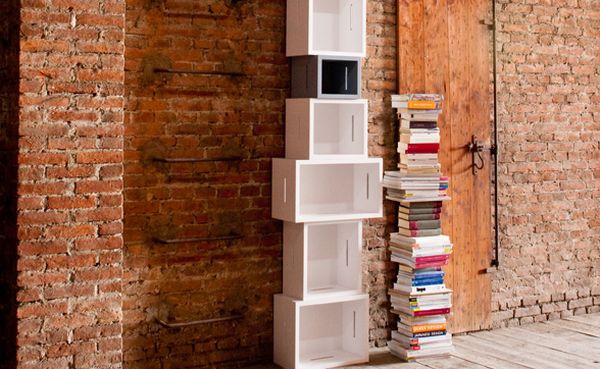 Since the Colorado bookcase units have several color shades, it is up to you to organize your own pattern using a mix and match of these bright boxes. You may arrange any number of units here and there in a type of design you select or as convenient for arranging your books. The structure may suit your room's decor very well if you adapt your design per the dimensions of the room and its color scheme. These units can also be used in different rooms and separate from each other. The Colorado bookcase offers five varied box types that can be stacked in columns and other shapes.
The whole structure is completely modular in nature and there are endless possibilities of arranging the structure at a place of your choice, whether it be your study room or children's place. If you are concerned about the stability of your created pattern, you do not need to worry as each Colorado bookcase unit has anchoring systems on all sides, which help the unit get blocked laterally, as well as vertically. There are three bookcase versions for you to choose from – multicolored lacquered MDF; multi-species wood veneer; and white lacquered MDF with oak veneer little box. This case can do wonders when it comes to arranging all your favorite intellectual possessions.
Via: Homedit