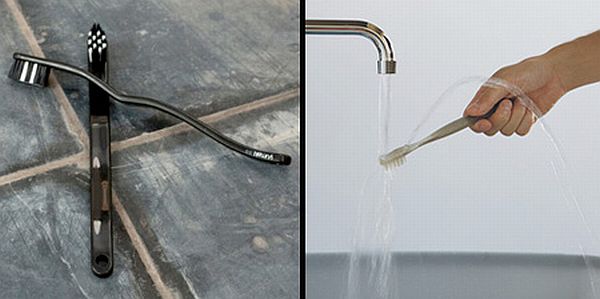 Kids always require a motivational aspect to lift up their mood to stay happily throughout the day. Their day starts by brushing their teeth and to make them happy at the beginning of the day, parents should focus on certain things that represent a blend of fun and care. On the other hand, dental care is important for everyone, especially for children. This not only ensures that children are healthy, but also prevents them from other tooth related diseases. Therefore, we have presented eight different types of toothbrush designs which are very attractive and enhance children to brush their teeth properly everyday.
1. Twist to brush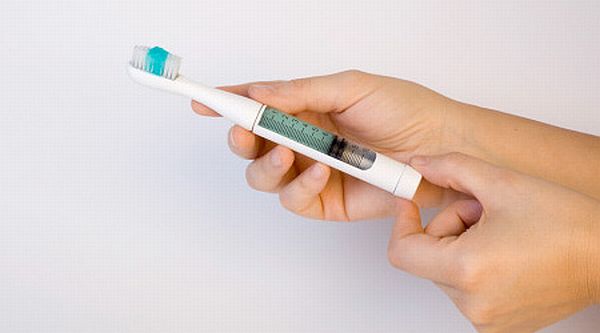 Twist to brush boasts a unique design which attracts everyone to make a good start of the day. It can be separated into two parts whereas, after attaching the body children can roll the lower roller to twist the brush the way they want. The brush holds grip to push the paste applied on it and cleans the teeth properly. You don't have to move the brush up and down; all you have to do is to turn the roller for the brush to move right and left. This will enable you to brush your teeth without a single hassle.
2. Hooking toothbrush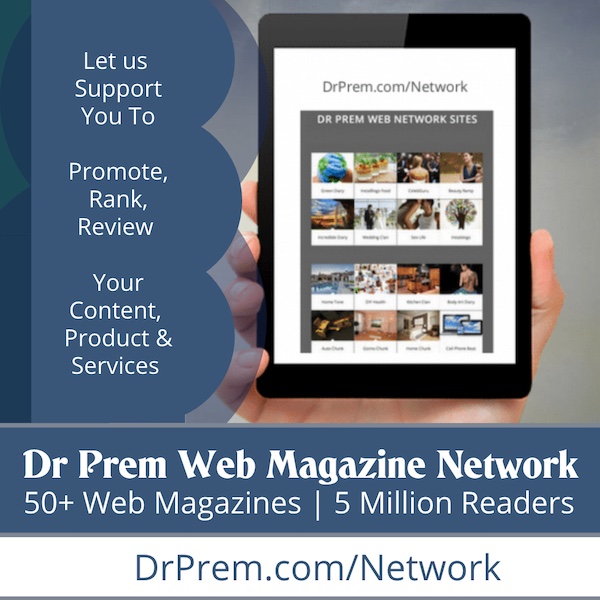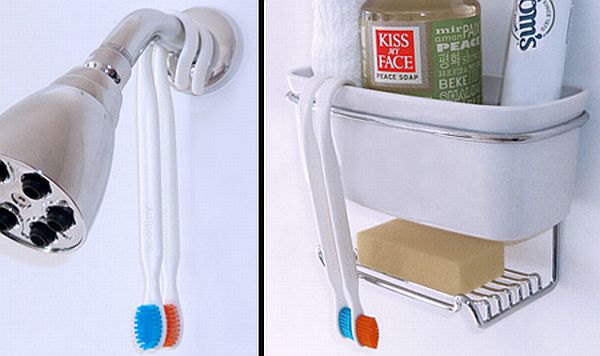 Hooking toothbrush is very pleasant and attractive to see and use. This brush has facility to hung up anywhere as it has a curvy tail. It eradicates the storage problem as you can hang it anywhere you want. It is made of PP plastic (polyphropylene) and can be recycled. Besides, children will surely love it as it comes in various colors including red, yellow, blue and green. You have multiple options to keep your brush wherever you want and this is totally a fun part during day. Early morning you and your children will get a reason to smile by looking at these hanging little toothbrushes.
3. Finger toothbrush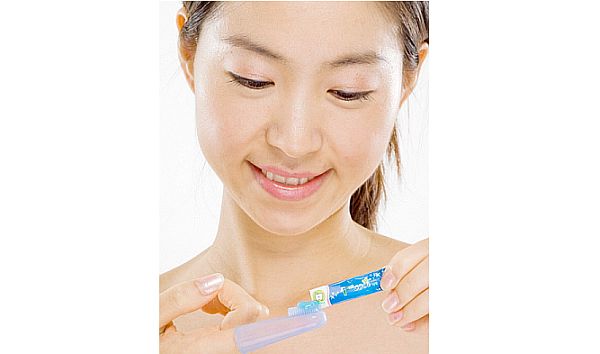 Denticool Finger Toothbrush comes in 1 centimeter of height which is very stylish and easy to handle. No more you have to handle bigger sized toothbrush that irritates you while brushing. Now enjoy brushing through your finger like the typical days. It comes like a plastic holder where you have to insert your finger and enjoy extraordinary way of brushing. This holder is made of transparent silicone, flexible and holds bristles on it. Besides, it is multifunctional in use and is a wonderful oral cleaner. You can clean your gum, tongue, teeth and palate. It helps removing the bad breath and prevents from dental plague, cavity, paradentitis and coating of tongue.
4. Squeezing toothbrush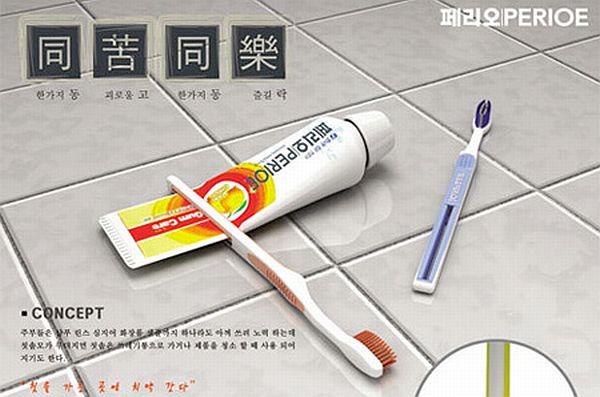 Squeezing toothbrush is something which you cannot find anywhere else in the market. This toothbrush not just cleans your teeth, but also possesses another feature to bring out the paste from the tube. The handle of this brush has a sleek, rectangular gap in which you can insert the back side of the paste tube and squeeze to move the complete paste filled inside. Now you don't have to press the tube to move the paste towards its mouth. This brush manufactured in China is more than enough and doesn't allow even a little amount of paste to be wasted inside the tube or dropped on the floor. Moreover, this brush has been designed to extend the life of it and can be used for various squeezing purposes.
5. Twigs as toothbrush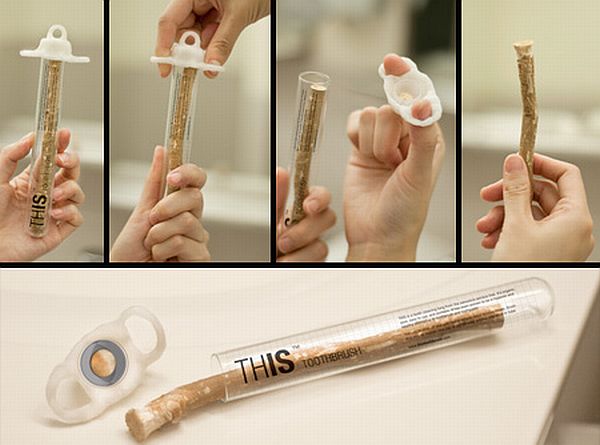 Now you do not have to use twigs by holding them uncomfortably with their fingers. A latest design has been introduced in the market which enables one to use twigs very comfortably without even facing a single hassle. This toothbrush has been designed in views of reusing the twig whenever you want without wasting the whole branch. Therefore, it boasts a more sustainable oral hygiene with some green options. It is basically a holder in which you can put the twig and brush. After the use, you can simply cut the used part of the twig with a cutter and keep it safe in the holder. A plastic tube with better packaging option with unique lid makes people to use this innovative brush whenever they want. By keeping the wood dry and fresh, this toothbrush avoids infections to gums. The lid is much like a cigar cutter.
6. Folding toothbrush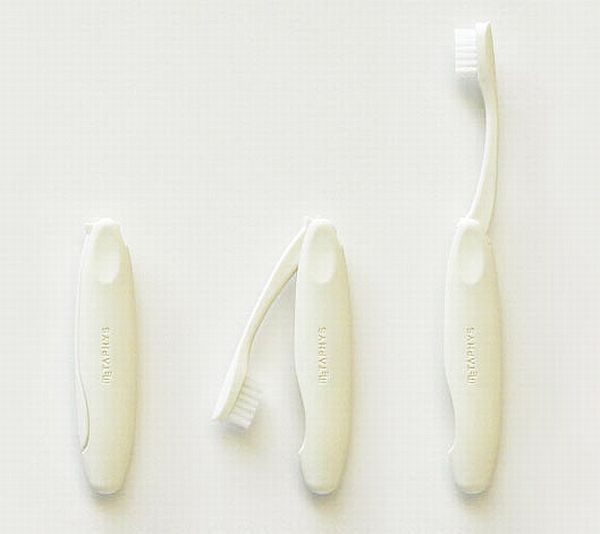 Again a unique design which cannot be overlooked in anyway! The Folding Toothbrush is very comfortable to handle and swanks a feature of getting folded after use. This newly invented brush provides better features that save your efforts on regular basis. It is best for traveling since it eases the storage problem by becoming multifunctional. You don't have to worry about storing it in a better place away from dust and dirt. Use this brush, wash it and fold it to cover the bristles of this brush. You can even detach the brush in two parts and enjoy brushing with colorful bushes everyday. This brush also comes with a case so that you can carry it easily wherever you go.
7. Standing toothbrush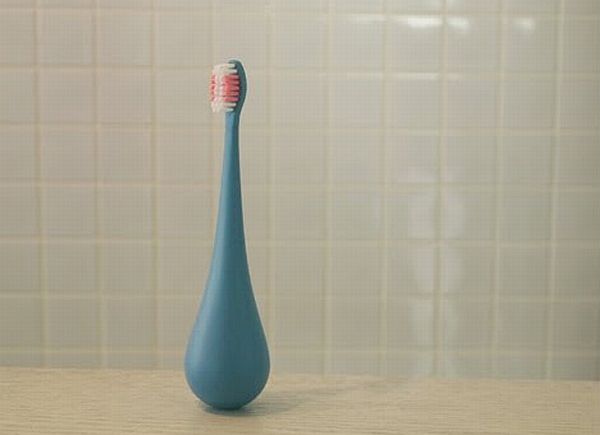 Standing Toothbrush seems like a toy which you can use for brushing as well as to play. Children enjoy playing and brushing with this toothbrush extensively. The best part is that this brush can stand on its own without even a support from any corner. It has thicker base for holding and proper standing feature whereas, the upper level of the brush where bristles are attached is thinner in size. When this toothbrush is set down it moves at every direction for sometime until it gets proper position of balance. It is just like a tumble doll and is an amazing creation for kids.
8. Fountain toothbrush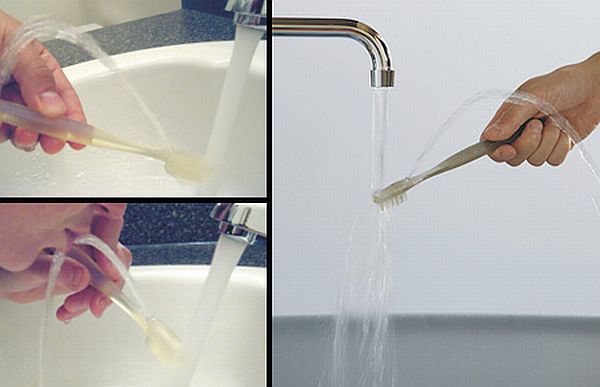 It's a common looking toothbrush which is gently tweaked and shapes the tap water while washing the paste off of it. Its remarkable features entice kids to use this brush without hunting for reasons to not to brush every morning and night. This brush sports the simple or regular bristles and is molded in plastic like other common toothbrushes in the market. Due to its soft bristles, you get to experience brushing and rinsing features which are simply fantastical. It is named as Fountain Toothbrush because when you wash the brush, it creates different lines of water that fall on different directions.