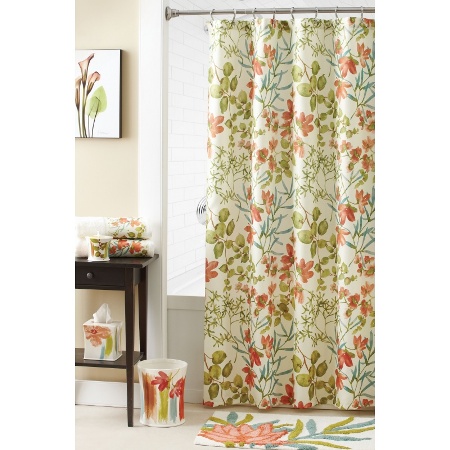 Croscill denotes luxury, design and elegance. The brand decorates your home interiors in a wonderful manner with its intricate designs and quality jacquard fabric. It has a delightful set of bath collections with embroidered woven sets, complete with matching accessories. This provides a soothing and refreshing experience, giving a nice start to the day. This article features seven topmost shower curtains by the brand. Read through the story and select your preference, in case you want to stylize or redecorate your home.

1. Gazebo Shower Curtain
PRICE : USD 30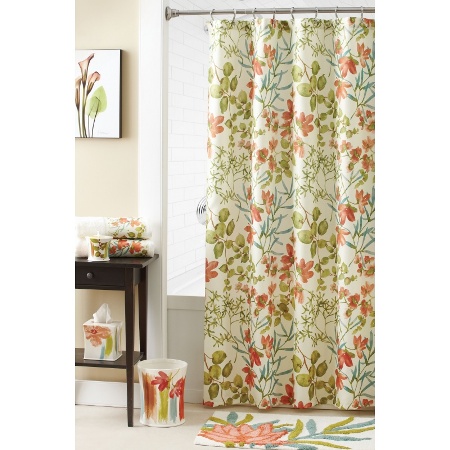 This shower curtain graces your home interior with beauty and life. It is from the resin bath accessory collections by Croscill. It features a detailed floral design all over the curtain on a natural golden textured background. Showing an excellent display of colors, these curtains match well with any kind of interior. The shower curtain has the design printed on a duck cloth. The floral pattern depicts bloom and brightness.
USP
This curtain is acknowledged with Gazebo's embroidered terry bath towels and Gazebo's bath rug, to cheer up the room.
PROS
Enjoy your bath with this entire set which gives an organic feel.
2. Rose Garden Shower Curtain
PRICE : USD 40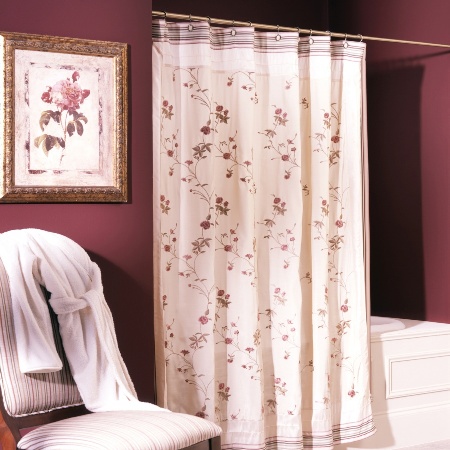 As implied from the name, Rose Garden shower curtain creates a soft and sensual appeal similar to that of a rose. The curtain is beautifully hand painted all over on a soft creamy background. The design consists of pleasing tones of muted red and green. The curtain is further accessorized with unique fluted stoneware which is adorned with embossed Rose motifs. The collection further consists of a lotion bottle, toothbrush holder, soap dish, tumbler, cotton jar tissue cover and a waste basket.
USP
The special adornment of embossed rose in handpainted tones gives a personal touch and warmth to the product.
PROS
The curtain is further coordinated with embroidered towels and an acrylic bath rug to complete the collection.
3. Rainier Shower Curtain
PRICE : USD 40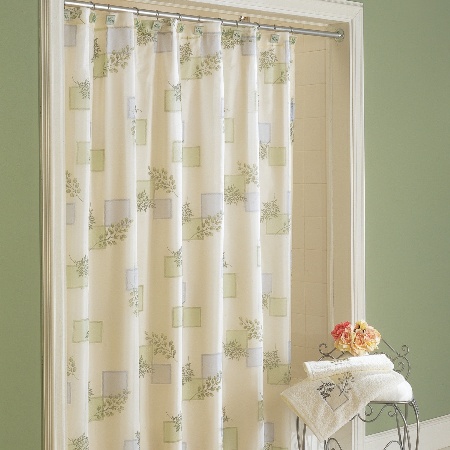 This shower curtain has a nice and soft textured celadon and cream checkerboard background. This can easily go with almost all colors of the walls and interior. Further, the background is bejeweled with beautiful boughs and delicate leaves to decorate your bath area. These foliage motifs can be found embossed also on the all-cotton towels and resin accessories.
USP
A glimpse of this Rainier shower curtain can be caught in an episode of "Friends", depicting the popularity of this design.
PROS
The curtain provides a healthy and restful feel with its pale green backdrop.
It also makes you feel transported to a cool forest glade.
4. Ziana Shower Curtain
PRICE : USD 40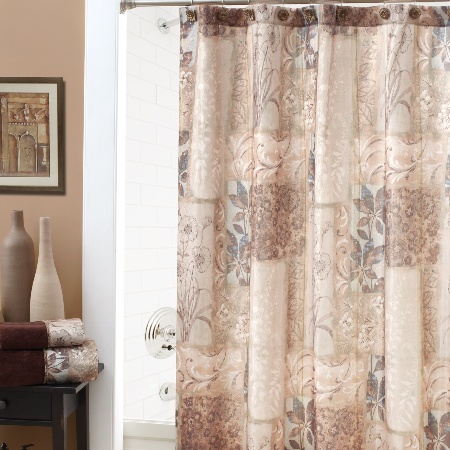 Ziana shower curtain is styled elegantly with a patchwork design of dainty floral sketches. The curtain is glamorous, well designed with neat pattern, leaving a number of blocked areas blank. The curtain further contains shimmering lurex stripes of gold. It is coordinated with a bath, hand and tip fashion towel which are made of a band of matching fabric and a multi-colored beaded trim. The accessories by Ziana include tumbler, metallic wastebasket, lotion dispenser, tissue cover, covered jar, toothbrush holder and soap dish with coordinating patchwork floral accents.
USP
The hooks of the resin shower curtain add to the glitz of this set with alternate flower shapes.
PROS
It has an elegant design to brighten up your bathroom.
5. Laviano Aqua Shower Curtain
PRICE : USD 50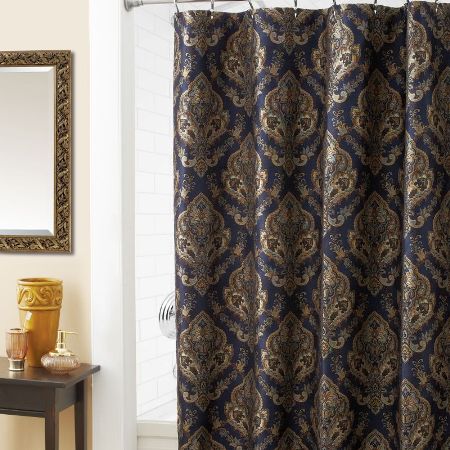 The traditional style and pattern fills this shower curtain with beauty. The elegant damask pattern is intricately detailed on to this Laviano Aqua shower curtain. The colors used are of rich and earthly tones. This description itself reveals the quality and luxury of this product. Damask is a woven pattern. This curtain, thus, shows off the labor and effort put in it to create a magic.
USP
This collection is completed with hand and fingertip towel made of damask fabric in a matching solid navy color.
PROS
You can further adorn your room with a tufted bath rug and damask motif on it.
All the accessories have multicolored twist cord and beaded tassels.
6. Iris Shower Curtain
PRICE : USD 50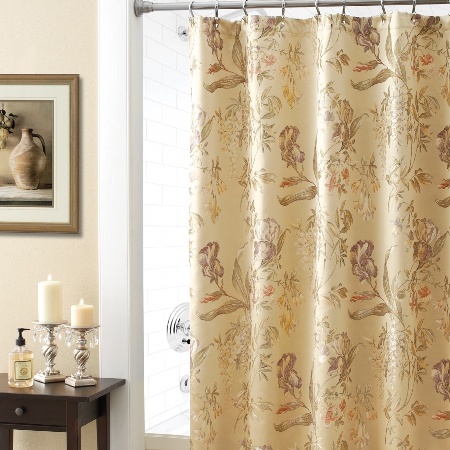 This Iris shower curtain nicely covers and decorates your bath area. It coordinates perfectly toyour home décor with its light brown colored background. The printed pattern consists of bouquets of lavender and apricot colored flowers attached to a gold and green stemming vine. This curtain fills the interior with charm and composure.
USP
This curtain coordinates directly with it Iris Bedding and Window Ensembles.
PROS
Iris, as the name signifies, denotes a wide variety of colors. It brings affluence and prosperity.
7. Opulence Shower Curtain
PRICE : USD 50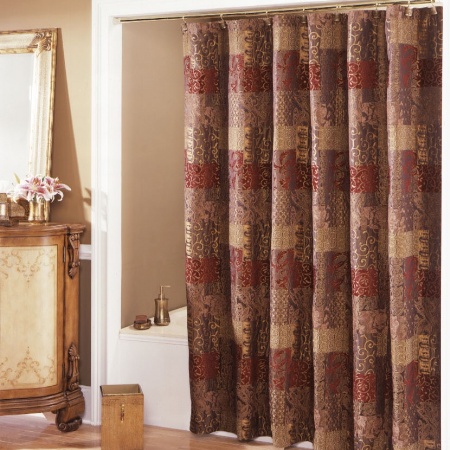 This curtain is finished with a beautiful two tone surface treatment of burnished gold and burgundy or taupe and linen. Thus, the rich detail with the stately, yet formal elegance makes this shower curtain a classic in your room. Its neoclassical scroll motif enriches this product. The collection further includes a tumbler, lotion bottle, soap dish, toothbrush holder, wastebasket and a tissue cover.
USP
The entire set features a lavish patchwork which is abundantly rich in style, color and fabrication.
PROS
Its coordinating products are towels with embellished twist fringe edge and jacquard woven shower curtains.