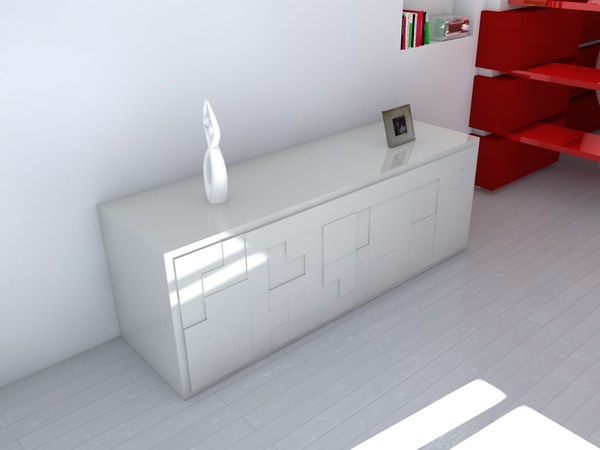 Puzzle video game Tetris has many people hooked and there is no way anyone can escape the addiction as it rules all laptops and phones. Well, the ruling nature of this game doesn't stop here and has extended till our dwellings as well. Furniture designers have taken a pledge to give an interesting look to your dwellings with their awe-inspiring creations. There is a range of Tetris-based pieces of furniture available in the market, but still every new addition sends a sense of excitement. It blends with all kinds of interiors, thanks to its straight geometric appearance that keeps away added complications. Keeping up to the charm of Tetris furniture is [email protected] Sideboard concept, which is the brainchild of Pedro Machado.
What looks like an everyday item is actually injected with a lot of newness and functionality. The plain sideboard has been formed using a bunch of Tetris bricks that have been flawlessly stacked together. [email protected] concept comes draped in simplicity and manages to attract attention despite its plain looks. It has been crafted in a neat way and has a magnificent charm that will make eyes do a cartwheel in total surprise. The sideboard will serve multiple functions and at the same time act as a delicate decoration piece. It will ornament your dwelling with its daintiness and will definitely be a sumptuous addition. The best part being that the Tetris pieces are not merely for decoration but can slide out as well. These pulled out pieces act as a small dining table that can be used by two people. So, sip steaming coffee with your best friend or loved one and put it out of sight when not required.
The drawers present in the [email protected] concept can be used to store different things, like books, magazines, papers and other small items. It is multifunctional and will be a perfect addition in apartments and small houses where space issues keep cropping every now and then. One can also use it to display pictures and place decoration pieces or even flower vases. The concept will add additional sumptuousness and will be a tasteful addition as bedside tables, desks as well as a media center. But, sadly it is just a concept and all we can do is sit back and wait for it to hit the market. Machado has crafted [email protected] Sideboard in the color white, which looks very pleasant, but it will be great if the concept is made more colorful just like the Tetris blocks that look so vivacious.
Via: Technabob