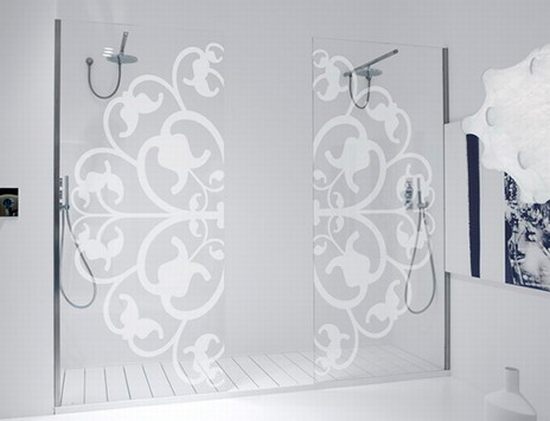 As it is in the contemporary modern houses, baths are no longer hidden and small. Bathrooms now are constructed with separate enclosures for taking shower which are installed with shower doors for privacy. These doors do not necessarily have to be a dull piece of wooden or metal panel.The shower doors now are available in the market with a style statement. The decorative shower doors are available in a never ending wide range of unique designs, patterns, styles and materials that enhance the beauty of your bathroom and add sophistication and grace in an innovative way. We take this opportunity to present some information about these decorative shower doors to make it easier for you to choose from the inexhaustible variety spread in the market.
1. Silkscreen printed shower doors
These elegant decorative shower doors are simply creativity at its best. These are made in duroglass and come in patterned designs. The patterns are applied only on the outer sides of the doors. These obscure vision as well let in plenty of light. Ranging from code bars to people patterns and to flower patterns, these shower doors are designed by Antonio Lupi.
2. Better view glass and mirrors
An array of luxurious variety of colored and textured glass range from bamboo, satin, glue chip, narrow reed, obscure, rain, everglade, aquatex and many more. The cast door glass gallery ranges from Safari, Storm, Meander, Sensual and Cottage to Lodge. They install heavy frameless glass shower doors with all types of options and hardware available.
3. Etched and sandblasted shower doors
Creative mirror and suppliers from Chicago present custom designed, sandblasted decorative shower doors which provide privacy as well as light.
4. Wooden shower panel by Aqvaplana
The creation of beautiful ships inspire them to create unique shower panels in wood. Completely designed in solid marine okoume type wood, these are the products of high quality and unique design. Considering wood as a living material emanating profound and unique sensations, this Italian company believes in bringing to life the nobility of wood.
5. Prefabricated shower panels made of Fiberglass

These easy to install and inexpensive shower doors and wall panels are made out of Fiberglass in a variety of designs, patterns and colors.
6. Vinyl Etchings by Wholesale Central
The only limit is your imagination. You can create your own beautiful scenes using these decals. The static-cling Vinyl etchings, available in different designs and sizes, can be used on clear glass shower doors. Double sided, flexible, die-cut, 'Screen art magnets' can be used to keep from walking through the see-thru doors.
7. Decorative PVC doors by Niki
These scratch resistant, water resistant decorative PVC shower doors are built to last. These are cheap and durable, easy to install and low maintenance. These doors require no polishing or varnishing and are available in a variety of shades, styles, textures and designs.
8. Decorative bathroom doors by Better space Better life
The epitomes of elegance, durability and beauty, these low cost PVC decorative bathroom doors are easy to set and easy to clean. Fireproof, waterproof and environment friendly, these are available in variety of colors and patterns. These doors are anti-aging, high intensity and also resist erosion.
9. AGI shower doors and mirrors
If you are looking for innovative products of high quality, look no farther than AGI shower doors and mirrors. They turn bathrooms into beauty with elegant designs providing both function and form.
10. Palace of glass
Palace of glass offers you various options of design to match your taste and style. They offer clear glass as well as tempered glass shower doors. They beautify the interiors of your bathroom in such a way that you feel you have stepped into your own personal Spa.