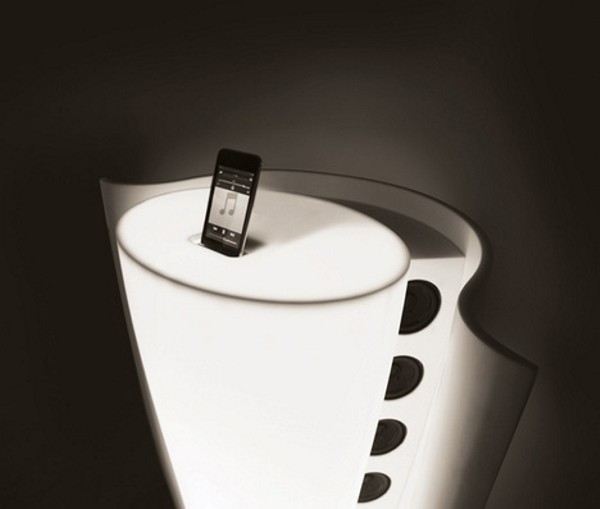 iPod docks are useful in many ways. These docks are sometimes used to enhance the quality of sound with the help of speakers, which are fixed in the dock. Docks should be beautiful, and that's why Shi-Hyung Jeon, a Korean architect, designed an iPod dock for iPod users. It is called the Horn iPod Dock. It is an art piece that is made from HI-MACS.
The Horn iPod Dock is a hand-made artwork, which gets a creamish-white color as it is made from HI-MACS. Shi-Hyung tested several materials to make this Dock and found HI-MACS as the best material as it is non-porous and does not let the dock vibrate when it comes in contact with the speakers.
Structure
The Horn iPod Dock is a horn-shaped dock and has an artistic design to let the best music come out from the speakers. The cone in the Horn iPod Dock has a slot to fix your iPod. It has four speakers, which are smartly hidden between the layers of the dock. The outer thick layer focuses the sound and prevents it from spreading to outside so that you can listen to good quality music free of diffraction.
The Horn iPod Dock is the perfect iPod accessory for people who love to enjoy music in style.
Via: Mocoloco