Is that soap scum clagging up your grout? Are your tiles looking tired? It's time to renovate your shower area. If you love nothing more than an invigorating rinse in the morning but can't figure out a way of fitting a shower enclosure into your bathroom layout – or if you want to get rid of your bath altogether – read on for some tips on how to redesign your shower area, whatever your budget may be.
Create a wet room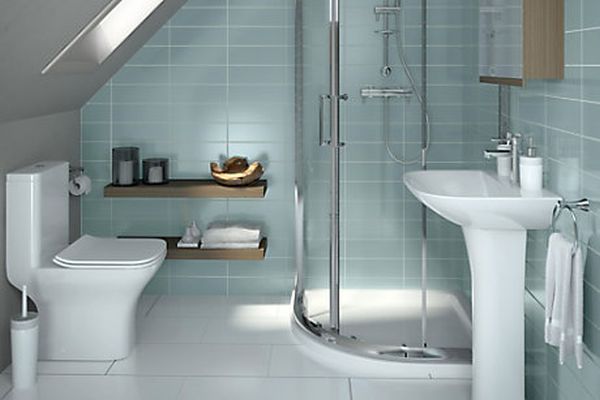 Wet rooms – or sealed shower rooms – have become incredibly popular in recent years. With a sloping floor to allow water to drain away, they are super-easy to clean as there is no build-up of soap scum in a shower tray. With no door handles or hinges to scrub, just the shower head and taps to buff now and again, you'll have more time to enjoy a relaxing drench.
Wet wall shower splash panels can be fitted with minimal fuss, and will add a bright, modern feel to the wet room, without the need for grout.
Wet rooms are also a great option for smaller bathrooms as they don't have the standard bulky shower enclosure, making them stylish and minimalist in design – which will make your home more desirable if you decide to sell.
Trade tiles for shower wall panels
Who has time to place fiddly tile spacers and attempt to use a tile cutter, when you can simply use shower splash panels to your shower area. Decorative and easy to apply, they are available in an array of colors and finishes and are a great way to quickly transform the area with minimal fuss.
Excessive moisture is inevitable in bathrooms but these panels are 100% waterproof so they will stay in tip-top condition for years to come. There's no need for specialist cleaners and a scrubbing brush as the panels are grout-free. Simply use a damp cloth to remove soapy residue for a sparkling finish.
Swap your shower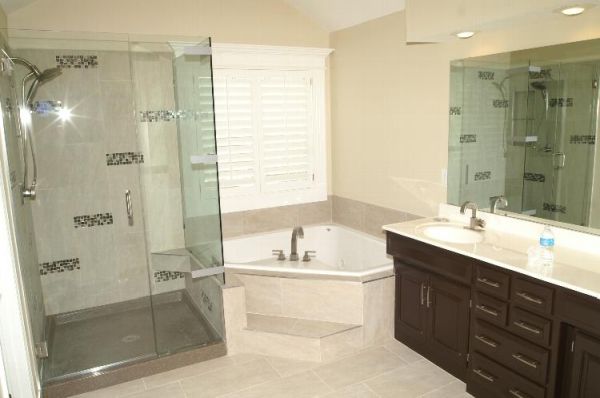 Electric showers are a good option for a small budget, as they provide water separately from the mains cold water supply and heat water on demand. However, they tend not to reach the level of power provided by those showers connected to the mains.
If you have some serious cash to spend, you may want to indulge in a power shower. They are connected to an integral pump to boost flow rate — however they are not compatible with combi boilers as they need a supply from both a cold-water cistern and a hot water cylinder.
Luckily, with all the different shower options out there, you are bound to find one that fits both your requirements and your budget.
Change the taps
For a smaller budget, a great way to quickly spruce up your shower area is by replacing grubby old bath taps and shower heads with new ones. But, remember that water flow with low pressure doesn't work well with huge power showers. If you can't afford to replace the taps, a lime scale remover should easily get rid of soap scum to make your taps shine like new.
Quick color fix
For a quick fix, pick a bold color to add some pizzazz to your shower area. By going light and bright in small spaces, you'll instantly make your shower area feel bigger. But don't forget – you will need to use a specialist bathroom paint to protect against mould.
Brighten up with a new shower curtain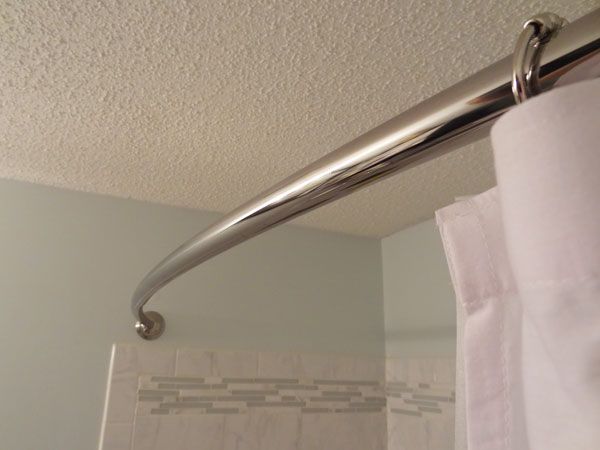 Streaky marks tend to plague shower curtains, despite your best cleaning efforts – and don't mention the black mould that creeps up. Shower screens look smart but can be tricky to fit and notoriously hard to keep sparkling. A new colored shower curtain will soon brighten up the shower area.
These are just a few tips which can help you renovate your shower with minimal fuss.
Article Submitted By Community Writer