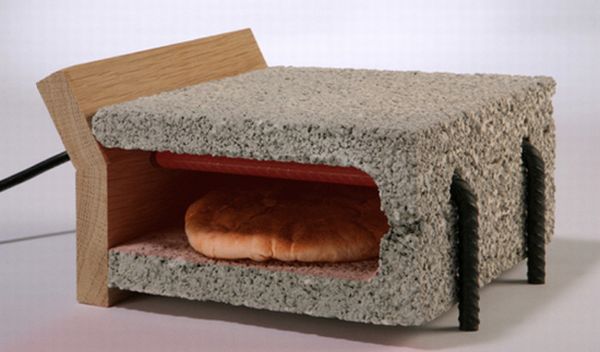 Overview
The appliance represents a thick cubed chunk whittled out from a wall but it is actually a toaster in which you can bake breads. Do not get perplexed, just insert a slice of bread between the two cement slabs and roast it. The out of ordinary design is the brainchild of Adi Zaffran, a graduate from Bezalel Academy of Art and Design. The primary ingredients used to build the toaster are cement and rebar along with additional supplies like wood, wires and fasteners. The toaster is primarily designed for baking pita breads, but it can also be used to toast sliced breads or prepare baked snacks.
What's unique?
Most of the toasters available in the market are hard to repair, but this one will not pose a problem when it comes to patching up. The design is eco friendly and sustainable. The toaster is made from materials that can be reclaimed, which is an excellent idea as a salvaging material is the need of the hour. Therefore, unlike other appliances this one will not be tossed onto the landfills, thus helping to reduce heap of dump there. The toaster is made using nontoxic substances. Hence, it will not leech out hazardous chemicals into the soil.
Features
The design is minimal and simple with an outline bearing clean and straight lines. The boxed portion of the toaster is made out of cement and has a rough granular surface. There is a wooden wedge at one end, through which wires have been attached. The unfussy and rough finish takes you back to the good old days when ovens were made from earth. In fact, it looks so much like the stone-age displays you see in Flintstone's.
Via: Dvice